WHAT?!
yes. you read that right.
NO COTTON CANDY or LEMONADE.
none. nada. zip. zero. zilch.
it's all i wanted. and they had none.
but despite that, the Spectrum Elementary School Carnival last Friday night was a success!
Davey and Samantha had wrist bands allowing them unlimited access to several venues including, but not limited to  the inflatable slide, bounce house, pony race, bumper cars, trackless train and more.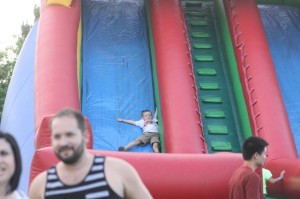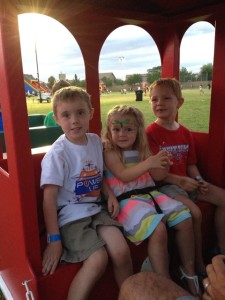 things like FACE PAINTING were additional tickets: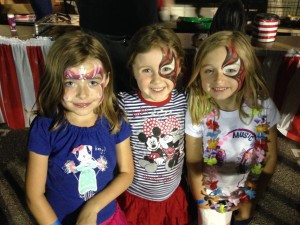 along with the wristband rides and face painting and other activities, there were games, a petting zoo, pony rides, snacks (just no cotton candy or lemonade) and LOTS and LOTS of friends!
we had purchased a LOT of extra tickets (along with the wristbands for the two older Munchkins) but with the long lines everyone, no one was really interested in slowly spending tickets. AND THAT's when it happened. i found the BOOK TABLE. yep. people had donated books they no longer wanted and we were able to use ticket to purchase them. books were either 50 cents or $1 each.  i spent a large thwack of tickets at the book booth getting "new" books for the kids to enjoy!
in case you're wondering, yes, alex was at the carnival too. she was tired and ornery and NOT a good photography subject. and then the blessing of all blessings appeared in the form of Mrs. Katie, a special ed teacher who has the classroom next to alex's.  while dave was with davey at the rides, i was with samantha in a LONG line to get her face painted. and alex was with us. strapped into her stroller and VERY unhappy about it. and along came Mrs. Katie who offered to walk around with alex. and around. and around. and around. she took her to the petting zoo. and the horses. and she had her walking and running everywhere. yep. Mrs. Katie was our angel that night.!
it was a fun night but i'm glad there's not a repeat for another year or so!