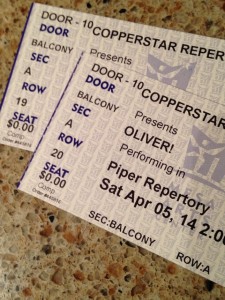 have you been to the th-e-uh-tuh lately?
well, have you?
i must admit, it'd been awhile for me.
quite awhile.
like, possibly 11 years? (feel free to correct me if i'm wrong, dave).
Lynn Flanagan is Samantha's Kindergarten teacher. awhile back, she promised her youngest daughter, Shaylee, that she could try out for a musical "one day." that day finally arrived earlier this year. and when lynn thought about having to drive shaylee to and from practices all the time, she decided to try out, too.
and they both got a call back!
and then they were both cast for the show!
 fast forward a few months and my hiatus from attending the th-e-uh-tuh ended last saturday!
after t-ball and a quick lunch, samantha and i got all dressed up (we even had matching fingernail polish!) and enjoyed a mommy-daughter date along with some of our friends. Mrs. Geneva & Drew (our lone male representative), Mrs. MaryAnn, Lily Kate & Violet and Samantha & I piled into Mrs. MaryAnn's minivan and headed to the th-e-uh-tuh in Mesa where we enjoyed a matinee performance of OLIVER!
we were all seated in separate sections, but with MaryAnn, LilyKate and Violet a short way behind us, we were blessed with this photo: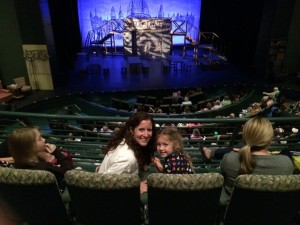 before the show began, i read a synopsis of the musical to samantha (from the program). i had to explain things like "work house" and "orphan" and i had to sensor words like "murder," but i think she got the basic gist of what was happening. or she simply nodded because she was excited for what was yet to come: HER TEACHER (and one-of-her-most-favorite-persons-in-the-world) ON STAGE!
samantha was pretty fidgety but she sat through act I quite well. we both thoroughly enjoyed searching for Lynn (aka: Mrs. Flanagan) and Shaylee on stage with each scene-change.
(many thanks to someone in our group — perhaps it was me? or perhaps not! — for snapping a few "illegal" photos during the performance!)
during intermission, we found some other kindergarten students (from mrs. flanagan's class and from other classes!). and when Act II began, samantha had a much harder time sitting still. after a few scenes, she ended up in my lap. to be fair, there were some "darker" scenes and the music definitely added to the melodrama of the moment. 
as soon as the musical was over, samantha was ready to be up and out. she was out of our row and down the stairs (we were in balcony seats) before i could blink! i must've been quite a sight trying to chase her down in my shorter dress and higher wedges!
but then i saw what had her so motivated: she practically catapulted herself onto the Milk Maid:
(that's her teacher, Mrs. Flanagan, the Milk Maid).
and then our friends arrived and we pulled out our cell phones and started taking photo after photo after photo…..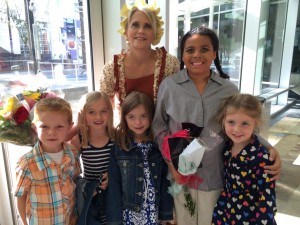 in the end, i'd say samantha had an extra special first experience with the th-e-uh-tuh!