is there anything you've done in the past (perhaps in your childhood) that you COMPLETELY forgot about until some random event called it to the forefront of your memory?
or am i really THAT weird?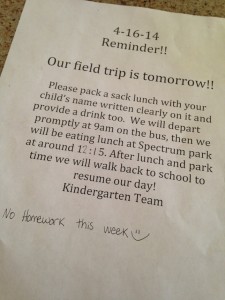 last week, after recovering from a stomach virus that hit three of the five of us quite hard (it was awful!), i boarded a school bus with TWO classes of Kindergarten students (yes, i seriously did), and i joined my daughter, her friends/classmates and her teacher for an adventure like no other!
(oh yeah, my friend and fellow K mom, MaryAnn was there, too… and her daughter had just suffered through the same bug as Samantha and I):
After a very LONG bus ride (well, LONG for Kindergarten students – and for parents/teachers riding on the bus WITH said Kindergarten students), we arrived at our destination.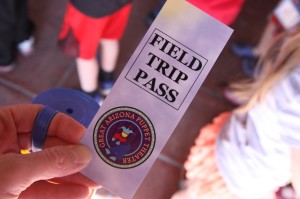 (can  you read that circle under the "FIELD TRIP PASS" square? if not, it says "GREAT ARIZONA PUPPET THEATER").
we waited outside for a very brief moment while we received our tickets (the above passes that we had to promptly "return" in order to get INTO the theater).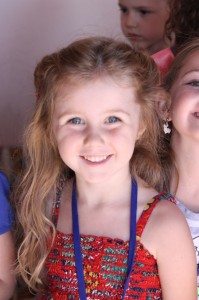 and then our FOUR classes of Kindergarten students (approximately 100 students) were ushered to the ever-so-comfortable hard wood floor?!
yes.
the hardwood floor.
with wiggly Kindergarten students.
wiggly Kindergarten students who just spent more than 30 minutes on a bus ride.
um. yeah. NOT the best set-up.
about 1/2 of the students got lucky and got to sit on a thin rug on the hard wood floor. i felt like these people were not adequately prepared for our visit.
and then this lady with NO microphone, proceeded to talk to the kids in her quiet voice (seriously? what's UP with this place?!) and then she had them singing songs.
really?
songs?
i thought this was a puppet theater and you might actually put on a PUPPET SHOW?!
again, i repeat: i felt like these people were not adequately prepared for our visit.
and here's the biggest KICKER of all:
the lady told us the puppet show would have……
NO TALKING.
NO WORDS. 
NADA.
ZIP.
ZERO.
ZILCH.
NOT ONE WORD.
only music. 
to give the crazy lady SOME credit, she briefly reviewed the storyline with the children.
it was the story of PETER RABBIT.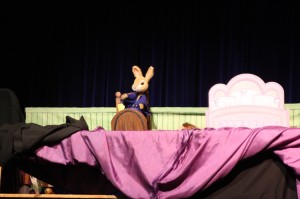 we were NOT allowed to take photos during the show (though i might have purposefully taken photos with my iPhone anyway – but i'm not incriminating myself by sharing them – the above photo was taken during a tour AFTER the show).
Following the show, which actually kept the attention of the students DESPITE the lack of words/talking, we were given a full tour of the facility. This included (ONE) the museum of puppets (and marionettes):
******
we interrupt this blog post for a quick class photo: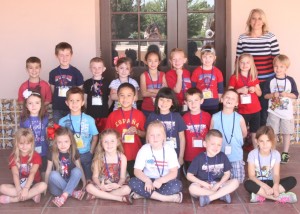 the regularly scheduled blog post may now resume…
********
(TWO) a demonstration of how to use the puppets and an explanation of the different types of puppets (hand, rod, marionette, etc.):
(there may have also been some selfie photography happening by some of the moms):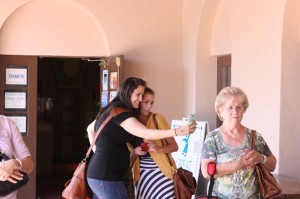 (THREE) The students got to make their own paper bag puppet (with mostly empty glue bottles):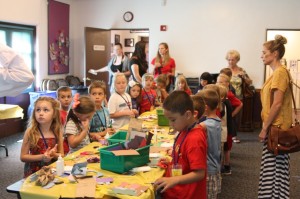 and (FOUR), we finally got a "tour" of the puppet stage itself:
(this is when i took that above photo of Peter Rabbit on his bed).
**********
It was somewhere during the INTRO to the entire show and part TWO of the tour when I was reminded of my late elementary/junior high school years. I used to help my church at their booth at this big festival every year (it may have been Italian Day in Bristol, Pennsylvania?!) and as a way to attract people to the booth, we had a puppet show. Mrs. Judy (can't remember her last name) was a Puppeteer. She taught a number of us "kids" how to handle the puppets and how to properly have them "talk" or "sing" during the shows (our puppets performed to pre-taped shows that included fun kids' songs, the name and location of our church – "Calvary Baptist Church, on Green Lane, right here in Bristol!," details about VBS and church times… you get the idea).
I had COMPLETELY forgotten about those days in my life. Until this day! And then I remembered that not only did I help with that festival for MULTIPLE years, but sometimes we did other puppet shows. I even went to a puppeteer's conference with Mrs. Judy (it was held at my school one weekend – i remember, very clearly, being in the choir room for at least one session and i remember having to show Mrs. Judy where everything was).
I remember the long hours and my tired arms. I remember using ONE arm/hand to keep the other one up in the air to keep my puppet going. I remember spending time in front of my bedroom mirror with my arm STRAIGHT UP  in the air, with my wrist pointed DOWN, trying oh-so-desperately to move ONLY my THUMB (since kids are usually looking UP to the puppet stage, you move only your thumb to make the puppet's mouth open – otherwise the kids only see the puppet's neck during the show!). While not impossible, it was not "easy." But I definitely had fun.
Many, MANY thanks to the Kindergarten teachers for letting me take that little trip down memory lane last week!
********
And then, it was time to get BACK on the bus (with even ROWDIER Kindergarten kiddos!) and make the long drive back toward the school (we ate lunch at a park just next to the school and then the kids played on the playground and then we walked back to school).
This is Samantha's teacher, Lynn Flanagan. We were rejoicing that we, somehow, made it through that crazy, wacky, hippie and oddball Puppet Theater field trip that, somehow, worked: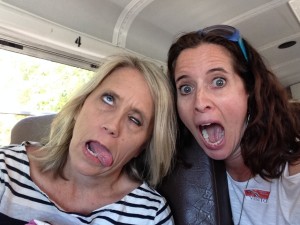 the craziest thing is we completely forgot to enjoy our treat/fortification that i snagged for us the night before at walmart: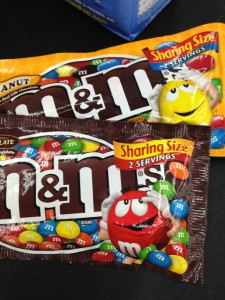 i did have to endure some Kindergarten girl DRAMA on the bus ride home (yes, tears were shed), but in the end, the girls remain friends and Samantha would tell you that she LOVED the field trip AND the bus ride (though i'm pretty sure she would tell you that she loved the bus ride MORE than the field trip itself):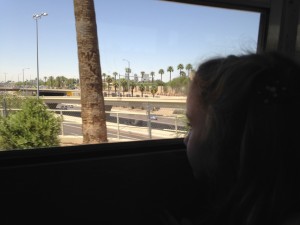 so it was a successful day for everyone involved.
and i loved spending the day with my girl!