many of you know that i commandeered my husband's DSLR several years ago when he stopped using it. since then, i've taken two photography classes (i still really struggle with the settings for aperture and shutter speed!) and i'm know as the "photography mom" in each of my Munchkins' classes at school.
my love of photography is a byproduct of my first love: paper, glitter, pens, markers, stickers and all things craft-y. this, naturally, led to scrapbooking. and that led to a desire to do a better job at capturing life as it happens with NON blurry and NOT TOO DARK photos. and i started to take photos with the end result (scrapbooking them!) in mind, so i started to arrange my children and i moved my body to get different "back drops" and things like that. and all that has brought me to where i am today.
a wife. a mom. a documenter. and a very, VERY amateur photographer.
for all these years, i've been toting my husband's camera around in his all black camera bag. it does the job. but that's all. and it doesn't fit any extra lenses or anything. and i don't  like the style of the bag. he also has a camera backpack which is ALSO not my style and it holds a little TOO much in the way of camera gear. so i finally started looking at bags for me. you know, something a little more….. FASHIONABLE.
DO YOU HAVE ANY IDEA HOW EXPENSIVE A "FASHIONABLE" CAMERA BAG IS?!?
seriously! google it. or check amazon. there are some B-E-A-U-T-I-F-U-L bags out there if you're willing to drop $120, $150, $200, $300 or more! some of them are even worth it. i just don't have that kind of money. not when my husband has some perfectly "useable" and "serviceable" bags already in our home.
then i remembered that a few years ago, a dear friend made her own camera insert. she bought a purse she liked, made an insert and had her own camera bag. i knew, however, that i did NOT want to tackle the "make-your-own-insert" project. not at all. my sewing machine has some serious issues right now and i did not want to battle it for a project like this. so i did some research on line and you can BUY a camera bag insert. check on amazon, b and photo video, adorama, etc. there are lots of options out there in varying price ranges. so i went to Ross and picked out a purse: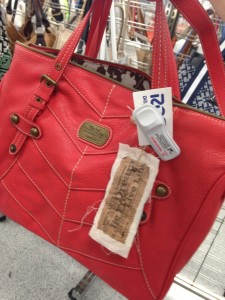 (isn't it beautiful?! it's a coral-ish color and it's a Nine West "Vintage" line – i have this serious love for Nine West bags – i fall in love with a bag at a store and THEN look to see the designer and 9 times out of 10 it will be Nine West. it's a bit uncanny, actually.)
then i went home and got ready to BUY myself a pre-made camera bag insert. so i started researching them further – reading reviews, measuring my purse, etc. and i just couldn't find one that seemed like it would be "perfect!" i was afraid i would order an insert that was too small to house our (brand new – and this is a whole different story!) zoom lens. or i was afraid i would order one that was too large for my purse. or i was afraid that i would simply hate the thing and i would have wasted $30 or $30 or $50 or $60 (yes, there are some even MORE expensive than that!)!
ironically enough, i had conversations with TWO different friends about camera bags/camera bag inserts in the past few days and they BOTH encouraged me to make my own (they each made their own). so i looked up a few tutorials (hooray for Google, You Tube and Pinterest!) and i found a tutorial that seemed quite basic. and then one of my two previously mentioned friends sent me a link to the tutorial SHE used – also basic.
what was my biggest problem with this entire situation? it was 9pm on a friday night. the local stores where i needed to buy foam and fabric were all closed! ack! and i REALLY wanted the bag for the Munchkins' t-ball game on saturday morning. so sad.
after t-ball this morning, we made a pit stop at Hobby Lobby where i ALMOST purchased grey & white polka dot fabric and turquoise & white chevron fabric to make my own insert. but then…. then i caught a glimpse of THIS and i was sold: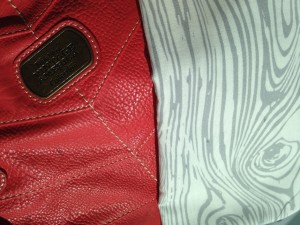 did you see that? it's grey & white. it's a wood pattern. it made me swoon.
well, almost.
but i immediately purchased a yard of it and i haven't regretted that decision at all.
i think i started my project around 1:30 (we got home from t-ball and errands and had to deal with pesky "chores" like making and eating lunch as a family!) and by 4:45, i was finished. this included re-reading the directions, measuring, reading the directions, cutting, reading the directions, sewing, reading the directions again…. and then showing my husband (who was busy doing our taxes!) every finished step of the process. yes, he really IS that patient with me. (most of the time).
so friends, i have no "in progress" photos for you because i simply wanted to "get 'er done!" but i do have some FINISHED photos and i would call this a successful and relatively easy project. (we don't need to discuss the reality that i took one Munchkin to a birthday party today where i joyfully carried my latest creation with me only to discover i had left the camera BATTERY at home on the charger SO LAME, i know!!)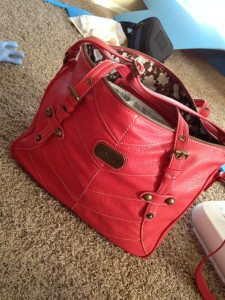 best part: this insert is REMOVABLE. if i decide i no longer like the EXTERIOR of my NEW camera bag, i just find another one i like and place the insert in there. pretty cool, huh?
*******************************************************************************
DETAILS:
purse: fun find at Ross for $30
fabric: fun find at Hobby Lobby for $5 for one yard (it was on sale)
very dense 1″ foam: fun find in our garage!
velcro (or "hook and loop" if you're being PC – which NO ONE has ever "accused" me of being PC) – 25 cents per package at a garage sale – used two packages (mine was 3/4″ velcro and it's working just fine. i honestly can't imagine using 1.5″ velcro as recommended in the first tutorial?!)
needle, thread, sewing machine: already in my possession
TOTAL COST: $36.00
*******************************************************************************
here is a link to the tutorial i used.
here is another link to one that maybe i should have used.
*******************************************************************************
what did i learn from this experience?
1. i purchased a purse with a rectangular bottom, not an oval one (like in the first link). based solely on the shape of the bottom of my purse, i should have used the second linked tutorial for a more "squared" purse shape. live and learn – it's no big deal.
2. i bought the WRONG foam at Hobby Lobby. actually, i bought the ONLY foam they had. it wasn't dense enough. fortunately for me, we had some AMAZING foam in the garage that did NOT get purged (not sure why?!) in our recent "clean-the-garage" project (odd, since this foam came with our house and we don't know why). so i'll return the cheap foam to HL and i have LOTS of this super-duper dense, blue foam remaining should i want to make another camera bag insert one day.
3. always, always, always read the directions two, three or four times before you cut your fabric. for my FINAL cutting step, i cut the fabric with an allowance of 2″ on the top and bottom but only 1/2″ on the sides. it was supposed to be the other way around. UGH! fortunately for me, the tree pattern lends itself to a vertical or horizontal situation so i turned it sideways in order to finish the project.
4. i made THREE foam dividers instead of the recommended two. that third one can go on TOP of the camera + lens for padding from above (and then my wallet fits right on top!)
5. i should always, always, ALWAYS do my research before making any purchases that will be an investment.  that research (which stressed me out) is what led to this DIY project and i LOVE the end result.
6. hand stitching is NOT my forte. especially when fighting with a really dense foam that is trying to form a circle but you want it in a rectangle (seriously?! did i learn ANYTHING in pre-school?!) and my fingers have some "war wounds" to show for it.
7. my sewing skills are a bit better than i thought they were – though i'm still an "infant" when it comes to my sewing machine and knowing how to use it.
8. always, always, ALWAYS check to make sure there's a BATTERY and a MEMORY CARD in your CAMERA which should be in your CAMERA BAG before you leave the house – especially when attending a birthday party with some of your other mom friends and you want to SHOW OFF your hot, new creation!