what's your biggest fear?
snakes? heights? crowds? furry animals? spiders?
i considered looking up all the scientific terms for the above listed fears (and others) but decided i had enough to do without getting all fancy and professional (you DID know that i was a psych major in college, right?!).
i have multiple fears. snakes are pretty high up there on the list. (and yes, i'm aware that i live in arizona now and not only are there SNAKES, but they are POISONOUS, as well). so are heights. it took me YEARS to realize that i'm not really afraid of heights – i honestly don't mind being up high. sometimes i really like it. but i'm seriously AFRAID of falling from heights.
but over the course of my lifetime, (closer to 4 decades than i would care to admit), i've made some progress with decreasing my fear of falling from heights.
no. seriously.
i mean, i used to fly ALL THE TIME. and i've been to the top of multiple towers, buildings, churches, and more (NYC's Empire State Building, Chicago's Sears Tower, Seattle's Space Needle, Paris' Eiffel Tower, several church domes/bell towers in England and Italy, cliff jumping in Israel…. you get the idea. i've also gone rock climbing, rappelling and i don't even remember what else.
and one of my DREAMS (it's on my Bucket List) is to go sky diving. oh! and hang gliding. and to ride in a hot air balloon.
yes, i'm serious.
i know i'm weird. and irrational. and my fears make no sense with my dreams. or perhaps i'm just not willing to let my dreams go unfulfilled because of my fears. this past saturday i looked my fear of heights straight in the eye and i won. on saturday, i was victorious.  but before we talk about ME, let's talk about my FAMILY….
*********************************************************************
the Munchkins did NOT have a t-ball game on saturday (woo hoo!) so we bought tickets to go to the Spring Spectacular hosted by our community association. we've been to some association events and they've been sub-par, to be kind. but this time? this event?
UH-MAZE-ING
seriously. it was $3 per person (kids age 4 & under were free) and it included EVERYTHING you're about to read/see……
The Munchkins loved the bouncy houses: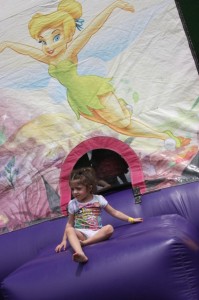 well, Davey and Samantha loved the bounce houses. Alex wasn't so sure about them so we found some bunnies and she was IN LOVE…
i'm slightly tempted to buy her a furry pet to love and snuggle….
*********************************************************************
but before the owners could convince me to buy one of their bunnies, it was time for the Easter Egg Hunt: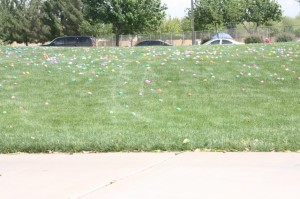 there were THOUSANDS of eggs strewn across the expanse of a lawn by our association's office. they even had it segmented for different age groups.
Alex did really well with the crowds of kids & adults. She was pretty focused on the eggs – I think it helped that she did an egg hunt at school earlier that week!
and then it was time for the bigger kiddos: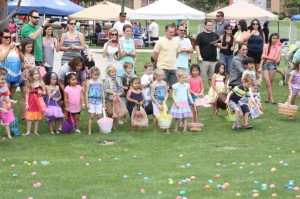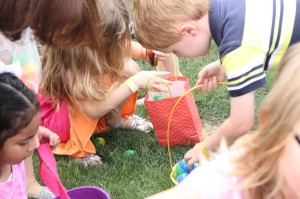 you can bet the kids age 4-6 knew what was going on! somehow, samantha managed to pick up eggs that were mostly filled with chocolate candies while davey managed to pick up eggs filled with hard candies. then again, they may have pulled something over on this Mama and "traded" egg contents before i found out what they had….
 *********************************************************************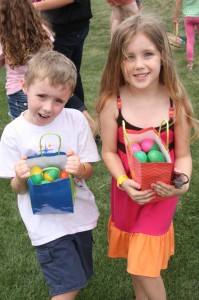 as we were "re-grouping" after the fun chaos of the egg hunt, we found a special visitor: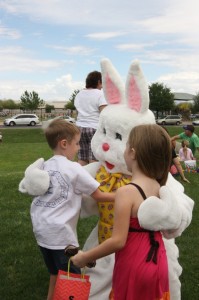 Davey and Samantha were happy to hug the Easter Bunny. Alex just watched. But then she REALLY SURPRISED me. She faced her fear of people-dressed-up-like-animals and she HAPPILY put herself by the bunny and kept petting his/her feet!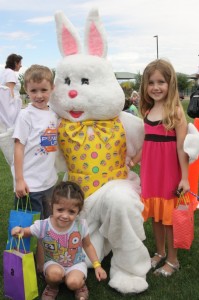 I love that she's growing more brave and that she is facing her fears head on!
*********************************************************************
lunch was next on the menu…. hamburger or hotdog plus chips and a drink…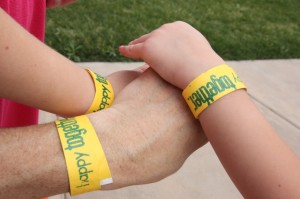 and then davey tried rock climbing while the Easter Bunny enjoyed the zip line:
not to be outdone, Samantha tried her climbing skills, too: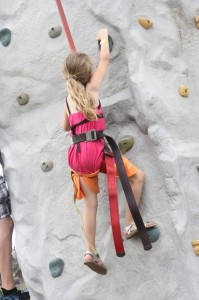 *****************************************************
then samantha wanted to get her face painted. like a bunny: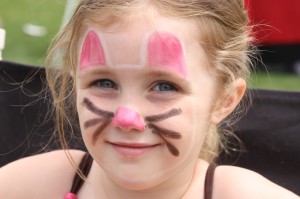 but what shocked me the most was when the wee one climbed up into the chair and said "bunny too!" seriously? who IS this kid who has filled the body of my Alex?!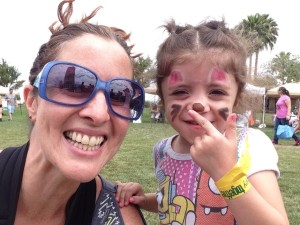 *****************************************************************
next, we spent a lot of time in line for daddy and mommy. we wanted to try the zip line. geneva was about 5 minutes ahead of us:
after she completed her trip down the zipline, geneva and her husband helped wrangle our kiddos in the bounce houses and on the lawn when it was our turn to zip down the line.
geneva even snapped these photos of a SUPER helpful, caring, doting, loving and protective big brother with his baby sister in the bounce house:
***************************************************************
it was a VERY long line with a LOT of waiting before we got harnessed for our adventure. the girls and i had fun playing with my camera…
and then it was our turn!
geneva had my camera to snap a few photos of our zips!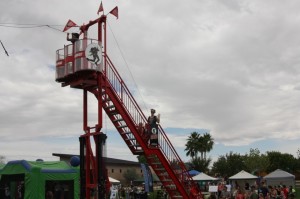 samantha was first: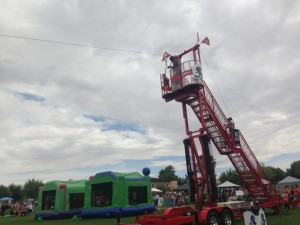 but she couldn't do it. i was (and still am) SO PROUD OF HER for waiting in the long time, for climbing to the top of the stairs, for standing on the platform and for looking down! she couldn't convince herself to step off that platform and trust the lines that held her, but she faced her fears and tried. at the age of 5. i was (and am!) impressed!
so then davey took his turn. he climbed to the top, stood on the platform and stepped off. just like that. no fear. no concern. no worry. he never ceases to amaze me!
next it was my turn. i was terrified. my legs were shaking. i thought for sure i'd have to walk back DOWN the steps like samantha did. but somehow, i managed to turn around and fall backwards off the platform:
and then dave just went for it: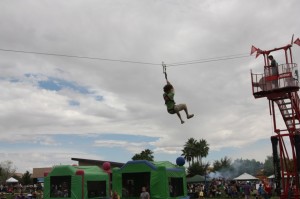 *************************************************************
samantha seemed to want to do something to convince herself she could. anything. but from start to finish. so en route to a ride, we found the bull. and she rode that bull like it was the tamest, slowest tortoise in the world: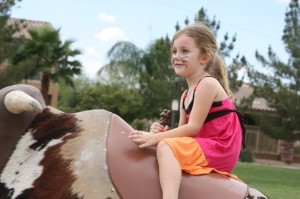 davey took the bull for a ride, too: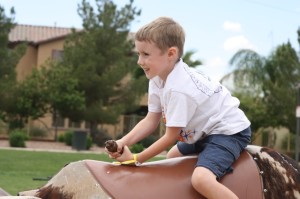 and not to be outdone by the Munchkins, i wanted my shot: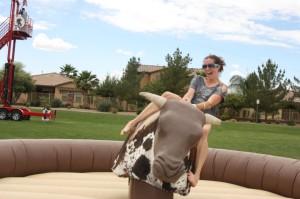 apparently i was only the THIRD woman to try to ride the bull ALL DAY. and i tried level 2. big mistake. i lasted about 2 seconds by holding on with BOTH hands.
Dave, however, tried level 3: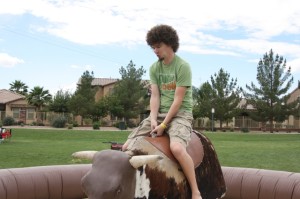 that series of 7 photos happened in less than 3 seconds.
seriously.
Alex really WANTED to ride the bull but we wouldn't let her try.
i kid you not.
she almost threw a fit as we dragged her away from the bull pit!
************************************************************
Samantha really wanted to ride the swing on giant bungee ropes, but, unfortunately, the line was LONG and there was a "closed end" to the line and we missed our chance! Samantha was really, really bummed but we told her she could try the rock wall one more time before we headed home.
Davey also tried again and got pretty far: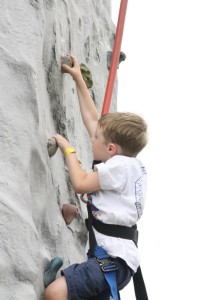 I'd say he made it at least 1/3 of the way up the wall!
and for completely UNKNOWN reasons, i decided to try the wall.
yes. me with my fear of falling from heights. i'd already faced the zip line and though i "cheated" a bit by going backwards, at least i did it.
so why was i tempting fate?
why was i looking to humiliate myself in front of my family and strangers?
i honestly do NOT know the answers to those questions. all i know is i got harnessed and i started to climb.
i made myself put one foot on a knob at a time.
and i made myself grab one hand hold at a time.
and i reminded myself that i was attached to a rope.
and i reminded myself that i was NOT heavy enough to make the wall fall over.
and my hands were sweaty. and i lost my grip a couple of times.
but just before i was ready to stop and let the rope return me safely to the ground, i saw the buzzer.
I WAS NEAR ENOUGH TO THE TOP TO SEE THE BUZZER!
i pushed myself upward another knob and another foot hold and i pressed that buzzer with my sweaty, shaky hands: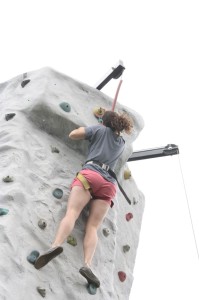 and then i grabbed the top of the rope and let it lower me to the ground.
but i couldn't stop beaming.
and i couldn't stop believing that i really did it.
and i couldn't stop shaking.
and i couldn't stop smiling.
and i couldn't have been more proud of myself than i was at that moment.
i was proud because i had faced one of my biggest fears.
twice in one day.
and i showed my children that we CAN do things that scare us.
we CAN do things that intimidate us.
we CAN do things that make us tremble.