you've heard of circuit riding preachers, right? especially back in the days of cowboys and "settling" the wild, wild west, there were preachers who rode around parts of the country and performed weddings and funerals and Sunday services for a week or two or three before moving on to the next town. sometimes you'd see the preacher once a year and you never knew when he was coming. seriously. at least, that's what i "interpreted" from reading multiple "set-in-the-wild-west" novels.
all that to say, i'm back. and you didn't know when (or IF) i would ever return. i've enjoyed my unplanned 2-month hiatus, but life hasn't stopped these past few months, so i hope to spend time letting you know what fun adventures we've enjoyed (or not enjoyed?) for the last little while. but it's no fun to always talk about what happened "so long ago" so tonight, i'm sharing with you what happened TODAY.
seriously.
TODAY.
my last post was about samantha's first-ever-field trip. and it was to the stuffington bear factory in phoenix, arizona. today's trip was for davey (and the rest of the over-100 first grade students from his school) to the phoenix zoo. so this is where that weird intro about "circuit riding preachers" comes in…. i'm a circuit-riding-field-trip-chaperone.
yeah. it doesn't really make a lot of sense. i get it. let's move on, shall we?
it was an INSANE morning of TRYING desperately to get everyone where they needed to be ON TIME (including myself). i failed. alex was later to preschool then planned (one child had to use the restroom right when it was time for daddy to leave and take the kids to school. so after a LONG restroom delay, i finally agreed to take said child to school with me since i had to be there early for the field trip). and said potty-break-needed child received a TARDY slip today. partly his/her fault. a lot my fault. see, in my rush to get dinner prepped and eat something and pack FOUR lunches and drop of diapers at the neighbor's (she took care of Alex after pre-school ended) and everything else i had to do to get us out the door, i left alex's backpack behind. which contained half of her snack for preschool.
excuse me? yes. half of her snack. FOR HER WHOLE CLASS. (and just now, 13 hours later, i realized she didn't take anything for show-and-share, which she only gets to do on Snack Helper days! #momfail). so we went home for that. then on the way to school (again), i realized my cell phone was missing. so back home we went. (seriously. i live 0.20 miles from the school or something ridiculous like that).  and i actually had to use the house phone (good thing we have one) to call my cell phone to find it (it was already in the car with us). so i FINALLY got the kiddos to school at 8:15. The kiddos are considered TARDY after 8:13 (when school starts). #momfail
so after ALL my running around, i made it to davey's class, received my name tag, received my list of students (another mom and i were grouped together so she had already passed out their name tags and gathered their lunches) and i had a chance to BREATHE. and it was nice. and then my co-mom offered to drive. to the zoo? in phoenix? YES, PLEASE! and from there, the day went up, up, UP HILL!
now that uphill journey included 7  1st graders (5 girls and 2 boys), a step mom, a mom and a grandmom, heat like no-other (seriously, it was at least 93* today with NO cloud cover), a bit of complaining and whining x6  1st graders (i'm so pleased to report that my child is the only one who never whined or complained!) and the last-minute news that our field trip would be AN HOUR longer than initially planned. (the Zoo field trip is crazy – as a chaperone, you have a group of children and you're on your own – aka: no agenda – at the zoo for about 3 hours. lucky us, we were on our own for 4 hours! ). Despite all this, God was so kind to me today. I really enjoyed my co-mom (the step mom mentioned above) and, more importantly, i enjoyed time with my son. and his classmates. but mostly my time with Davey. he's not getting any smaller or any younger, you know. one day, he won't want me on his field trips. or helping in his class. or eating lunch with him. so i plan to enjoy it while it lasts. because he genuinely LOVES me. unconditionally. and a love and acceptance like that is so hard to find these days.
at the beginning of our hot and LONG day, the kids were interested in EVERY little animal (and i do mean EVERY – the exclamations over turtles, regular birds and lizards at the beginning of the day was 1000x louder and more excitable than any mutterings about giraffes and zebras later in the day)!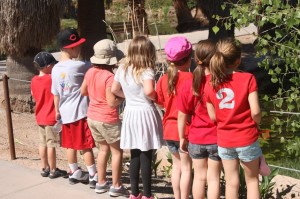 check out this moss-covered turtle: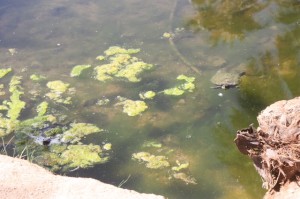 there were LOTS of baby ducks and geese wandering about:
did you know there's an animal called a Warty Pig? and it's different from the Warthog? i kid you not: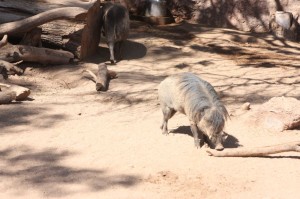 there were four Warty Pigs in this enclosure. Davey and Shae named them all: Grouchy, Sleepy, Hairy and Fatty. I think. I may have to double check those names with Davey (he's already in bed for the night).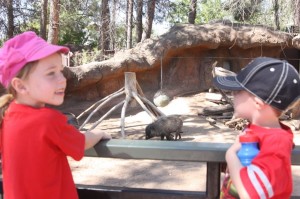 In an attempt to ward off any complaints of "i'm so hungry" LOOOOOOONG before it was time to stop for lunch, Bri and I agreed we'd buy Kettle Korn for the kiddos to share. so as I headed off to do that, i saw some animals with their handlers and called our group over to see them….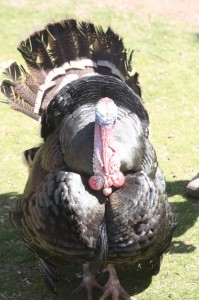 i love the look on davey's face in this one: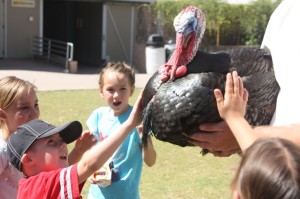 and following a session of hand sanitizer/hand washing, we enjoyed a break for our mid-morning snack:
and then we set out to see some more animals because how can you see elephants, turtles, geese, swans, a turkey and a lizard and say "i spent the day at the zoo?!" you can't, right? people would totally say "but what about the zebras and giraffes and lions and tigers and rhinoceros….?"
so we found the Andean Bear exhibit (aka: the Forest de Uco) and enjoyed the bears, some stingrays, some monkeys and birds and snakes and spiders and toads and i don't remember what else. our group (nicknamed the "Yellow Giraffes" for the sake of not having to call out 7 individual names EVERY time we wanted to move on to the next exhibit), really enjoyed finding shade and climbing things.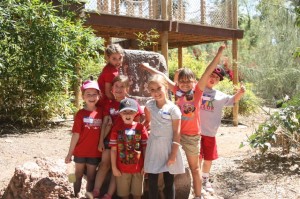 and we didn't make it ANY further before it was time for a LONG lunch stop. (seriously. it was LOOOOOOOONG. and we STILL had to have one girl throw away 1/4 of her uneaten sandwich. )
but we persevered through the rising temps and the significantly diminished supply of drinking water and managed to see the otters, african dogs, dik diks, emu, mandrills, rhinoceros, lions and tiger:
before Mrs. Wilson's #1 rule ("no complaining!") was repeatedly broken. so we stopped for some water and a shade/sit down break.
and then we pushed the kids past their limit. we found the denning and the giraffes: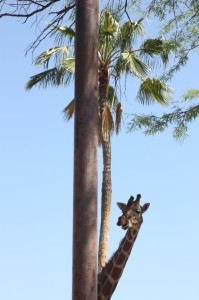 before we sat on a slightly shaded bench in front of the zebras. where NOT ONE CHILD looked at the zebras. at all. not one. not even a glance. and we knew it was all over.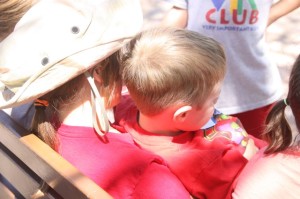 (yes, that's a GIRL in davey's class holding him on her lap b/c the bench was full already!)
it was pretty impressive how quickly the kids PERKED UP when we told them we were going to a play area. the kids took off at a brisk clip and proceeded to enjoy playing "house" and "zombies" while we were in the tree house/creek play area. which was 100% shaded. and it felt SO. GOOD.
and yes, that extra HOUR on the field trip kicked our chaperone fannies. but after some play time and shade and a the final drops of our water, we all met up near the exit and managed to snap some fun class photos:
after walking up a SERIOUS HILL with the kiddos to make sure our SEVEN got ON the school bus, Bri and i were a bit "giddy" (or maybe we were dehydrated?!) and we enjoyed her air conditioned car on the drive home (which may have included a stop at McD's for two VERY LARGE Dr. Pepper beverages with "easy" ice) before we were officially finished with our day.
to give you an idea of how "close" the timing of the end of the trip, the drive back to school and the end of the day was, Bri dropped me at my car in the school parking lot. i zipped out (before getting stuck in the pick-up lines), pulled my car into the garage at home and as i walked to my corner, my neighbor was leaving her garage with her double stroller (with her daughter and my daughter – neither one napped!), as she walked to pick up her kindergartener AND my kindergartener.
it was a long, hot, sweaty, sunny day. i have a mild sunburn. i might have a touch of dehydration. but it was worth it and i would repeat every minute of the day if asked.
because THIS guy is so very important to me: