do you remember your first school field trip?
i'm not sure if it was my FIRST field trip, but it was a memorable one. we lived in ohio and it was the winter (perhaps the middle of winter? i don't recall – i just remember it was FREEZING) and it was a class field trip to sea world. yes. sea world. in the freezing cold. i just remember being so cold i couldn't open anything in my lunch (especially that delicious twinkie or hostess cupcake – you know the one i'm talking about). i also remember that it was so cold the mom in our smaller group bought coffee to warm herself. and she let us all have a sip of it. yes. it was THAT cold.
*****     *****     *****
but i digress. i don't think my Munchkins will have to worry about a field trip experience like that now that we live in arizona. yep. seriously. cold? not really a problem. but too hot? THAT i can see happening. perhaps i'll have to carry around ice packs or bags of ice cubes to put down kids shirts to cool them off on hot field trips…. but again, i digress.
*****     *****     *****
on thursday, february 13th, samantha was SO EXCITED! it was her first EVER FIELD TRIP DAY! and yes, it included her first ever bus ride.
*****     *****     *****
i got the most amazing group of kids ever. seriously. i was responsible for Samantha, Lily Kate, Luke W, Drew and Lizzy. (quickly: Drew is our neighbor, we walk home from school with Lily Kate & Luke W and their moms/sisters. and Lizzy is Luke W's cousin. See what i mean? BEST. GROUP. EVER!).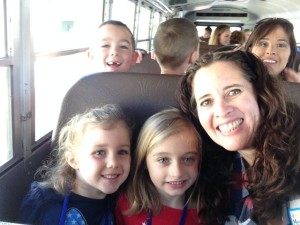 The Stuffington Bear Factory was a fun experience for me last year with Davey's class. I was elated to get to go again this year – especially to ride on the bus with Samantha like I did with Davey last year (when it was HIS first field trip and HIS first bus ride)! The business had to move to a new/different facility this year (their rent was increased by DOUBLE) and it seemed as if they hadn't quite figured out all the little details yet. But it was still fun.
*****     *****     *****
the kids started with a lesson on the history of teddy bears. how they were created, how they were named, how much the first ones cost, what the first ones had as "stuffing" and more.
the children were very attentive.
and then, just like last year, a very large "Jeopardy" board appeared for some GAME TIME for the kiddos.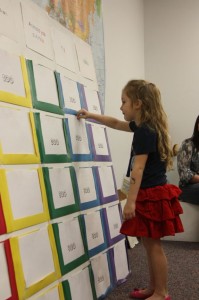 (i helped her answer the question she got. the answer was "ANDY." and the question was something related to the name of the boy who owned Woody in Toy Story).
*****     *****     *****
a factory tour was next on the list:
(touching various kinds of fabrics used to make the bears/animals).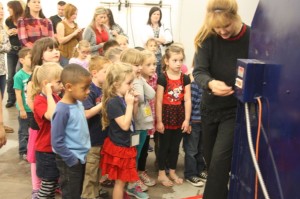 *****     *****     *****
but the best part of all…. seriously, the BEST part of the field trip for the kiddos is THIS:
MAKING A BEAR.
1. choose a bear: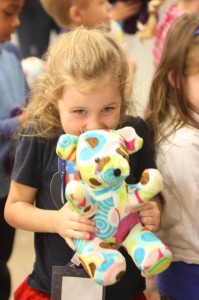 (side note: i felt bad for the boys this year. they were offered pink, purple or the above shown multi-colored bear. seriously. BAD CALL, factory. BAD CALL.)
2. The kids get to operate a foot pedal to blow the stuffing into their bear: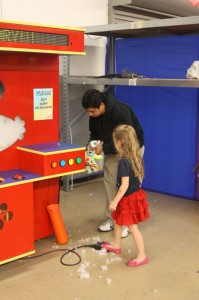 3. Sew up the small hole from stuffing the bear:
4. "comb" the bear to soften his/her fur a bit: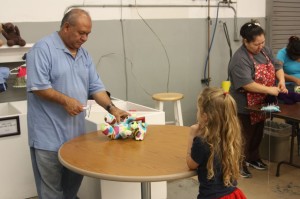 5. use the non-operational vacuum to further FLUFF the fur: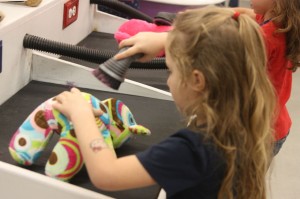 6. use another foot pedal to give your bear an air bath to un-mat the bear's fur: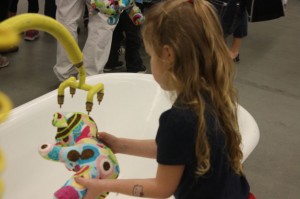 7. "dress" your bear with your choice of TWO ribbon colors:
8. NAME your bear (she chose "Colors") and fill out the "birth certificate:"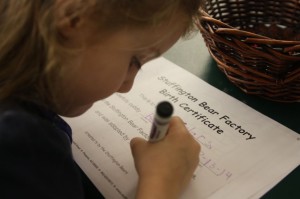 *****     *****     *****
and after all that fun, it's time for a CLASS PHOTO!
what kindergarten kid doesn't like to hold a stuffed animal on their head?!
and many, MANY thanks to fellow mom, Cindy, for snapping this photo of me with my sweet Samantha: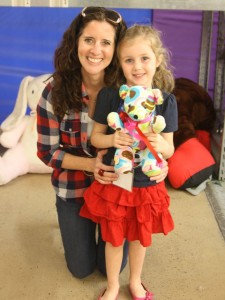 and then, true to form, i snapped THIS photo of us on the bus ride back to the park for lunch: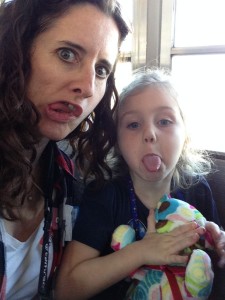 in the end, the day was fantastic and i LOVE the name samantha chose for her bear…. COLORS. so perfect. so her. so fun.