Giddy up, Cowboy!
Today, I had the distinct pleasure AND privilege of being the only parent "invited" to the 1st grade play. Technically, it wasn't an actual play. And it wasn't all the 1st grade – it was just the highest reading group (the kids all change classes for reading and math groups) and this group performed the play for the REST of the first graders.
No parents were invited because ALL FOUR 1st grade students (120+ kids) plus the 4 teachers were crammed into ONE classroom for the show! I was invited so I would take photos (and submit them to the yearbook). WOO HOO!
This is before the big show, when the kids were getting into their "costumes:"
I love this kid!
And now, presenting, Febold Feboldson Saves Nebraska from Drought: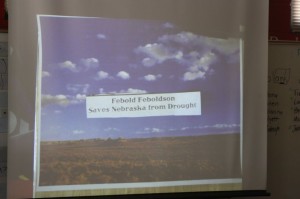 These are the four Febolds on their one horse:
Since I don't have permission to share all the kids' photos, I'm skipping the other group photos I snapped (fathers, mothers, children, clouds and story tellers). But here's a shot of the group "performing" for the rest of the 1st graders: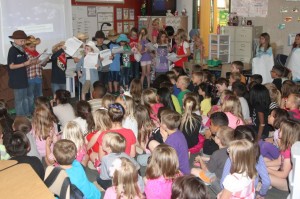 It was cute and funny and the kids did a pretty darn good job (it was their first-ever exposure to a read-aloud/play)! and I LOVED that I got to be there for it. Once again, I am humbled and thankful for my husband and his job so I can stay home with our Munchkins.