man oh man! i've been a "nay-sayer" to flu shots for years. never again. last week, davey was sick for a couple of days. nothing major, but enough to keep him home from school. and then alex got sick. and she's still recovering from her dismal bout with the flu. it's been a week since she's been her usual, perky self. for three days straight, she had high fevers, lethargy, crying, unwillingness to walk, no appetite and so much more. and in the midst of that, dave and i got sick.
thankfully, the only vomiting that occurred was due to excessive coughing. but there was plenty of coughing. and fevers. and lethargy. and lack of appetites. and aches. and chills. and general BLAHs.
next year, we're all getting flu shots. i don't care if samantha screams for an hour from the shot – it'll be worth it to avoid what we just went through. and the indignity of it ALL is we were all sick over MY birthday weekend! seriously. i lost all chances of eating out for free on my birthday at several local restaurants. sigh.
despite that, my birthday was decent enough. we were all together. in our home. cozy and warm. and some of us enjoyed a GF marble cake with chocolate frosting and sprinkles.
as you can see, snow white made an appearance, as well. she's my favorite princess. side note: i'm pretty sure it dates back to when my brother was in college in southern california. when he returned to school one semester, he left behind a postcard of Snow White for me. it was snow white from head to toe and the "background" was shiny silver foil. he wrote on the back of it with a blue marker (or highlighter?) that eventually got rained on and smeared, but i'm pretty sure it said something about Snow White reminding him of me (must be the dark hair). ever since, Snow White has been my favorite princess.
back on track: Samantha wanted me to have a Snow White birthday party so i washed the plastic princess from her full set (she gave me this princess months ago and she's been living in our kitchen in various nooks and crannies) and placed her in the center of the cake. you should've seen samantha's smile when she saw my cake!
i was plenty spoiled by my family this year. cards, gift cards, cash, a bike mount for my iPhone (i'm always afraid it's going to fall out of my pocket!), and NEW SHOES! check them out: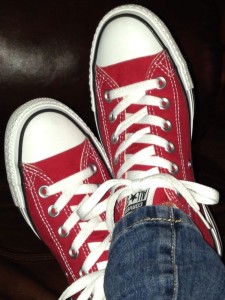 Dave ordered several pairs for me b/c he didn't know what color I'd want. he told me to keep the ones i want and we'd return the others (6pm.com has a great return policy). imagine my disappointment when i discovered they were too big!
a trip to our local Kohl's remedied the shoe issue. i had intended only to try on the Converse in another size to find the right size for me so we could order new ones. however, they were on sale… and i had a coupon… so i found the right size and purchased a few pairs so i could choose my color(s). the red ones shown above are keepers. they're the right size and i've already worn them out of the house.
and that, my friends, was my birthday and the week before and after it. as of right now, i have cleaned our home from top to bottom. things have been disinfected and cleaned and wiped and washed. bed linens are currently being washed but otherwise, everything has been cleaned and de-germed.
and next year? yes. next year we're all getting the flu shot.