it's already the middle of the month?! good gracious! it's been a busy month for us, thus far. we've enjoyed fall-like weather with lots and LOTS of leaves on the ground. samantha loves to walk and run through them. i think she's just like her mom who also really loves the C-R-U-N-C-H-I-N-G sound they make! she also likes to scoop them up and throw them in the air. i'm not as much of a fan of that one – sometimes there's dog or cat poop hidden under the leaves. and there's always a lot of dirt (this is the desert, after all).
but before i continue on with stories and highlights of january-thus-far, let me share some photos of our new year's eve celebration (warning: there aren't many):
we celebrated the new year (via the clock in new york!) with our dear friends, the Woods. at midnight (or 10pm arizona time), we enjoyed some champagne (or sparkling cider if you were not of age):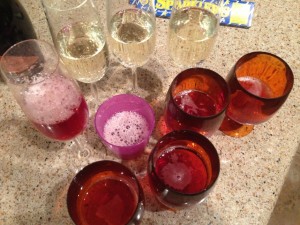 and then we went into the backyard and used up some OLD sparklers (some of these may still be "around" from our years in Lynden. no, i'm NOT kidding):
everyone enjoyed sparkler time (even alex!) and then it was time to say "good bye" to the woods and hello to our beds!
with the munchkins returning to school and dave returning to work, it's been pretty quiet around the house. i've been trying to go to the gym every morning after dropping off alex at school. it's not much, but it's better than nothing. i've worked my way up to 3 miles on the elliptical and i've been able to pace under 10 minutes, so that's pretty good. and i went to a zumba class last saturday – it was my first zumba class since school started back in august! (alex's preschool schedule just doesn't afford me the opportunity to attend zumba).
i've also been cleaning and sorting and organizing and purging. it always feels so FREEING to get rid of STUFF. granted, we still have a LOT. i still have a LOT. but it's good to get SOME of it out of here.
we've been trying hard to enjoy the sunshine. our HOA (home owners association) had a fun "NO SNOW" even last weekend. they brought in actual SNOW for the kids to play in and even though it was more icy than snowy, it was fun for them anyway. it's still a little weird to see people playing in snow in flip flips, though we are a little used to seeing that (it's a common sight up at Artist's Point at Mount Baker in the summer).
my alarm just told me it's time to go get alex. i'll have to share more later!