on friday, dave and davey joined another father-son duo: jared and caleb, at the mall for a rather empty-theater showing of Thor.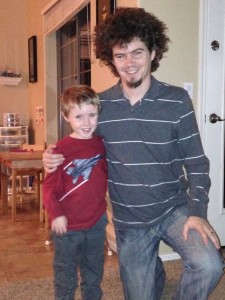 it was davey's SECOND experience in a movie theater (we won't discuss the reality that i haven't been to a movie in the theater since we moved here almost two years ago). dave said he did great, even during the scary parts.
even though i might be a teeny bit jealous that davey gets these movie theater experiences AND that he gets candy, popcorn AND a soda during said movie theater experiences (I never even got that when dave and i were dating!), i am VERY, VERY glad that my two guys have similar interests. and that they LIKE to be together. and that they BOTH find it fun. hmmmmm – note to self: maybe if i liked super hero movies a little bit more then i might get to go to the theater?!
while the boys had fun (and fear!) at the theater, samantha, alexandra and i enjoyed a movie at home! casey and grace joined us for cookies, caramel popcorn and Charlotte's Web (from 1996 with Julia Roberts as the voice of Charlotte). it was so nice to unwind, relax and enjoy some time with our friends.