MERRY CHRISTMAS from our family to yours!
(warning: this post will be VERY heavy on the photos – mostly to show the miles-and-miles-away family members what our Christmas looked like).
The Munchkins started the day by sleeping in (somewhat). I was the first person up at 7:15. Around 7:20 I heard (and then saw) Alex and shortly after, Samantha was added to the mix. Davey, however, didn't make an appearance until sometime after 8!
In our family, we follow the stocking tradition that Dave's family practices: stockings can be opened ANYTIME on Christmas Day. Yes, this means that you can wake up at 12:01am to open your stocking and then return to bed. Or you can wait until the morning and open your stocking with other family members. Our children aren't fully aware of this rule yet, so the girls and Daddy made it downstairs first. Then I trailed behind them and Davey came straggling along much later.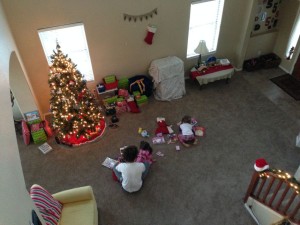 Since Davey woke up so late this year (SO CRAZY since Samantha is normally the one who sleeps in!), we ended up opening stockings (where Alex immediately dug into her small candy stash and these sweet treats were gone in less than 10 minutes:),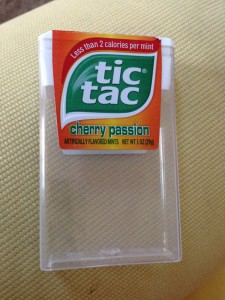 and then eating our breakfast (homemade, gluten free cinnamon rolls)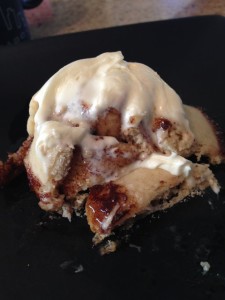 and then "putzing around" (while I got some stuff for our late lunch prepped in the kitchen) before we were able to read the Christmas story: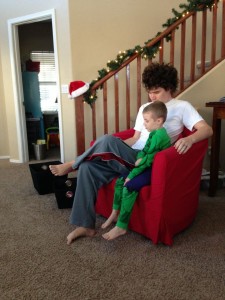 and pray and then open our gifts.
i did, however, request a few Munchkin photos in front of the tree before the craziness of gift-opening began: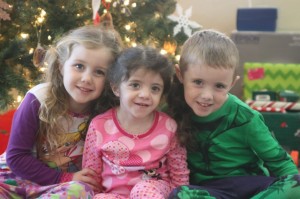 We had a LOT of gifts to open! We had presents from family in Washington and New York and Pennsylvania…. and we started with the youngest person and moved up to the oldest, one gift at a time…
Alex started us off with a dress-up Minnie Mouse set:
while Samantha scored some My Little Pony pjs: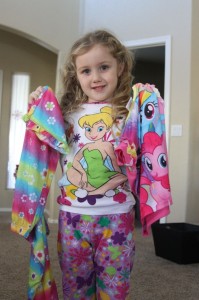 and Davey received TWO pairs of super hero pjs: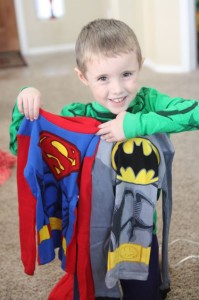 Many, MANY thanks to grandpa & grandma for starting off the gift opening on such a high note!
Not to be overlooked, Dave and I get in on the action, too. He scored a MICRO Arduino for the Munchkins while I was blessed with some new black flats (I had to glue mine back together last week)!
(Samantha claims she picked out those shoes for me while shopping with Daddy and her siblings yesterday morning).
After round one, I lost track of who opened what in any particular order, but in the end, everyone was quite excited for their gifts chosen with love by family members near and far!
Dave and I received a new printer (thanks, Mom!) and a special "date night" package (thanks, Dad & Mom)!:
Dave's haul included a Star Trek Phaser: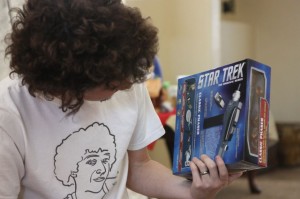 a Thunder Tumbler: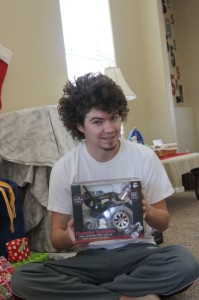 and some new lounge chairs for the pool area:
(on Christmas Eve we opened "sibling gifts" with Dave's family via FaceTime, so he also raked in a cool pool float. it's well-known that dave LOVES to relax by the pool!)
Despite the lack of photos of me, I acquired some fabulous gifts, also, including (but not limited to) a food chopper/slicer (this will make homemade pico de gallo SO MUCH EASIER):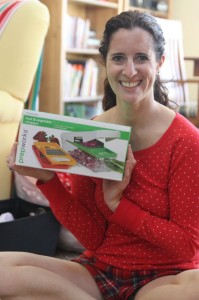 a beautiful silver ring, a bread machine, a white Swatch watch (yes, the 80s are back and this is the ONE THING from that era that is a classic and DESERVES a comeback), a new belt, some Bath & Body Works stuff and on Christmas Eve I opened an uber cool typography book from the Sibling Gift Exchange (thanks again, Sterling!).
Davey had quite a haul including, but not limited to a Lego game: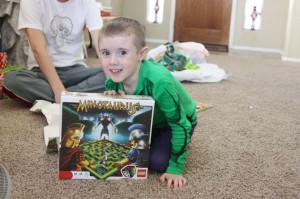 a remote controlled submarine (this will be AWESOME in the pool – THANKS, Uncle John & family):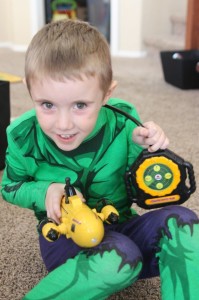 The Bible in Legos (and several other books), a remote controlled Thunder Tumbler (like daddy's), a "rip cord racer" car, a Batman lego set and last night he opened his Incredible Hulk pjs (as seen in all these photos):
Samantha was in her element with all the presents… I'm so thankful for her energy and enthusiasm! She received a VTech princess "magical learn and go," Walter the Farting Dog book and noise-making stuffed animal, a Merida doll, Disney Junior Scrabble, a Polly Pocket set (much larger than the original PP sets, for which I am truly thankful), a Barbie Glam House, two movie tickets (so she can go see Frozen with mommy during Christmas break), a few books and all kinds of things that are pink and girly!
Alex was hilarious. This was the first year that she really "understood" presents and she didn't want help opening them. Her second present, however, was a Yo Gabba Gabba coloring book from her Uncle Tom.
She fell in LOVE (since she's obsessed, you know!), but made it to round three with ease: a walk-on PIANO (which is really, really cool… thanks Uncle John & family!).
but after a few minutes on the piano, she got distracted with her Yo Gabba Gabba (coloring) book again. When it was her turn to start round FOUR, she exclaimed "I READING!" Dave tried to convince her to open another present, but she wasn't at all interested – she was ENGROSSED in "reading" her Yo Gabba Gabba book. It was hilarious.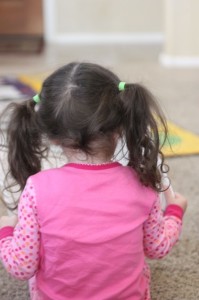 So we skipped her. But about two people/gifts later, she wanted her turn again. So along came the rest of her presents: a Veggie Tale bath toy, a CD player and a kids' music CD:
Davey's Lego "Brick Bible" set included a poster which I promptly hung on the wall in honor of the season: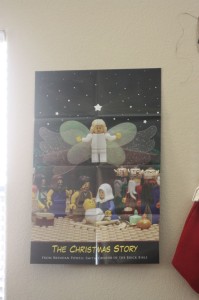 (the other side is a horizontal Noah's Ark scene).
It was a FANTASTIC Christmas morning: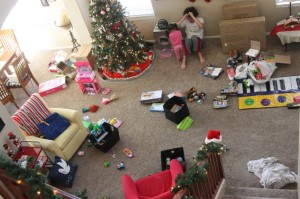 and Alex, for reasons known only to her, decided to play HAIR STYLIST this morning after all the chaos was over:
It was a really good Christmas Day, (though it wasn't perfect. There was a very draining discipline issue that had to be addressed. No further details are needed, though a certain Munchkin learned a very good lesson about "GRACE" today).
Today was our first EVER Christmas without any additional family members – just the FIVE of us. I had been dreading it, but it turned out to be relaxing and fun and joy-filled and I loved the family time for us. We enjoyed a big lunchtime meal followed by 70* weather, a long bike ride in the sunshine, crafts/Legos, FaceTime with family, a special dessert by Dave (sous vid dulce de leche with ice cream over sous vid cinnamon apples) and the other half of last night's Christmas movie: ELF (my favorite!)!
So from our home to yours, MERRY CHRISTMAS TO ALL, and TO ALL A GOOD NIGHT!