Halloween was fun and CRAZY this year.
i started the morning in Alex's class at her party where she hit OVERLOAD and cried and clung to me through the majority of the party. it was definitely not like her. she DID perk up for the trick-or-treat walk through the front office – candy definitely motivates that girl. then again, what 80s glam rock star doesn't like candy?!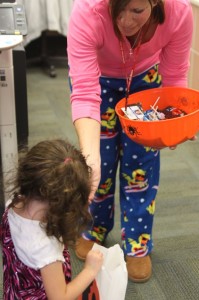 after taking a break at home for a few hours, she was in a better mood and we headed back to school to see the costume parade and run back and forth between the kindergarten and 1st grade classes.
we arrived in time to deliver "glasses" to Spider Girl and snap some photos of Iron Man and his classmates before the costume parade began. with running from one hallway to another, i missed out on the kindergarten class photo (boo!) but i'm glad i snapped this one of the 1st graders….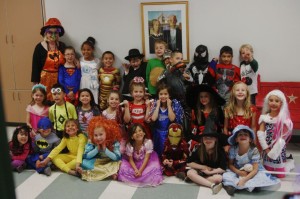 Alex had a rough time during the costume parade. and again during samantha's class party. too many people. too much noise and chaos. i'm guessing she was on sensory overload x a lot. i might need to find a sitter for her during these classroom events! that said, i still had fun watching the kindergarteners play bingo: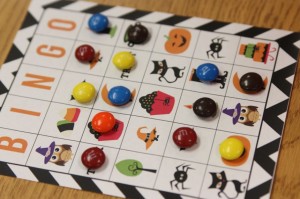 bowl with a plastic pumpkin,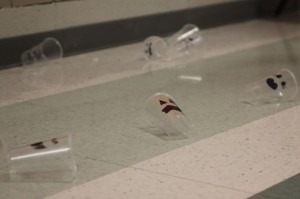 decorate cookies, make a tissue paper jack-o-lantern and eat snacks:
 i also managed to take a photo of each of the kindergarteners while they were still dressed up. my favorite happened to be this darling Spider Girl: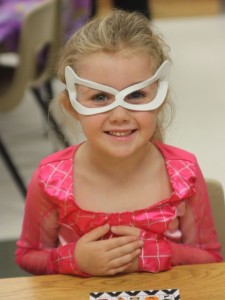 and then i ran back to davey's class. most of the kids were out of costume by then, but i took a photo of everyone anyway. their party (which consisted of a trail-mix type of snack and green "Witches Brew" punch) was already over (boo!) but i still love spending time with the kids! especially with Iron Man: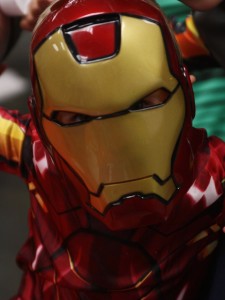 surprisingly, it was in Davey's class that Alex calmed down. and turned into her happier self. and then we returned to samantha's class for the rest of her party. and her teacher let me gather all the kids for ANOTHER group photo since i missed the first photo op: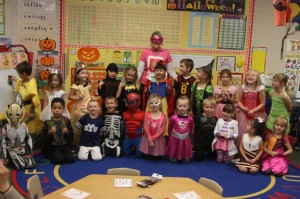 that night, we enjoyed a quick dinner of BBQ pulled pork and baked beans. i wanted something that was easy to make (crock pot!) and the kids would eat happily (no protests!). and i think it was around 6 o'clock when we headed out into the neighborhood.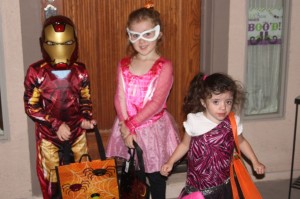 now i have to tell you, Trick-or-Treating in Washington state was COLD, WET and somewhat miserable. Here in Arizona, it's WARM (sometimes HOT, even) and pleasant. families, neighbors and friends hang out in their driveways. they enjoy pot luck meals and block parties. fire pits are moved to the driveway, though they're rarely needed. camping chairs and bowls filled with candy are in abundance. it's not just an evening for the kids, it's for families. for adults. for fun. it's a full-on event to be experienced.
A LOVED riding along in the wagon. at almost every home, we would lift her out of the wagon and she would trail behind D and S to say "trick or treat" and "thank you!" their Halloween bags (thanks for those, Nana!) filled up VERY quickly.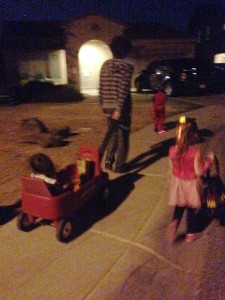 after making a large circle around our immediate neighborhood, the munchkins were  eager to HAND OUT candy so we stopped at home and started to set-up our driveway. one munchkin wasn't quite finished yet, so i took said munchkin down and up our street to satisfy that sweet tooth. and then all five of us hunkered down for about 40 minutes so we could pass out candy to the few straggler trick-or-treaters that remained in our neighborhood.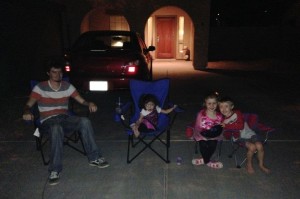 i'm DEFINITELY looking forward to next year's neighborhood adventure!
p.s. any guesses on WHICH Munchkin wasn't finished with T-or-T time when the other two were?!