nana is amazing. she likes to shop for bargains, but she's good at so many other things, too. throughout the year she'll send us multiple boxes filled with things for the Munchkins (most often clothing) and sometimes she couldn't possibly do a BETTER job picking out some major bargain for them!
for samantha, it's been high heeled boots and booties (which she is NOT allowed to wear out of the house – she's only 5, after all)! i have countless photos of her wearing her favorite high heeled boots, but THIS one is my favorite: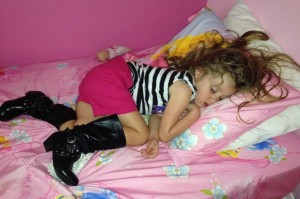 and other times, her boxes/packages aren't filled with a "favorite" item but they are filled with items that make the kids happy and/or excited. earlier this week, a small Priority box arrived with one item for each child. and I was VERY excited about the contents! back in November, i sent nana a link to an ADORABLE hat for the girls. within a day, she had already looked at the link AND made alexandra's hat!
are you ready for some cuteness?
no.
seriously.
CUTENESS!
okay. here we go:
i LOVE, LOVE, LOVE this!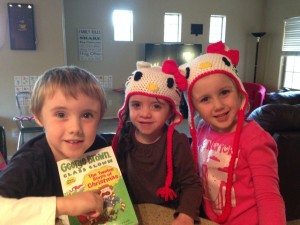 nana made matching Hello Kitty hats for the girls. and she found another George Brown Class Clown book for Davey.
many, MANY thanks, nana, for the special box!