tomorrow is the big day and i'm mostly ready. there are a few treats i'd still like to make (more GF sugar cookies, sour cream drop cookies and another 1/2 batch of poppycock) and there are a few more gifts to wrap (shhhh! they're all hidden in the guest room closet – don't tell!) but otherwise, i'm ready for tomorrow.
so i thought i'd share a few photos of some of our holiday decor and preparations.
Munchkin letters to Santa…
Christmas letters and photos from the Dunkins to our mailing list….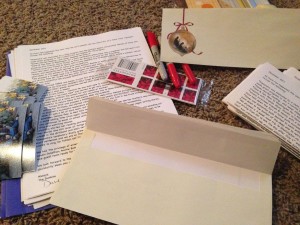 Red burlap stockings (I made these last year) and a burlap banner (left over from the shows this year):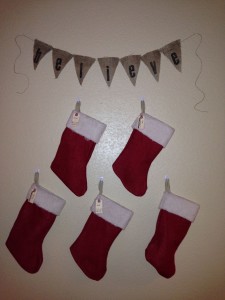 My yellow cart received a new coat of paint last week….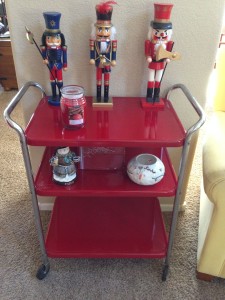 and my pumpkins from Halloween also received a coat of paint and some other additions: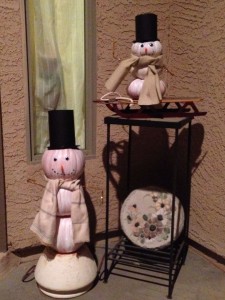 i think these are my favorite addition this year!
i was making a pillow cover for a dear friend when i had an "i'm-all-finished-and-haven't-made-any-mistakes" bright idea to re-stamp a letter that wasn't too solid. when i picked up the stamp, i promptly dropped it and that left a blob of paint. BOO!!!! so i took this no-longer-suitable-pillow-cover and changed it to a banner… it's another new favorite paired with my olive wood nativity from Israel!
i love the lighted garland along the banister: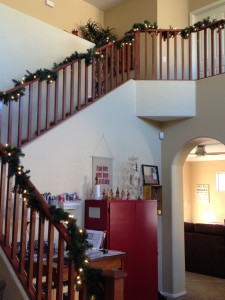 and dave's granma's table is the perfect location (and height!) for the nativity scene for the Munchkins (which gets well used):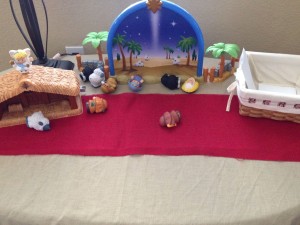 my old "P-E-A-C-E" letters found a new home on a shelf in our family room. paired with the ruler-turned-star that i "forgot" to take to the JITT Vintage Market to sell and i have a new look!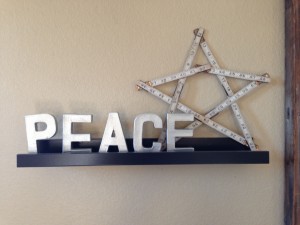 the other shelf pays homage to Christmases past…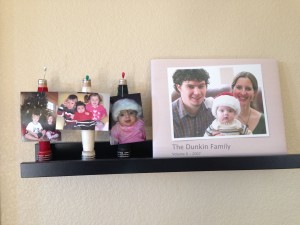 while the pantry door sports a brand new wreath made by Samantha!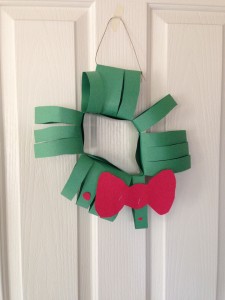 here's our Christmas card/photo wall: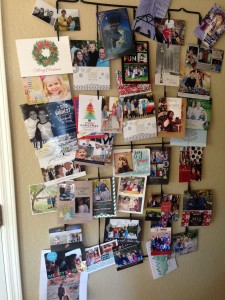 and Samantha's advent count down: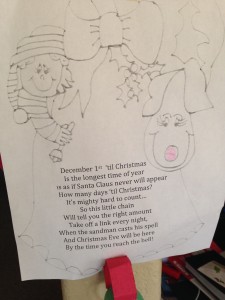 finally, the tree: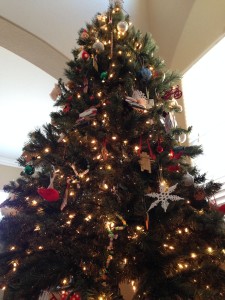 and the presents all wrapped with love and care:
and because we all know i have a sweet tooth, these are causing my tummy lots of joys this Christmas season: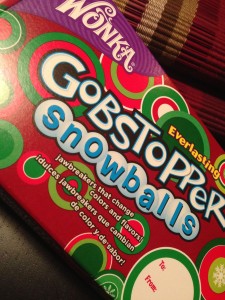 (many thanks to samantha's teacher for telling me how she broke her tooth – eating one of these – i had to IMMEDIATELY go buy them b/c they sounded SO GOOD – well, minus the broken tooth, of course!)