Yesterday morning  was FINALLY the day.
The day Samantha had been awaiting for WEEKS.
The day she got to stand on the steps to the stage in the "multi-purpose" room (cafeteria, gym, etc.) with the rest of her class and SING LOTS OF SONGS.
Songs about turkeys and pilgrims. And maybe some about Native Americans, too.
The Kindergarten students were able to choose what "character" they wanted to be for the program. Last year, Davey chose to be a turkey. This year the children had two choices: Pilgrim or Indian (forgive my non-P.C. terminology).
What did Samantha choose?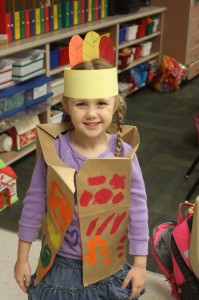 Yep! She was our little Indian girl!
I was able to take some class photos before the big event, but I shouldn't share them since there are other children involved. And let's NOT talk about how I may or may not have asked the group photo of just the Indians (Native Americans) to give the classic "cowboys and indians yell" involving hands over their mouths and some higher pitched noises…. (hangs head in non-P.C. shame)! oops!
She did a FANTASTIC job on the stage steps. It appeared that she remembered all the words to all the songs. And all the motions to all the songs. And she smiled big and she waved at us (I may have even spied a wink!).
(Sam with Daddy and then Sam with her teacher, Mrs. Flanagan)
Following the program, Samantha's class got to go on a "field trip" to the local park (within walking distance from the school). The kids all took off for the play ground while some of the parents set up for the Thanksgiving FEAST: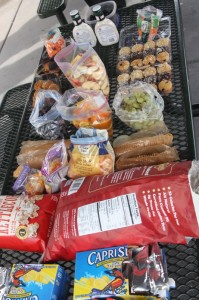 I wish I could share with you some of the photos I took of the other kids, but I haven't asked for permission, so instead, you get to see ALL Samantha! There was a LOT of play time on the playground. The kids had the area to themselves (i.e. no other neighborhood children were there) and they were EVERYWHERE. It was a FANTASTIC way to let them run out a lot of their extra energy!
It was a long morning, but it was SO FUN!
From the Dunkin's home to yours, we wish you a VERY HAPPY THANKSGIVING!
Enjoy your tryptophan coma!