now that i've spent a day lying around my bed and sticking close to the bathroom and a bucket (yep, the day after thanksgiving was NOT a fun one for me), i'm up and moving around and am feeling LIGHT YEARS better. i've ever eaten a piece of toast and had some weak tea to drink. ahhhh – such a feast. and now that i feel better, i can return to my blogging program, which includes lots and lots of updates from the past few months.
first up, JUNK IN THE TRUNK:
i had NO IDEA how "stressed" i was until two weeks AFTER the Junk in the Trunk Vintage Market was over. please do not get me wrong. i am SO GLAD i was a vendor. i LOVED every minute of it and it was a profitable day for me. but the amount of "relaxing" i have been able to do over the past few weeks? glorious.
this show, however, was a dream-come-true for me. we moved here in january 2012 and within a few months, i discovered this fun event called Junk in the Trunk. it was part vintage findings and part fun crafts. and i knew… i KNEW i wanted to be a part of it. fast forward to august of this year and i went on a whirlwind 12 hours deciding to apply to the market, actually applying, choosing a booth size (full or half) and waiting anxiously to hear back from the super-sweet gals who run the show.
i spent the next 3 months prepping for the show. i made thousands of (retail) dollars of products. i worked on display pieces. i filled our garage with "stuff." i borrowed a canopy from a friend. i was daily texting my friends photos of new creations and asking for color opinions. and then it was friday, november 8th. my dear friend, Betsy, loaded her mini van and my Pathfinder with all that we needed for the show. Casey came over a little later and we began the 45-minute caravan drive up to north scottsdale.
and then it was time for this: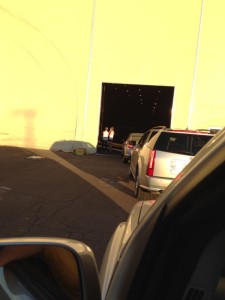 waiting. waiting. waiting.
this is me, waiting to drive my Pathfinder INTO the giant tent. yep. you read that right. cars and trucks and u-hauls can drive INTO the tent, right up to a booth space to unload. wow. this was the big-time!
and the longer i sat and waited to get in, the more anxious and nervous and excited and giddy i became. (you can't imagine that at all, can you?!)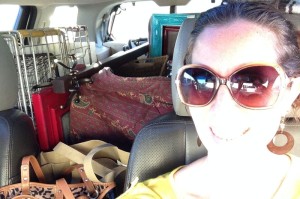 and then it was finally my/our turn to drive in and unload and start setting up. i've said it before and i will say it again: i could NOT have been successful at this event without the volunteer help of two of my dearest friends, Casey & Betsy: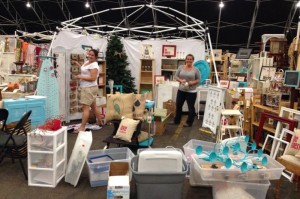 i made a new "sign" for my company for this show. in retrospect, i SHOULD have stamped my name in black, not in white, but many, MANY thanks to Betsy for taking a black sharpie to this banner before show-time to trace around the edges of the letters and make it stand out a bit more at the show!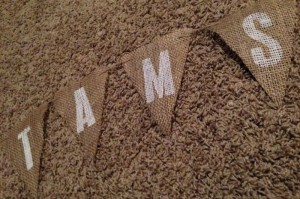 and after 3+ hours of set-up, THIS is where we ended: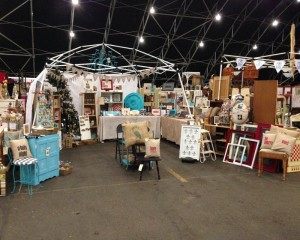 a beautiful booth that was well decorated, colorful, eye-catching and laid-out well enough to hold quite a few people at one time!
Casey worked some serious magic on the tree: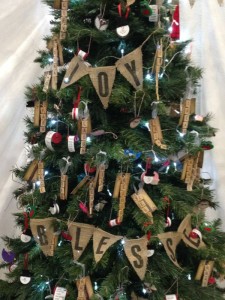 and Betsy took control of making sure everything else looked amazing: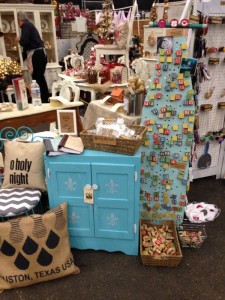 (if you're wondering, i DID help set up. a lot. but i was so scattered and overwhelmed that it all came together due to the faithfulness of my no-nonsense friends)!
we stopped at PF Changs for dinner on the way home and then headed off in separate directions. On Saturday morning, bright and early, I picked up Betsy from a Starbucks parking lot and we headed to the giant tent. we putzed around and made things "prettier" and "easier" to see. we made final bathroom runs. i walked around a little bit but i was so OVERWHELMED at the sheer number of vendors and the amount of STUFF that i couldn't process very well and i quickly returned to the "safety" of my space.
the sweet photographer who was hired to take photos for the day snapped this photo of Betsy and I before the doors opened: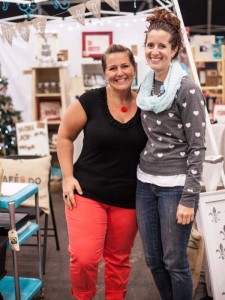 Danielle was an absolute sweetheart and she stayed and chatted with us for awhile before being summoned to take photos of the RIDICULOUSLY LONG line of people waiting outside. we're talking about 100s of people in line.
the day was a blur of steady business, lots of stories and laughs, amazing customers and other vendors, the best "helper" i could ever imagine (seriously, Betsy, i can never thank you enough and i could never afford to pay you what you are worth!), the best visitor near the end of the day (casey brought starbucks – um. oh. yeah), and so much more.
and then Betsy, Casey and i tore down, loaded the vehicles and headed to Chipotle for dinner and some tasty beverages: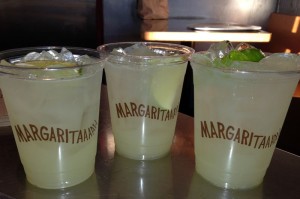 we more than earned those.
i LOVED, LOVED, LOVED being a vendor at Junk in the Trunk. I loved the energy, the excitement, the customers, the other vendors, the JITT owners and crew and helpers… i have NOTHING bad or negative to say about this show. and yes, my answer is "yes" that i would love to be a vendor again. probably not in 2014 (based on the dates of the show – May and September) but I will do this again.
are you curious about my best sellers?
1. hands down, my money-makers were my Scrabble tile Christmas tree ornaments.
2. alphabet block magnet photo holders
3. vintage book frames
4. pillows (hand stamped and burlap)
5. framed, hand stamped word art
6. burlap banners