she did it.
samantha is now FIVE YEARS OLD!
and she's in kindergarten.
and she's smart. and fun. and funny, loving, kind, caring, sweet, tender-hearted and more.
she ADORES being a surrogate mommy to her "baby" sister.
she LOVES to play TEACHER…
ALL.DAY.LONG.
(watch out, Mrs. Flanagan…. I'm learning a LOT about your teaching style!)
and she loves many, MANY different things right now: princesses, my little ponies, hello kitty, barbie, playing school, pretending to read, playing with legos, riding her bike, being outside, dressing up… and i'm sure that's just the tip of the iceberg.
so this year, we went SMALL for Samantha's birthday party but we went ALL OUT related to the theme: Hello Kitty!
Samantha decided she wanted DUNKIN DONUTS for her class birthday treat. So we picked up two boxes of Munchkins (conveniently, this is what I call my three children when they're grouped together – the Dunkin Munchkins!) and I decorated them with HK toothpicks (not pictured) and had them delivered to her class in time for an afternoon/end of the day treat: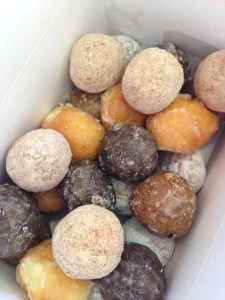 Her party was from 4-6 ON her ACTUAL birthday, after school. it was crazy. but fun!
We started with 8 (purchased) HK invitations, an HK banner, streamers, balloons (barely pictured in the banner photo below),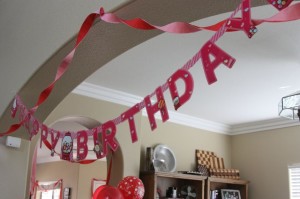 ,
cups and napkins (not pictured), and a special HK balloon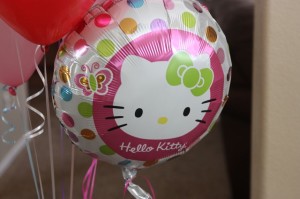 (the LAST one available at the store!).
We added to it a hand-made game: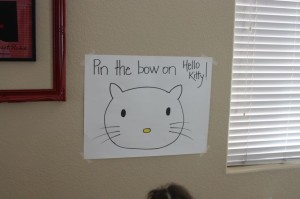 and a home-decorated (box mix) GF cake: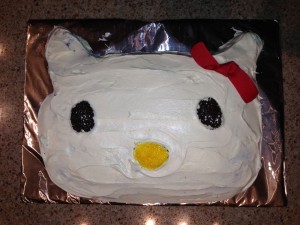 and we ended the party with some VERY HELLO KITTY filled HK goody bags:
(I did make those HK felt hair clips but my dear friend from church made the HK cookies for us!).
In the middle of all of that, the girls played outside and in samantha's room and there were presents and we ate pizza and so much more.
Samantha had EIGHT invitations. She invited her dear friends Lacey and Grace. The rest went to people in her class at school – Mrs. Flanagan (yes, she invited her teacher! She wasn't able to stay for the party but she DID stop by beforehand), Kelsey, Alyssa, Camila, Jenna and Romy. A few girls were unable to attend, but I think the party was lovely. And I think the girls had a lot of fun, too: