i must admit, i'm very, VERY surprised.
sweet Alex has been OBSESSED…
we're talking
O-B-S-E-S-S-E-D
with Yo Gabba Gabba and Blues Clues
for WELL OVER
a year now.
at her tender age, i thought
"FOR SURE SHE'LL BE OVER THIS TODDLER OBSESSION IN A FEW WEEKS."
i'm here to tell you i was WRONG. very seriously wrong.
EVERY
SINGLE
DAY
she asks to watch Yo Gabba Gabba or Blues Clues.
and the other night, when my sweet darling went to bed,
THIS was my view: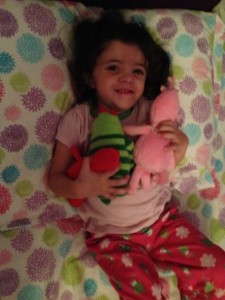 she's hugging TWO foofa (pink), brobee (green) and muno (red).
sadly, we do NOT own todee and plex (she asks for them regularly).
are there any characters or shows your kids surprised you by STICKING to their obsession for longer than a few weeks or months?!