Today's Prompt: Your Day In Detail
I seriously doubt you want to know about my day – in detail. Then again, today was actually quite tame. Let's give it a shot. But if you get bored reading this, I will not be offended. I can guarantee I will get bored typing it….
5:56am Woke up (no alarm needed?!). Decided to get up and get ready for the day.
7:07am Made sure each Munchkin was awake. Made breakfast, started laundry, packed lunches, filled water bottles, prepped toothbrushes, cleaned the kitchen, "fixed" Samantha's hair, found Munchkin socks, and more.
7:50am Said goodbye to Dave, Davey and Samantha. Got Alex dressed for school.
8:08am Took Alex to school. She pitched a FIT about getting out of the car. After I gave her a piggy back ride from the car to the building and her friends started arriving, she was MUCH more agreeable. When I left (8:15am), she was lined up with her friends, she was wearing her backpack and she was smiling and laughing…..
8:25am Purchased new rubber stoppers (for the legs of my vintage step stool) at Home Depot. Headed home to work on projects.
Instead, I did laundry and ironing and… other than breaking the iron (seriously?!) there was nothing exciting accomplished while Alex was in school.
Are you bored yet?
I sure am.
In the end, my day involved all kinds of house chores, child care activities, school paperwork, a trip to Hobby Lobby (with Alex), a trip to the doctor (with all three kids) for two well-child exams (Davey and Alexandra),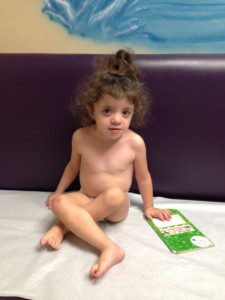 dinner with the family and (eventually) I worked on some projects for the JITT vintage market.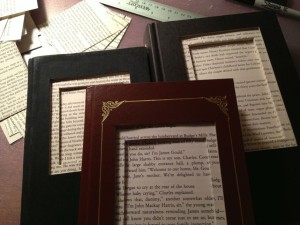 And now I'm blogging. Woo hoo!
Here's a photo of something that made today a LITTLE bit easier: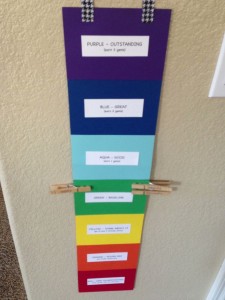 After multiple "threats" by this Mommy to make a clip chart for use at home (the two older kids have them in their classrooms at school), the kids started to ASK for one. So here it is. We'll see how long this works/lasts!
Sorry it was a boring post, but it was the prompt for today.