tomorrow is wednesday, august 7th, 2013.
tomorrow is the first day of school.
for ALL THREE of my children.
yes.
all THREE of my little MUNCHKINS are going to school.
this mama is about to get her world rocked.
for the past 6 years, i have done little else besides spend every waking hour loving on (and sometimes trying to avoid) my precious Munchkins.
SIX YEARS, PEOPLE.
but tomorrow, i will have 2 hours of Munchkin-free time.
without having to pay for babysitting or trade for it.
it's so exciting and so terrifying all at the same time.
*****
Davey is beyond ready for his first day in 1st grade.
here he is with his teacher, Mrs. Eastwood:
Earlier today, I learned that Davey was moved into the ALP student group. (I'm guessing this means "Advanced Learning Potential.") He's excited because he'll be in the same class as his buddy from Kindergarten, Peytyn. Dave and I are thankful Davey will have the opportunity to be challenged by his peers to work harder to excel at his studies.
*****
Miss Samantha has been ready for Kindergarten for the past year. She is ELATED to have Mrs. Flanagan as her teacher: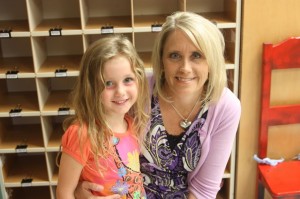 At the Open House on Monday night, she was excited to find her seat at her table and to walk around the classroom exploring the toys and books. We even got to add her name to the "How We Go Home" list: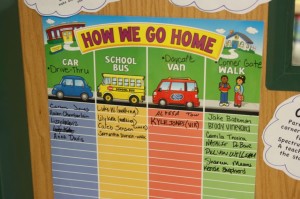 She's eager to move UP on the clip chart and to get to do fun things like be the Line Leader and the Door Holder.
*****
And little Miss Excitable  (aka: Alexandra) was the picture of WOW! overload when she walked into her preschool room at the Open House on Monday night:
She sat right down and requested "help, please" so she could play with the Play-Doh. She wandered around the room, exploring as only she can with her wiggly-bottom walk that's more sassy than anything else and with lots of eager squeals. We managed to corral her long enough to turn a few pages in a book. We met her Temporary Teacher, Ms. Michele. Her Permanent Teacher is currently out on maternity leave (but I've heard AMAZING things about Ms. Lyssa). We also met her Speech Therapist, who will work with Alex in the classroom every Thursday.
*****
I have a feeling the most dramatic and noticeable changes among my children will come from the Wee One in about a month or two. I'm not sure I'm really ready for her to become MORE independent. Sure, it SOUNDS great. But in reality, I know that the day is coming when I will begin to question and to wonder: What am I doing?
What is my place?
Where do I belong?
How shall I fill my time today?
Do my children even need me anymore?
I had a hard (VERY, VERY, VERY hard) time transitioning from working full-time in a very professional position with zero children to becoming a stay-at-home mom with one baby. It took months for me to get into some form of a routine. Some rhythm. It was weird. It was hard. It was challenging. It was mentally exhausting. And then in what felt like the blink of an eye, I was a mom to two children and then a third and I knew my place. I knew my routine. I knew my job(s). And now that is all going to change again.
I guess life and motherhood are constantly evolving and changing and I have to be ready to meet the challenges that come my way.
While I'm excited for these new adventures for my Munchkins, I'm also apprehensive about what this means for me. But ready or not, tomorrow morning WILL come. My children WILL go to school. And I WILL have to adjust.