We did more than just survive today.
Today, as you know, was the first day of school.
But like I said, we did more than just SURVIVE.
We THRIVED.
Dave went to work late this morning to help get the Munchkins to school.
But before we loaded into the car and set out on the adventure of a lifetime, this Mommy had to take some photos.
My children are only somewhat cooperative when it comes to photos.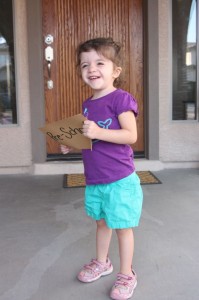 I think I deleted the photo of Davey and Samantha standing next to each other because Samantha was ridiculously taller than Davey. Plus her hair is piled on top of her head, which made her look THAT MUCH taller. And I didn't want it documented for all eternity that Samantha is THAT MUCH taller than Davey. I don't want to shatter his ego or his pride. Not yet, anyway.
Because we arrived EARLY enough, we were able to get a parking spot in the side lot of the school. And then we walked around to the front of the school and waited for the doors and gates to open. Once they did, we were the first ones in Samantha's classroom (the teacher was mere seconds ahead of us)!
Samantha found her seat right away (and I noticed that Mrs. Flanagan had corrected the spelling of our last name!). Following a few quick hugs and "I love yous," we left Samantha in her room glowing and beaming about her first day of school!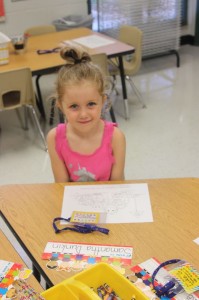 Next we headed down the hall to see if we could drop off Alex yet. (No, we couldn't).
So we continued around the corner and left Davey at the playground to line up with his class.
We did deliver the bag of "extras" (reams of paper, cleaning wipes, hand sanitizer) to his classroom, however, because it was far too heavy for him to carry.
And then we continued down the hall and out the door to wait for Alex's teacher. Alex will meet up with her classmates and her teacher outside each morning. She'll say "good bye" to me at the side door to the school and she'll walk with her classmates and teachers to her classroom. At the end of her school day (10:45 on M, Tu and Th and 10:15 on W), I'll pick her up outside of that same door.
Here's my uncooperative Alex with her (temporary) teacher, Mrs. Michelle.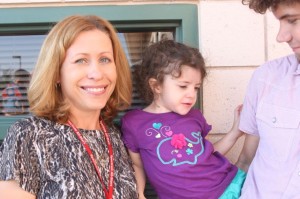 And here she is just a few minutes later – she found a new snuggle partner!
*****
After drop off, I returned home while Dave left for work.
Nana walked up to Einstein Bros. Bagels for her morning latte.
I cleaned the kitchen and did some meal planning and got dinner into the crock pot.
Nana and I headed to Joanns and Walmart to pick up a few things.
But before we had time to buy fresh fruits and veggies as Sprouts, it was time to pick up Alex.
*****
She was in a good mood.
Actually, she was WIRED.
It's impossible to have a conversation with her, but I'm guessing she enjoyed her first day of school.
Immensely.
*****
But then it was time to take Nana to the airport.
On the way home from the airport, Alex and I stopped by Arizona Mills (a mall) to return a few things and to "buy" a pair of $10 jeans for Samantha at Osh Kosh (it was a "spend $50 earn $10 coupon last week) for free. And then we stopped at Sprouts for fresh fruits and veggies.
And when we got home, Alex wandered around the house searching for Nana.
Doors were opened and closed.
Opened and closed.
Opened and closed.
And I believe "NAAAA-NUH!" was called a few dozen times.
*****
After I put away the food, I got started on a batch of Monster Cookies (with GF oats).
And before I knew it, my phone alarm told me it was time to pick up D&S from school.
*****
Davey and Samantha were SO EXCITED when I picked them up from school.
Their chatter and stories shared with me were like rapid-fire machine gun ammo – I couldn't even process one story before the next one began!
Samantha was so excited to tell me that she wasn't scared or nervous or shy about her first day but then later she told me she didn't want to say her name during the Name Game in her class b/c there were so many people she didn't know….
*****
In the end, the Munchkins were all ELATED about their first day of school.
And this mommy was productive and managed, somehow, NOT to cry.
So I declare today, Wednesday, August 7th, a SUCCESS!