Before Alex was eligible for the pre school program with the school district, she was eligible for an Early Intervention program in Arizona where the therapists COME TO YOU.
No. Seriously. They come to your home to work with your child.
It was amazing! We had a fantastic experience with the AZip program and my only regret is that we didn't start with them sooner!
Alex LOVED Miss Jill, her speech therapist. From day one, Mrs Jill was able to get Alex to say new words. It was getting Alex to use combinations of words that was much more challenging.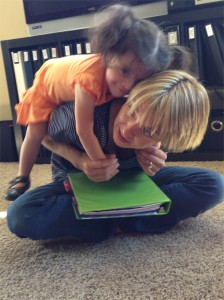 After a few weeks, we managed to get Mrs Jessica, the physical therapist, onto Alex's case file, too. She taught us some strategies for how to PLAY with Alex while still building her core muscles. Alex definitely proved to be a stubborn little girl at times, though.
Mrs. Jill taught us some ways to play with Alex that might open up her communication skills a bit more. We weren't so good at implementing them throughout the week but we celebrated when we did!
Alex loved Mrs. Jill and Mrs. Jessica. They were her PLAYTIME friends and she readily gave them hugs and kisses each week.
And, if the truth be told, they  became my friends, too. They were so helpful with information about Alex and about programs and about progress… They both went above and beyond the call of duty in helping our family learn how to help Alex. And they helped me walk through the evaluation process with the school district. Mrs. Jessica even helped us figure out which brand of over-the-counter orthotics to order for Alex's shoes! It was so sad to say "good bye" to them one last time before we left for our vacation. Once Alex turned THREE, she was no longer eligible for their program and they could no longer work with her.
Mrs. Jill and Mrs. Jessica, we miss you already!
Thank you for the large impact you made in our home in such a short time.