may was a fun, fun month with lots of visitors, lots of projects, kindergarten field day, kindergarten "graduation" and more. i've already shared some of those events with you, but here's a bunch of random, unrelated photos that i wanted to share/document in no particular order.
*******************
would you believe my engagement ring BROKE?
yep.
SNAP.
actually, it was more like a repeated PINCH on my finger and when i finally looked to see what was causing the problem, i discovered this (sorry for the very blurry photo):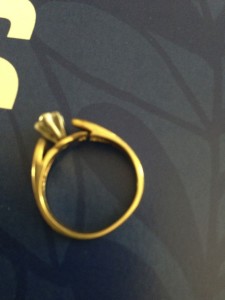 that is a BROKEN gold ring right under one of the "cathedral rises" next to my diamond.
i have yet to get it fixed.
*******************
i did a bit of spray painting, including this chair for the guest room computer: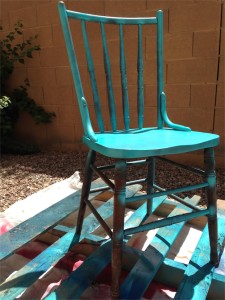 (now that it's the end of July, i have purchased fabric and foam to make a cushion for it).
*******************
i was tired of davey's school habitat art taking over our downstairs wall(s) so i rigged up an ART wall for his room.
you will need push pins, paper clips and string. tie the string to one push pin. push it into the wall. tie the other end of the string to another push pin and push it into the wall. use the paper clips to hang art on the string. there you have it. davey actually has two rows filled with "habitats" (those animal drawings and you "open" them – lift up – to read a few sentences about the habitat of that animal).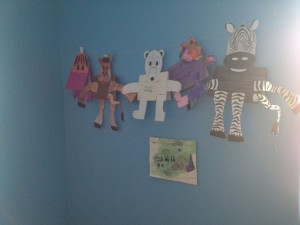 i plan to do this in sam's room for her kindergarten art this year and alex's room, too.
the paperclips are nearly impossible for the kids to pull off the string, which is why i chose paperclips instead of clothespins.
*******************
while cleaning up in the pool area one day, i found a piece of a palm tree.
or i thought it was a piece of a palm tree.
upon closer inspection, it was a dried up lizard: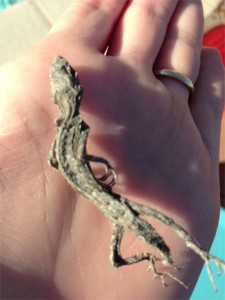 YUCK!
*******************
i made my FIRST EVER deviled eggs for a Memorial Day picnic: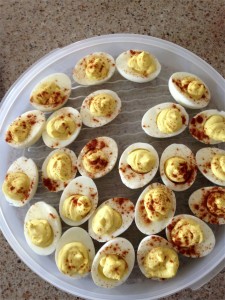 I was horrified to discover that these tasty bites of deliciousness have MAYO in them!!
HORRORS!!!!
*******************
Dave enjoyed an intern bowling event where he whooped up on the competition: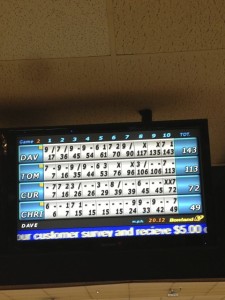 *******************
alex discovered a new toy:
light switches: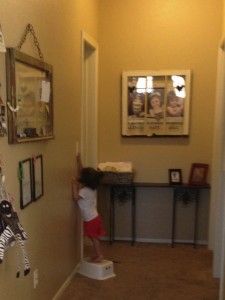 *******************
i made my first ever name plaque (using a board, two kinds of stain and my silhouette to cut vinyl). it didn't work the way i wanted it to (i bought a LIGHT stain and a DARK stain but the dark stain didn't take to the wood the way i had hoped – SIGH) but in the end, i was happy enough with it that we (the three kids and I) went to visit Davey's teacher the week after school was over so we could have lunch with her and give it to her as her WEDDING GIFT (her wedding was scheduled for late June in Costa Rica):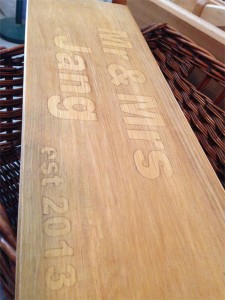 *******************
and finally, we contacted a local karate place and started davey's "one month of free classes" that he "earned" by attending a Buddy Board Breaking event with his friend Caleb. he did surprisingly well and we have started talking about the possibility of enrolling him in a regular karate class. we'll keep you posted!