who knew it would rain in FEBRUARY during the initially-scheduled FIELD DAY for davey's school?
who knew it would be enough rain to make them have FIELD DAY INSIDE?
(insert boos and hisses here)
who knew that they would RESCHEDULE FIELD DAY for the END OF MAY – in ARIZONA – for OUTSIDE?!
by the time i showed up to "help" with davey's class, they had finished up their first station and were in the middle of station #2 which was WATER. two older kids (volunteers from grade 4, 5 or 6) were literally spraying the kids with water hoses. and the kindergarteners were having a blast.
granted, it was quite hot outside.
davey was dry when i saw him.
he didn't stay that way for long (i picked him up and ran through the spray with him so we both got quite wet)!
*****
i forgot my camera and didn't want my phone to get wet, so i have no photos from that first station.
but then Lindy (another mom) was there with her camera. and she let me play with it a bit.
*****
Station #3 was hula hoops:
Davey might not have much in the way of HIPS to use a hula hoop the way it was intended, but he was creative in his USE of the hula hoop.
Lindy, however, has got made hula hooping skills:
(and yes, she'll kill me if she knows i put these on the blog – sorry, Lindy!)
*****
Next up was Softball/T-Ball: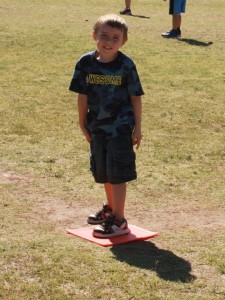 Followed by scoop ball (i have no idea what you actually call it):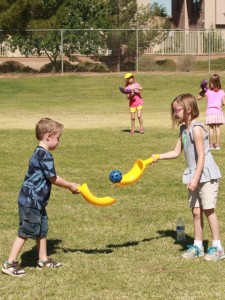 Some running relays and soccer ball kicking stations and then FRISBEE: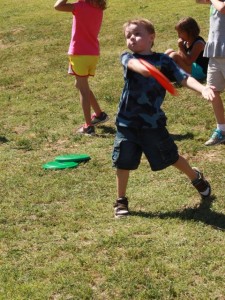 and tug-o-war: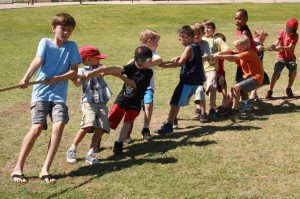 where the boys lost to the girls: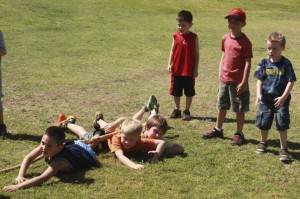 There was more running, followed by an OTTER POP break: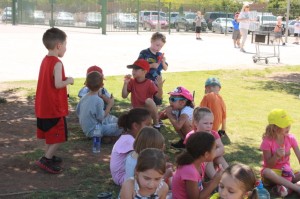 more running, basketball and then it was time to go inside and cool down before lunch!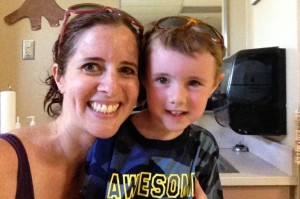 I am SO THANKFUL that i was able to help in Davey's class this past year. And with special events.
And I'm super thankful to Lindy for the use of her camera!