we spent the month of June getting used to the "no school" thing while continuing with some school-time routines (gym time, rest time, PT & speech therapies for Alex, grocery shopping, house cleaning, etc.). we also had some visitors, some fun play dates, the kids enjoyed VBS at a nearby church and we added a lot of swimming into the schedule. ahhhhh. we are SO THANKFUL for our pool.
*****
during June, Alex also took it upon herself to enjoy naps in random places around the house:
*****
she even fell asleep like this one night: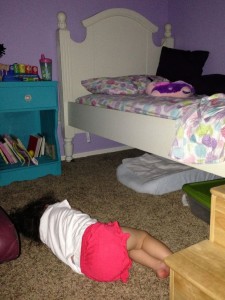 *****
not to be outdone by her little sister, samantha decided to rival her for "cuteness" during an unplanned but MUCH NEEDED naptime: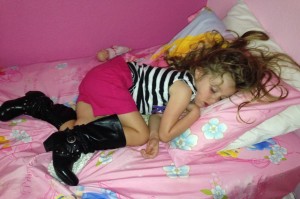 *****
I scored some great finds at a garage sale ($2 for the Princess CD player, $1 each for the spiderman & captain america masks and $5 for the bucket AND the bristle blocks inside of it):
*****
Dave's Cousin Jonathan flew in from Ohio for a visit. We all enjoyed an inflatable battle between the whale and the airplane.
Then he left and went hiking with his dad and some friends. And then they ALL came over for swimming and dinner at Joes Fresh Farm Grill:
But Uncle Jon and Cousin Jonathan made sure to bring gifts of flexible frisbees (I'm still not sure that I'm "thankful" the children received those!) and sidewalk chalk that we put to good use after they left….. on the backyard walls: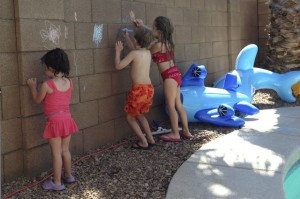 *****
Davey and Sam enjoyed a week at VBS at a nearby church. Davey was in the same class with his buddy, Caleb and Samantha was with Lacey, so my kids were elated to spend a week singing songs, playing games, doing crafts, spending time with their friends and learning about God (and not necessarily in that order)!
*****
I cleaned the garage – yet again: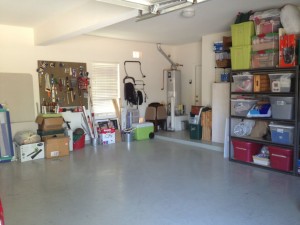 *****
I acquired a hand-me-down mirror from Jenni. It's perfect for our guest room, though I do plan to spray paint it!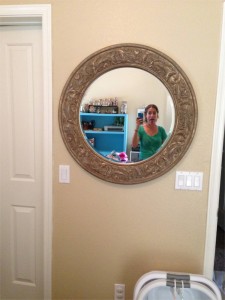 *****
Alex had her pre-school evaluation with the Gilbert School District to see if she would qualify for the FREE program.
She did great. Which means she cooperated enough to show them she's smart but not enough to show them everything she can do (which PROVES she's smart). She balked at climbing the stairs and at drawing lines and other things that she pretty much knows how to do. But in the end, she qualified for the program based on her limited speech skills and her limited gross motor skills (kicking, climbing, running, etc.). A week later, I was back in the office with the evaluators and we wrote Alex's IEP (Individualized Education Plan) which included goals for the school year.
It was a huge relief to learn that Alex had qualified for the program. Next up: waiting for the school assignment plus the session (morning or afternoon) which wouldn't be determined for at least 6 more weeks.
*****
The day after Alex's evaluation, Samantha had her turn. Since her birthday is in late October, she misses the cut off to start K this year. But you know Samantha – she's always been older than her age. And she's been ready for school and K since Davey's 2nd day of school! So Dave and I agreed to pay the application fee to have her evaluated by the district to see if she was ready to start school "early."
We checked in at a desk in a small classroom. There were other 4-year old kids playing with toys and parents sitting around entertaining themselves with their phones. Eventually, names were called and the children lined up and walked out of the room for their "tests." They all went to one room first where a teacher read them a story from a large book. Then they played a game and did a "craft" which involved following directions, folding paper, drawing on it, cutting on a line, drawing a self portrait and writing their name. We have the "craft." After that, they moved to the computer room and I'm not entirely sure what happened in there, but Samantha came back to me and she was beaming.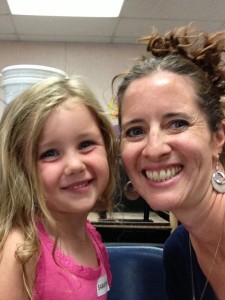 We waited a little while after the test so we could learn the results before heading home.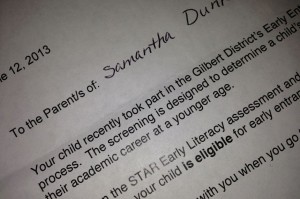 SHE GOT IN!!!!!!!
*****
On a family outing to Payless Shoes (we were hunting for a pair of sandals for Alex), Samantha found some high heels that she loved: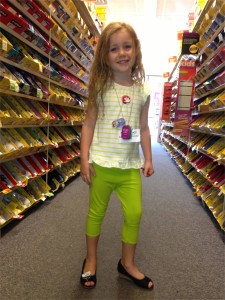 (no, we didn't buy them for her, though I must admit they are CUTE)!
However, I ended up bringing these sweet beauties home for under $15: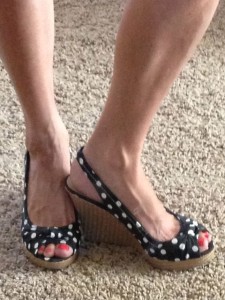 *****
We took dinner (chicken caesar salad) to daddy's office one evening so we could eat dinner as a family and then support our friends by eating dessert at Rita's Italian Ice (20% of the profits that night went to support the medical bills of our dear friends, the Hantlas). It was fun to see a lot of other people from church at Rita's, too!
*****
I finally pulled out some CRAFTING supplies and made a little book for my dear friend Casey. It was a book about our trip to Seattle (her first time there!) back in March for BibleTech. (Well, our husbands were there for BibleTech. We were there to have fun. And we did!)
*****
I snapped this photo one evening when I realized each child was on a different "device" and a different piece of furniture, though at least they were all in the same room!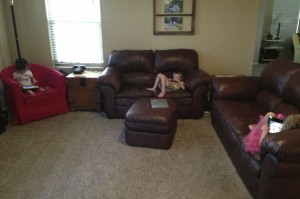 *****
I worked on various projects around the house. I reorganized our pantry: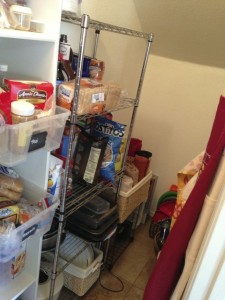 (I've even added another shelf unit since taking this photo!). It's a bit less cluttered now. Whew.
And I hung my jewelry on a garage sale find from LAST summer: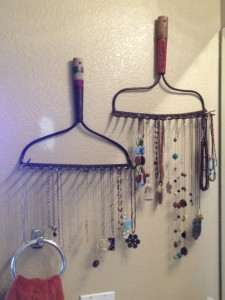 And I made a major change in the laundry room. I thought it would be a bigger project than it really was. But it has made a HUGE impact. The fridge USED to be between the edge of this silver shelf and the window: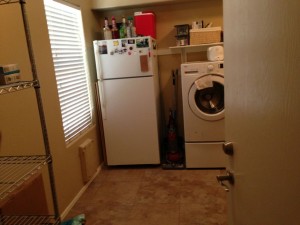 So it stuck out into the "entry way" area from the garage door into the room (which leads into the rest of the house). Moving it to that back left corner meant I had to take that long shelf off the wall. It was all one piece of particle board. Which I did not realize was so flexible. Until I dropped it. And it broke. Seriously. So I hauled the largest piece out to the garage, cut off a chunk and returned it to the wall. I added screws to hold the shelf onto the brackets. I added some more brackets/braces to hold the shelf up. And THEN I moved the washer and dryer a little to the right. And I moved the fridge to that left corner.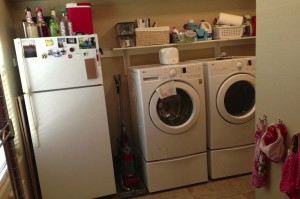 And I breathed a huge sigh of relief that I LOVED the outcome. And after moving the fridge from it's "sticking-out-into-the-middle-of-the-entryway" placement, I had space to create a back to school station for my kiddos, now that I knew all THREE of them would head to school in the fall: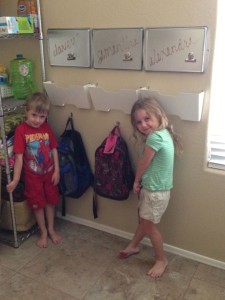 Davey and Sam LOVE this little station. I think they also love the idea of going to school. WHEW!
I have since added their names (with red vinyl) to the file pockets on the walls (those file pockets are a set of 5 from Ikea for about $15) and I have REMOVED their hastily scrawled names from the magnet boards (also known as cookie sheets from Dollar Tree).
*****
We made cards and crafts the night before Fathers' Day, following a pool party and pizza dinner with our friends, the Woods.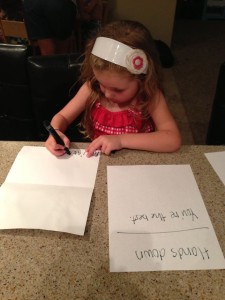 *****
We spent the first official day of summer at the zoo with our friends. The kids played at the splash pad and then we ate lunch before the Philpots left for a birthday party and then the Munchkins and the Woods checked out some of the animals. This tiger was waking from a nap as we arrived to his home and we watched him wander over to the water to take a dip!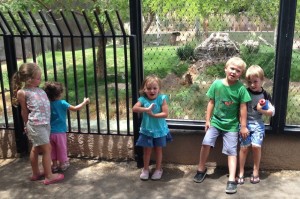 Then we stopped at Rita's Italian Ice for a special treat before taking some to daddy's office (where the big kids like to draw on his white board):
*****
We attended open gym at the local gymnastics/dance/cheer facility near our house. Alex and Sam LOVE this place. It was Davey's first time there. He also loved it.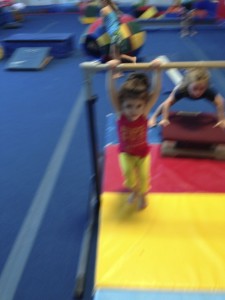 *****
Just because it's summer time doesn't mean that chores go undone. I spent plenty of time doing laundry and ironing:
*****
Shortly before our vacation (which began on July 2), the weather got really, really hot:
and my oldest and youngest kiddos got sick. fevers. throwing up. very, very tired. it was awful. We had all kinds of fun activities and play dates scheduled and we had to cancel all of them. I felt really bad for Samantha b/c she was healthy through it all and had to miss out on fun things because her siblings were sick. So I made it up to her one Saturday morning. Dave stayed home with D&A while I took S out for a special date with Mommy: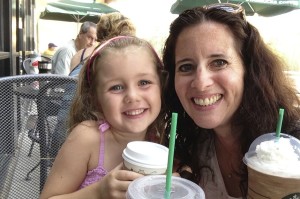 My kids LOVE going to Starbucks!
*****
And right before vacation, Alex's off-the-shelf orthotics arrived. They appeared to be a bit too big for her.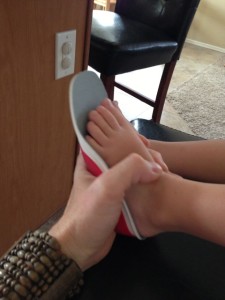 So her physical therapist came by the house to help me fit them to her feet and cut them down to fit in her shoes. Her legs look SO MUCH BETTER when she walks with those orthotics in her shoes!
And that, my friends, is an overview of our month of June. I have a few other photos from that month to share with you, but it feels good to get this all documented. And now I'm off to buy some more back-to-school supplies!