Back in 2002 or 2003, Dave and some friends (Tim and Reid) formed a (side) company called Gottathink. I don't even really know what they did, but it was a side job for all of them – something for fun, since no one had any children yet.
Fast forward a few years to 2007. We'd become world travelers, full professionals at our jobs and we had our first baby! And then something with the side business went wrong. Horribly wrong. The guys had a client who was a bit of a psychopath. Literally. She should've been on meds.
So a lawsuit happened and the guys got stressed. Especially Dave. He stopped eating and lost 10 pounds in a week. Or was it 20? It was a lot.
It was a rough, ROUGH time. And in the end, as we look back on that situation, we know that God was in control and we know that He was caring for us. We knew it at the time, too, but it was harder to trust Him while we were living the experience. The lawsuit ended with a settlement. It was not pleasant. It was not all sunshine and roses. Everyone did not walk away happy and satisfied.
But it ended.
And aside from family and friends, music was one thing that really helped Dave through that rough patch. Specifically, Christian music by a specific artist. Now if you know my husband, you would know that he's not big into the Christian music scene. You would know that he actually finds a lot of Christian music less than pleasing to his ear drums. You would know that he prefers SUBSTANCE and REAL EMOTION over trite and repetitive phrases. And you would know that there's just something about the music of Bebo Norman that speaks to Dave's ears, mind and heart.
So fast forward to June 2013.
To the Home School Convention.
To a large "ball room" in a hotel in Phoenix.
And we were there. To see Bebo. To hear him play. To hear him sing. To listen to him share his heart.
To watch him prepare to retire from the music scene.
It was a fantastic night for Dave.
It was the first concert we EVER attended together.
It was just us – it was a date night: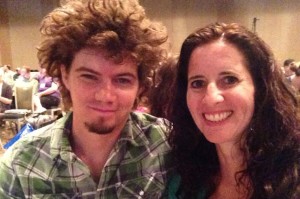 And it was just Bebo and his one buddy, playing music and sharing the "why I wrote this song" stories and singing them: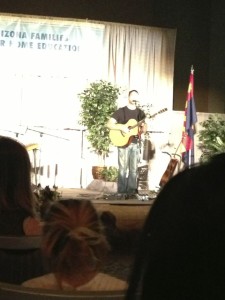 And it was a small enough venue that we waited around after the concert so Dave could talk to Bebo.
And tell him (Bebo) that it was his (Bebo's) music that helped him (Dave) through one of the most difficult times in his life.
And Bebo was humble, kind and genuine.
He praised God.
And he told Dave he liked his (Dave's) hair.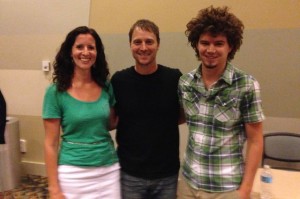 And that, my friends, is our Bebo Norman story.
We are both very, VERY sad that he will no longer record CDs and tour after the end of this year.
But, as parents, we understand that he wants to be there for his children and a life on the road isn't the way to accomplish that goal.
But Bebo will be missed. And we will always remember that night in June as a night when one of Dave's dreams came true – when he could say THANK YOU to someone for helping him through a really difficult time.