Did you know I made some NEW products recently?
Yep. I made some vintage zipper rose necklaces:
they're a steal at only $18 each!
I also made some of these bead and chrysanthemum pretties: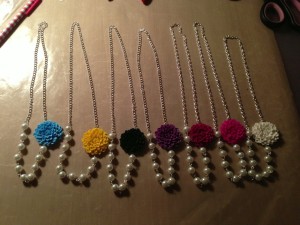 which are ALSO only $18 each!
for whatever reason, it had never before occurred to me to drill holes in the SIDES of the letter tiles to create these:
but I finally thought of the idea and there's yet ANOTHER new necklace line from Tam's Treasure Box. I think these babies are only $12 each!
I also made some cute tartlet tin magnets: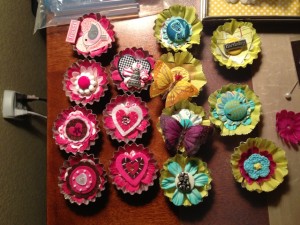 that have a STRONG magnet on the back. They're only $2.50 each. I made a LOT of these (around 30, I think).
I even assembled more vintage spool photo holders:
you simply clip your current favorite photo and put it somewhere in your home where everyone you can enjoy it!
These small ones are only $6 each.
I have a few large ones in the shop and I think they're only $8 each.
I made some new headbands for little girls (Samantha wanted to keep ALL of them for herself). I only have the BEFORE photo of those, however: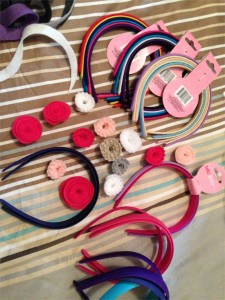 These are SUPER affordable at $2.00 and $3.00 each, depending on whether it's a THIN or a THICKER headband.
I made a whole slew of new flower rings ($6 each) including some new "glamour" rings ($8 each).
I brought back the DOMINO necklaces ($3 each) and stocked up on the chrysanthemum necklaces ($6 each).
I also added some new ROSE necklaces ($8 each).
And after spending all those hours laboring over these creations for YOU, I hand delivered them to Lynden, Washington and then Karla and I spent a few hours in the Dutch Market (above Dutch Mothers Restaurant) setting up our space, adding more shelving and hanging space and basically making the area where our items are sold look PRETTY and TIDY:
I also still have some of the long time favorite TTB items available:
pacifier straps $7
(footballs, basketballs, baseballs, frogs, monkeys, owls, birds, butterflies, ladybugs and cupcakes)
baby headbands $5
scrabble tile photo holders $6
scrabble tile ornaments $5
alphabet block photo holder magnets $1.75 each or 3/$5
upcycled Readers Digest journals $10
flower bobby pin sets $3.50
vintage poker chip magnet sets $2.00
vintage domino magnet sets
Vintage Book Frames
Plate stands
a Chalkboard Frame
And-I-don't-even-remember-what-else.
Karla has a ton of great stuff up there, too. And my friend Lisa has some fun jewelry up there.
So if you're LOCAL or if you're ever passing through Lynden (it IS a border town, you know!!!) on your way to/from Canada, please stop in at Dutch Mothers Restaurant for breakfast or lunch (or even a sweet treat out of the bakery case!) and head upstairs to check out what's in stock!
(I have a secret tip for you, too….. I have some "over stock" product UNDER the far left white pegboard display. So if you want a scrabble tile photo holder but don't see the word you want, take a peek under there. if you want a pacifier strap but don't see the right color combination, take a peek – we just can't fit it all out there)!