our mothers day sunday morning began by saying good bye to dave's parents: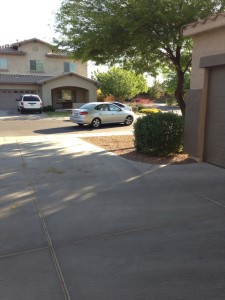 and then it was nice enough that we had time to enjoy our coffee/tea on our back patio, where my two older children surprised me with a LEGO CAKE: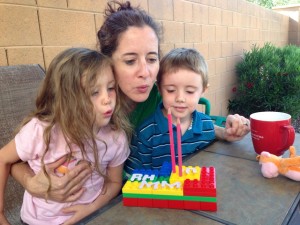 i love that they used foam stickers to write something on the cake (it made no sense) and they used colored pencils as the candles!
sam had had a fever on saturday morning, so we knew she couldn't go to church. and she had a pretty gnarly cough (likely due to the ridiculous allergies that are cropping up everywhere, for everyone right now) and then alex started coughing and we made the decision to declare the day FAMILY DAY. so we all got dressed and ready for the day. i even wore some new shorts that i found while shopping with my MIL (mother-in-law) at JCPenney: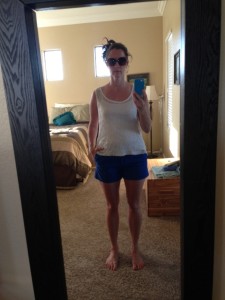 we stopped at starbucks where dave purchased a mocha frappacino for me (mmmmmm!) and a mocha for himself.
and then we pulled up to one of our favorite stores: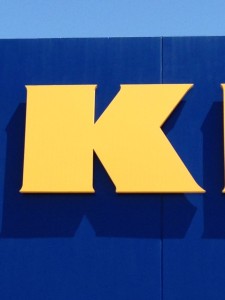 where we spent far too much money (again) on things for the pool area.
we got a new umbrella and a bench/storage unit (the shelves haven't been attached yet) which will help keep phones and sunscreen out of the reach of a certain young Munchkin:
it was too early for our trip to Jimmy Johns (to grab lunch to take to a nearby park) so we stopped at Target where I received my favorite gifts of all:
we let each kid choose something they've been wanting.
Davey chose Bay Blades and a Bay Blade Stadium.
Samantha chose a Barbie with a bicycle. She has since named her "SaMerida" (combination of Sam and Merida from the movie Brave). She actually wanted Barbie with a horse but this Target didn't have that particular one in stock.
Alex didn't actually choose her toy. Dave and I chose for her. But she LOVES bubbles. Hopefully this Bubble machine will last through the summer.
(Additionally, I did pick up a pair of flip flops for myself at Target – a pair of my favorite ones recently broke).
And THEN we went to Jimmy Johns and took our lunch to Desert Breeze Park in Chandler. So much fun!
We came home for a late rest time for the kiddos. Dave assembled the above seen umbrella and storage unit while I worked in the kitchen to make some fresh pico de gallo and some cucumber-jalapeno salsa. add some chips and a margarita plus a book (thanks for leaving that one behind, nana!) and i was able to enjoy our chaise loungers and a book by the pool for well over an hour.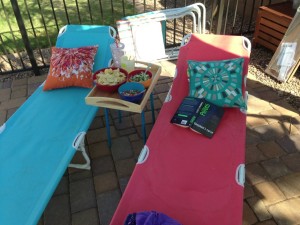 the kids enjoyed mac-n-cheese for dinner that night and Dave read them a bedtime story: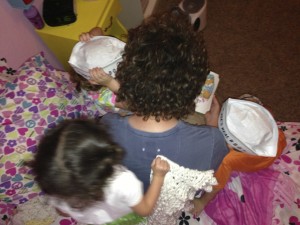 and after they were in bed, dave and i enjoyed a shrimp scampi type of meal.
it was yummy.
and i felt well loved and very appreciated throughout the day.
happy mothers day to me!