Not quite a week ago, my oldest child GRADUATED!
from Kindergarten.
Thankfully, I still have 12 more years before he REALLY graduates.
The four Kindergarten classes graduated together.
No robes.
No mortar board hats.
Just standing on the risers (like back at Thanksgiving) and singing songs.
Like here: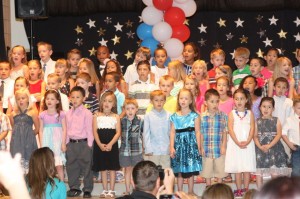 They DID get to stand up, one at a time, per class, when their name was called, to "graduate" – as seen in this photo: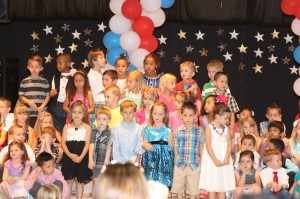 They even got to take a bow for their performance: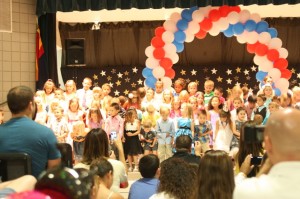 And then 75 children (3 of the classes) and all of their parents and siblings and relatives and friends who attended graduation enjoyed some snacks, some photos and some absolute madness. We took the opportunity to have our family photo taken:
And snapped a photo of Davey and his teacher: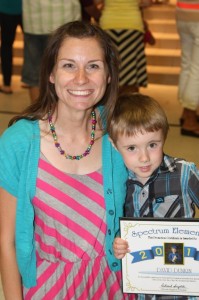 And when we got home about an hour later, I took a few photos of Davey and his diploma. Here's my favorite one: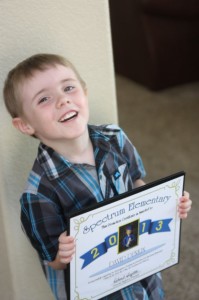 And for greater impact, here are FIRST and LAST day of school photos of Davey with his teacher:
Does he look older to you?
Wiser?
Like a reader?
Like a graduate?
More independent?
Because he's all of those things.
(And yes, his hair is quite a bit shorter. I was being the "lazy mom" early in the year and his hair grew far TOO long before we had it CHOPPED off).
My son started the school year already knowing his alphabet and the sounds of MOST of the letters. He knew upper and lower case letters and how to write them. I'm pretty sure he could write all of his numbers, too, though sometimes some letters and numbers were backwards.
Now, thanks to the helpful guidance of Miss Yates, he can write and identify all upper and lower case letters and numbers (and they're even written in the right direction!). He learned how to sound out small words and quickly progressed to ACTUAL READING. This includes long words. I'm so proud of him. He's also got a great imagination and he can write full sentences (including punctuation) and some stories. He astounds me. He's able to add and subtract. He can even add (some) coin money. He learned about scissors and glue and how to use them and be responsible with them. He had an opportunity to do all kinds of HELPFUL things in the classroom (door holder, line leader, errand runner, lunch tub helper, hand sanitizer, calendar helper and more). He learned more than 75 sight words (and was the FIRST kid in his class to do so). His favorite "classes" were Computers, PE, lunch and recess. And when he takes a moment to think about it, he's REALLY SAD that he won't see Miss Yates for a LONG TIME (the summer) and later, he'll only see her in the hallways.
Kindergarten was a wonderful experience for Davey.
And for this mom.
I was fortunate enough to volunteer in his classroom at least twice a month for the duration of the school year. It was fantastic. I loved learning the kids' names and personalities. I LOVED walking into class and hearing "Davey's mom is here!" I never thought I'd love "losing" my own name. But I do. And I will miss those wee little tykes. Next year they'll be big first graders. Out on the REGULAR play ground with the bigger kids.
For now, I'll simply enjoy the summer.
Warm temps.
Days spent in the pool (and the a/c).
Less "need" for a 7:30-8pm bedtime.
Vacation.
And I'll reflect on this year – the FIRST year of school – and I'll continue to thank the Lord for our abundant blessings.