last week on thursday night, (yes, the night before our big Tres de Mayo work party), some of us enjoyed GIRLS NIGHT OUT! it was TECHNICALLY a very bleated celebration of Heather's birthday. Heather is a friend of mine from high school who has lived here in the East Valley for about 17 years. Her birthday was in early April but between her schedule, my schedule and Jenni's schedule, the birthday celebration had to be postponed until early May. We invited Casey to join us and left it at that. But then Audra was in town and I went ahead and made the executive decision to invite her, too. So Heather's birthday party included FIVE people and two of them she had never before met.
Thanks for being a good sport, Heather!
Additionally, Heather will normally not allow me to take her photo. Not at all. But on GIRLS NIGHT, we all INSISTED on a photo BUT I had to promise that it was just for me and I would NOT share it on my blog or on facebook. So Heather shall remain a faceless name to most of you who have not had the privilege of meeting her. But I will share other photos from that night. Some very UNflattering photos, in face. But here goes…
This is what I wore: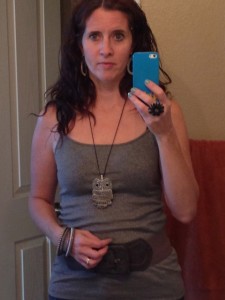 And THIS is me with Audra and Jenni with Casey:
(Apparently I had the FLASH option turned off on my iPhone and Jenni had hers turned ON!)
Postino is located in downtown Gilbert (around Gilbert & Warner, I believe) and it's a wine bar. So we all enjoyed wine. They are KNOWN for their bruschetta boards. So we ordered TWO of them. Plus the "Pub Board" and some olives. We had WAY TOO MUCH food. But it was all SOOOOOO GOOD!
and this was in the bathroom: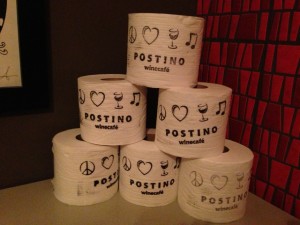 I'm tempted to start stamping the tp rolls in my house…. or to get a stamp for the Logos office and start stamping those….
In all, we enjoyed about 3 hours of conversation, laughter, food, wine and Heather.
Many thanks to you, Heather, for giving us a good "reason" to coordinate our calendars for a fun GIRLS NIGHT OUT!