Yesterday (Friday), a very large number of parents and siblings gathered in Davey's Kindergarten classroom. The students had a PROGRAM for us. They sang a few songs (including "You Are My Family" to the tune of "You Are My Sunshine") and a few words about "MOTHER" and "FATHER." It was adorable and very hard to hear. They were darling.
What I SHOULD have photographed, however, was the vast sea of phone and cameras (mine included) that were "taking in" the performance. Sometimes I wonder if we spend too much time trying to "capture life" on film than actually LIVING it. I know I, for one, am massively guilty of that. Especially at fun events like these!
Many thanks to my dear friend and fellow mom-of-a-kindergartener, Lindy, for snapping these photos of our family with my camera:
HOW FUN that grandpa & grandma happened to be in town for this fun event!
Davey and Miss Yates. She's been a FANTASTIC teacher for him this year.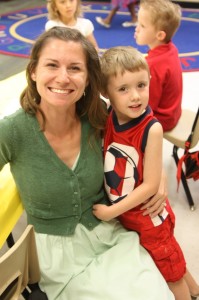 And you know I LOVE this even though my weight is not QUITE right…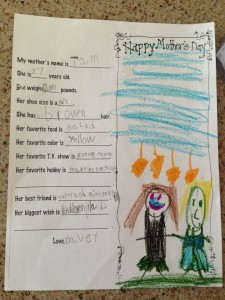 Kids say (or write) the darndest things: I would also like to point out that in our home, we watch "kid shows" or "grown up/adult shows." American Idol, Law and Order, Fashion Star, Shark Tank, etc. are considered grown-up/adult shows. Basically, anything that isn't a CARTOON is considered (by the kids) to be a grown-up/adult show.
Maybe I'll show you the one Davey filled out for Dave… perhaps in time for Fathers Day?!  :)