I recently made this little beauty: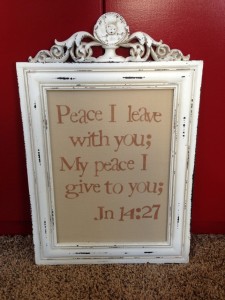 and hung it in our guest room.
It began it's life in someone else's home as a mirror. And I bought it at a garage sale as a falling-apart mirror for $1. Or maybe it was 50-cents. But I got the major deal b/c the mirror was falling out of it. And then it sat in my garage for about two months. And the weekend before I made this project, I went to MOVE the frame and mirror out of the way in the garage (I had more "junk" to add to that area) and the mirror slipped and broke. NO!!!!!  So instead of having a mirror to hang in our guest room, I needed to give it a new life.
While my FIL (father-in-law) was busy on the kitchen project (see previous post), I was motivated to work on some random things that had been lying around, unfinished for weeks or months or more. And that included these frames: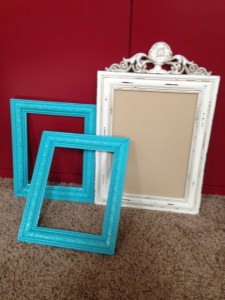 (those aqua ones had been a dark blue when i bought them at a garage sale. i knew they'd look better as a brighter color). I found some linen-type fabric in my stash (which isn't much of a stash anymore – I gave away most of my fabrics when we moved into this house) and I covered the backing in this frame with the fabric and had what you see above.
Now I could've added some little clothespins to hang photos. Or I could've used straight pins to hang things (the backing is foam core b/c the backing that came with it didn't fit which is why the mirror fell out in the first place). Or I could've strung some ribbon on it and used it as a memo board. But the guest room is lacking any wall decor (aside from a clock) so I decided to make some "art" with words.
I pulled out my making memories foam stamps (I went old school here, yo!) and a piece of paper (to sample stamp for spacing) and a really light colored ink (b/c i didn't want the stamps to get too dirty since i knew i'd do the final version with paint). I pulled out my Bible and turned to my favorite verse (John 14:27) and this is the sample I created: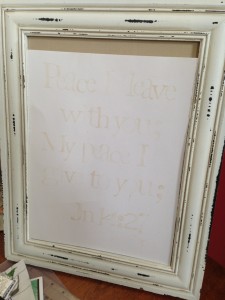 i know it's a little hard to see – that was the point.

so once i decided that i did, indeed, like that look, i pulled out my paints and a foam brush. i mixed a brown (nutmeg) color with an off white to create something just dark enough without being too bold and I got busy. i mixed the color on a paper plate using a straw (b/c i was too lazy to find a popsicle stick). using the foam brush, you add a very thin/light layer of paint on the letters/numbers/punctuation stamp and press down evenly and firmly. you do have to be care to avoid "clumps" and "globs" of paint (especially in the "corners" of the letters) but it's pretty easy once you get the hang of it. (it's the same technique i used to apply paint to the butterfly stamp to help make alex's kitchen – again, see previous post).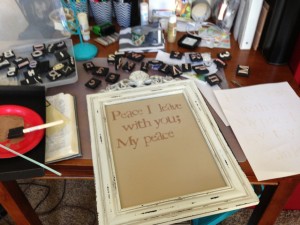 i even remembered to snap a few not-finished-yet photos with my phone!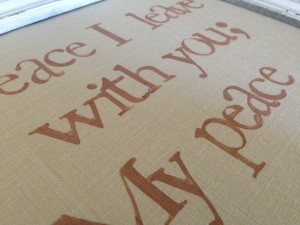 just work slow and steady and don't rush yourself.
since i've had lots of practice with paint and foam stamps, about 15 minutes later, I had this beauty: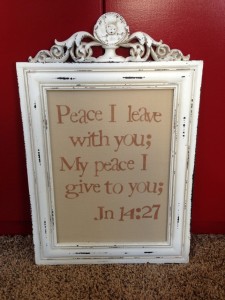 and a few days later, i finally hung it in the guest room: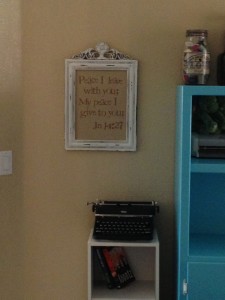 and i love it.
it's not perfect, but i'm okay with that.
my type A personality let go of perfection a long time ago.
well, in MOST areas, at least.