the weekend BEFORE my SURPRISE trip to washington was pretty busy for us.
much busier than we prefer.
but busy in a very, VERY good way.
dave jetted home from work on friday earlier than usual. we grabbed a few things, loaded the kids into the car and dropped them a few miles up the road at our friends' home (we're doing babysitting trades each month so we can get DATE NIGHTS!). the kids were SO EXCITED to play with Abby, Maddie and Luke. Abby is a year older than Davey. Maddie and Luke's birthdays are within DAYS of Sam and Alex's birthdays. Our kids play well together. And once the kids were settled (in 0.2 seconds!), Dave and I headed out for our *hot date* in Scottsdale…. to a Real Marriage by Mark Driscoll conference.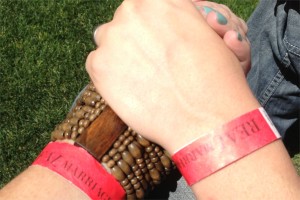 I can't even tell you how wonderful it was to come home (yes, to our HOME!) on Friday night to find our children in their own beds, sound asleep! This "babysitting trade" should work out quite nicely! Many, MANY thanks to Jenn Mellentine for suggesting the trade.
And then on Saturday morning we were up and OUT THE DOOR with our kiddos by 7am so we could deliver them to our VERY AMAZING friends, the Philpots. Again, Blake is a year older than Davey. Lacey is exactly in-between Davey and Sam's birthdays. And Jada is 18 months. Our kids play together REALLY well. And that's a good thing because our kids were there until the early afternoon! Within mere seconds of dropping our kids, we were out the door and on our way back up to Scottsdale to continue with the Real Marriage conference.
I would like to say many, MANY thanks to Logos Bible Software for sponsoring the conference AND many, MANY thanks to Scott Lindsey (of Logos and Lynden, Washington!) for getting us in to the conference (for free!), for getting us some of Mark's reading materials (for free!) AND for bumping us to the front of the line to have Mark sign our books!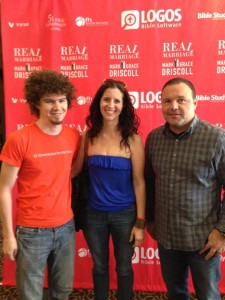 The conference was fantastic.
We learned nothing NEW.
Nothing *earth shattering.
Nothing unexpected.
But we were reminded of SO MANY IMPORTANT marriage tips.
Things we've been forgetting.
Or ignoring.
Or simply not doing.
And that, my friends, made it VERY worthwhile.
And Mark Driscoll has a dry and sarcastic sense of humor – just our style.
After the conference (it ended at noon on Saturday), we found a restaurant for a nice date lunch.
As you can see, the weather was gorgeous so we enjoyed patio seating.
My fish tacos were delicious!
And then we realized we were LATE.
yes, LATE.
our waitress literally forgot about us and it took us more than 20 minutes to pay our bill. Which meant that we (and by "WE," I mean "Dave") were driving a "bit fast" in an attempt to pick up the kids AND get Davey to a "Buddy Board Breaking Day" Karate class with his friend, Caleb.
But many thanks to my husband and the Philpots (who didn't even make us come inside to get our kiddos!) and the LACK of police officers patrolling the weekend highway drivers, we managed to arrive at the studio on time.
WHEW!
First, the kids stood around and stretched.
And talked.
And goofed off.
Then they moved around and did some jumping jacks.
And they goofed off some more.
And then the karate student and the "buddy" went up to the instructor(s) and each kid got to break a board!
I apologize for the blurry photo, but it's all I've got: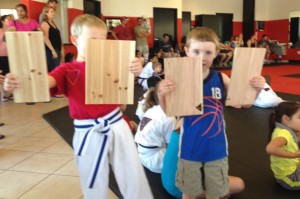 Davey was SO EXCITED that he broke a board!
Casey and I have a little project in mind for those broken boards….
stay tuned to see if it ever actually happens!
The karate event was over far sooner than we thought it would be so we returned to the home of our friends, the Wood family, for food and fun:
ribs, chicken, beans, salad, watermelon and then flourless chocolate "cake" with ice cream for dessert.
YUM!
and that, my friends, made for a fabulous but CRAZY BUSY weekend.
we loved it all!