ack! i started this post well over a month ago. probably closer to TWO months ago – i didn't realize i hadn't ever posted it!
I was one of FOUR parents from davey's class selected to ride the school bus with about 50 kindergarten students (2 classes) and 2 teachers and 7 other chaperones. i dropped off the girls with my dear friend Jenni and i enjoyed a 20-minute drive ALONE to davey's school…..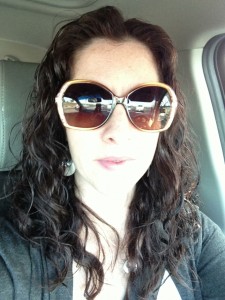 and then i joined davey's class while we walked to the bus port and waited for our bus. and i had forgotten that davey had NEVER BEFORE RIDDEN ON A SCHOOL BUS! i'm so glad i was able to experience it with him!
it seemed to take F.O.R.E.V.E.R to get to the field trip destination: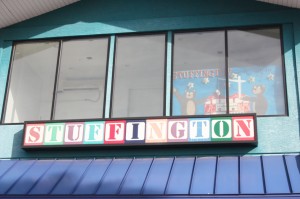 The Stuffington Bear Factory in Phoenix.
i think it took a long time because it was a LOUD bus ride filled with excited 5 and 6 year old children.  :)
as soon as we off-loaded from the bus, we lined up and listened to some instructions. upon entering the front door, the kids were immediately put in another line to pick their animal (a black bear, a brown bear or an elephant). then the kids were all moved to a "holding area" and one at a time,
 they got to see the large stuffing machine and a worker stuffed their animal: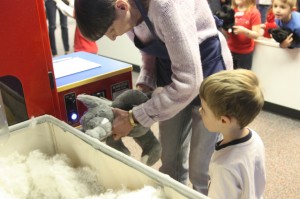 then they moved to station #2 for stitching (to close up the now-stuffed animal):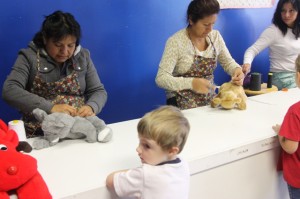 Station #3 was for fluffing (basically vacuuming the animal):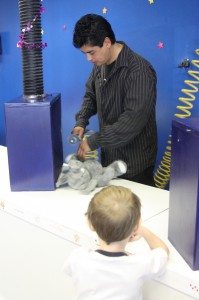 and Station #4 was a Grooming Station where the kids got to "brush" the fur using another vacuum type machine: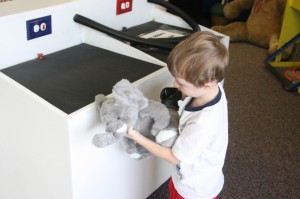 Station #5 was the Bathing station where the kids used a foot pedal to shoot AIR (not water) on the animal to continue to FLUFF the fur: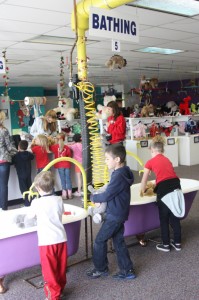 Station #6 was for DRESSING. the kids got to choose TWO ribbon colors for their animal: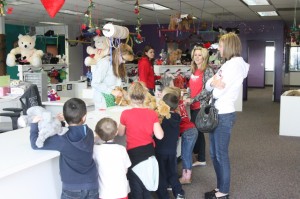 Davey (and Keenan) chose BLACK and BLUE: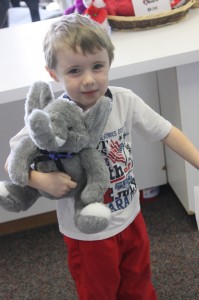 and then we shepherded the children to another holding room where they could fill out their animal's BIRTH CERTIFICATE and color a picture of a stuffed animal bear. some of the kids thought LONG and HARD about what to name their animals. Davey and Keenan both named their elephants, BLACKY-BLUEY. seriously. my child is so imaginative.  ;)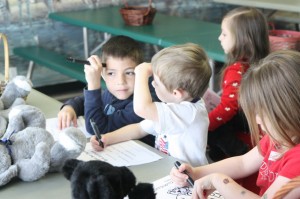 After the whole "getting-an-animal" process, we moved to another room where we learned how teddy bears were invented (something to do with President Theodore Roosevelt, a bear and a rescue), why they were called "teddy bears" (after Teddy Roosevelt) and what the first bears were made of (fabric and stuffed with dried straw/hay!). then we played jeopardy (which had NOTHING to do with bears) before enjoying a tour of the factory.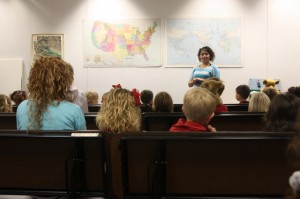 The factory was cool (by my standards). Lots of piles of misc fabrics. Lots of table space for cutting. Quite a few machines for sewing. And piles and piles of animals.
And then the tour was over.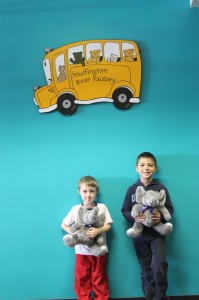 And we enjoyed a class photo: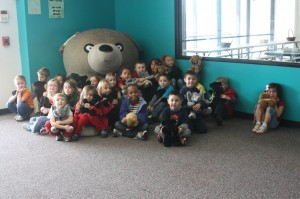 Before taking a long and MUCH LOUDER bus ride to Spectrum Park (the park adjacent to the elementary school) where the kids ate lunch and played before we WALKED back to the school.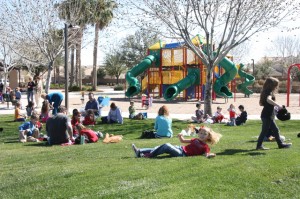 and then Davey wanted to finish his day (it was a PE afternoon) so i headed out to Jenni's house to pick up the girls before returning to the school to pick up Davey.
I am VERY FORTUNATE to be a stay-at-home mom.
I am VERY FORTUNATE to have friends who LOVE my girls and will watch them so I am able to work in Davey's class or attend his field trips.
I LOVE being able to do this kind of stuff.
and when Davey's teacher, Miss Yates, told me that Keenan was in my group to help lift his spirits (his mom was supposed to attend the field trip but then had a sick kid and had to work), I felt like I had a purpose.
And when I later talked with Jacque (Keenan's mom) about it, she told me that earlier that morning Keenan had said to her "mom, it's okay that you can't go [on the field trip] because Davey's mom will be there."
my heart melted.
a lot.
and I thanked God, again, for my husband, for his job and for my "job" as a stay-at-home mom.
and THAT, my friends, is the story of the Kindergarten Field Trip to the Stuffington Bear Factory from Friday, February 15th!