So back on January 21, a dear friend sent me a facebook e-mail message:
"Thinking of you last night…what if you came for the weekend of the ladies' retreat? My heart got happy just thinking of the possibility. Just putting it out there. … Love ya."
My initial thought was something like "I lived up there for 12 years and attended 1 (maybe 2) of those retreats. what makes you think i'd want to fly across the country to attend another one?!"
But I was more diplomatic when I responded to her.
Then God started working on my heart. And I could HEAR Shelly's voice in my ear simply repeating the above message she sent me.
About a week or two later I started looking at ticket prices.
Too high.
And then I had some dental work.
In March, Dave and I went to Seattle for BibleTech. And though I saw some of my friends, I didn't see most of them. And I didn't feel like I had much opportunity to really CONNECT with them. To get caught up. To simply absorb some of WHO THEY ARE into WHO I AM.
So I kept checking airfare.
And then I had MORE dental work done.
God was still speaking in my heart. And my brain. And my soul.
He whispered quietly. Without pressure.
And then I decided I really wanted to go.
But I'd had a LOT of expensive dental work done (root canal, crown, major fillings) with have the promise of not one, but TWO more crowns that will be needed next year.
Dave and I discussed this trip seriously and we both agreed that we couldn't afford it this year.
So I was disappointed.
But then God whispered in my brain again.
And I was reminded that I have my "business" account. And I still sell things on consignment in Washington. And I realized I could take a "business trip" to Washington to hand deliver products to the store where I consign some stuff.
And Dave agreed.
So I bought my ticket.
I repeat: I bought my ticket.
Then I told only a few people about my pending trip: Shelly, Julie and Karla. Shelly, because it was her idea. Julie, because she would pick me up from the airport and house me the first night of my trip (and because she was here in Arizona when I got the initial message from Shelly and she kind of "lived" the process with me). and Karla had to know so we could schedule time to work together in the store to display all our stuff.
And my plan was to leave the "surprise" a complete surprise to EVERYONE other than those 3 ladies. But then Missy was here for Easter. And she's on the board for the womens' ministry at the church in Washington. and I knew she'd be able to keep a secret AND help me get secretly registered for the retreat. so then missy knew. and she had to tell Heidi, who was in charge of the retreat. so in the end, 5 women knew of my visit.
and it was worth it.
i had to stay off facebook for almost a week. i spent the first part of the week cleaning my house (deep cleaning some areas, even), so dave would be able to simply focus on the children. i vacuumed, dusted, tidied, organized, washed, dried, folded, hung, put away, ironed and more. i shopped for groceries and treats and snacks. i made sure there were EASY things in the home for dave to prepare for the kids (though i did not meal plan for them). i also spent the last few weeks before my trip working hard to create new product and re-stock products to take up to washington. but i couldn't really post about most of that stuff.
and then it was wednesday. i packed my suitcase. and weighed it. and i THOUGHT it was ok. but then i discovered it was 8# too heavy. so i tried a smaller suitcase. which was too small. and after going back and forth between those TWO suitcases a few times, I finally realized I would need to use the smaller case and leave a few "overstock" items behind.
and then it was thursday morning. Dave took Davey to school. And we killed time at home. And then we (Dave, Samantha, Alexandra and I) headed to Starbucks for a morning treat/date. and before i knew it, i was at the airport. with my bag checked. a book on my phone. and a nice cement bench to enjoy in the courtyard while i waited for my flight. it was HOT and windy outside. and THIS was my view: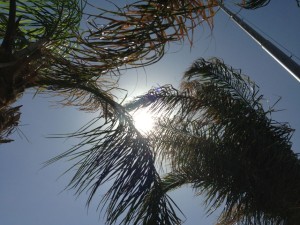 and then THIS was my view: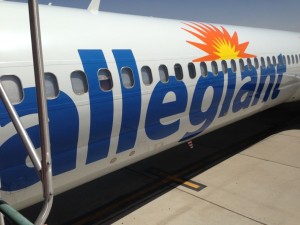 and three short hours later…. i was in bellingham.
and my amazing friend, Julie, picked me up from the airport. and we went to donwtown bellingham to visit some antique stores. we (sadly) discovered that our favorite store no long exists. but we found great items at another store. and then we ordered some AMAZING sweet potato fries (to go) from a fantastic downtown restaurant: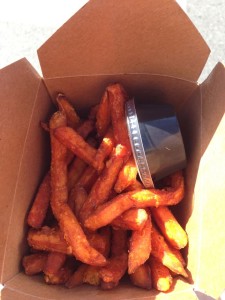 After STUFFING our faces with some of the most delicious sweet potato fries in the world, we headed to the mall. Julie did some returns. We both did some shopping. And then it was time to head HOME. well, to Julie's home. Her NEW-TO-HER home that i hadn't seen before. Her home that she hadn't even lived in for three months yet!
en route to Julie's home, dave let me know what was up back at home: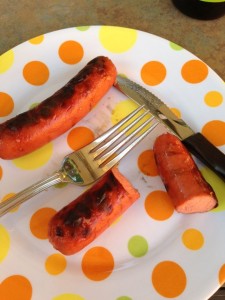 (hot dogs on the grill. not quite as tasty as the sweet potato fries i enjoyed from Bayou on Bay, but i'm sure the kids loved it!)
it was fantastic to spend the evening at julie's home, relaxing and watching her do her "mom thing." and in the morning, before the girls headed off to school (while i was still wearing my glasses and my retainer and i had awful morning hair and wore no make-up), i snapped this photo of the Balls (minus Ed):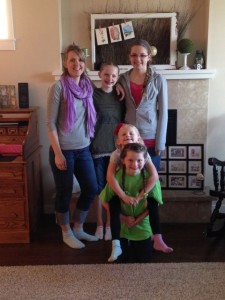 I was wishing I could attend the afternoon assembly/program so I could see Elise as a Kitty Cat and Becca as a Frog (a rather impressive frog, that is) and Sarah as a Cup of Water (from Alice in Wonderland)…
But it was fun to see them for a few hours in the midst of their chaos.
After Julie took the girls to school and I got ready for the day, we enjoyed some homemade cinnamon rolls (that Sarah made in school the day before) and then we headed out to "accountability group." It's a group of Julie's friends who meet almost every other Friday morning to do crafts or paperwork or whatever…. and they talk about life, about God, about faith and more. They're there for each other. They rely on each other. They hold each other accountable for making phone calls and for praying – for BIG and little things. and for the last year (or more?) before we moved to Arizona, these women allowed me to be part of them. And the friday i was in town? Yep. You guessed it. It was accountability day.
And Julie hadn't told them WHEN I was coming to town.
So we showed up at Amy's house and SURPRISED Amy and Dee. And then Lea a little while later.
And it was like I was "home" again. Home with women who care about me. Love me. Like me.
And it was fun.
And I even worked on a project. I made a new necklace from start to finish.
And I gave it to Julie as a THANK YOU for all her help with the Big Surprise.
So I have no photos of it.
With a quick trip to the Dutch Bakery for a YUMMY sandwich (to go), Julie then dropped me off at Karla's car in front of Dutch Mothers.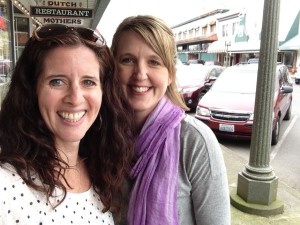 And then Karla and I spent several hours moving furniture, changing displays and setting up our space:
While we were up there, moving things around, Lisa (another friend from church), popped up to see if there was anything new or if any of her jewelry had sold. Karla and I panicked. She told me to "HIDE!" but there was no place for me to go! So I turned away from her and the stairs and waited while she and Karla chatted for a minute before I popped out.
And she was surprised.
Very surprised.
I even got to hear her trademark phrase: "OH MY-LANTA!"
That was when I knew I was back.
And then we spent a little while longer chatting and setting up the area and we headed out to meet up with some more friends before heading up to the retreat center.
Sara pulled her van into the parking lot and through the windshield, I could see her mouth drop open. I saw her speechless. I didn't think that was possible: to see Sara speechless. I got out of Karla's car and Sara got out of hers and there was this long, silent but filled-with-emotion bear hug. And I think she managed to struggle to squeak out the word "How?"
And then I hopped into her van and rode up to the retreat center with her (and two other ladies).
I must admit that I was so "caught up" in having surprised Sara, that I neglected to be cautious once we arrived at Cedar Springs.
And as I walked in the main door of our meeting room, I heard some feet stomping around the corner and I heard the words: "I KNOW that's Tamara Dunkin! I TOLD you it was her! I TOLD you it was her hair!"
See, when a best friend sees your HAIR and knows it's you and then you turn your head and she sees your face which only serves to confirm what she already knew? THAT'S when you know you have an amazing friend. A friend who is a gift straight from God. And her name is Carrilee: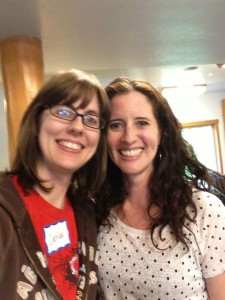 I got so caught up in talking with my friends and other women I've known for YEARS that I again forgot about being "cautious" since there was at least one more person whom I wanted to surprise. So when I overheard the words "Linda, look who's here!" from across the room, I cringed. And then I turned and locked eyes across the room with my mother in law. And I watched her face register who I was and that I was there and her jaw dropped and she moved in slow motion toward me (I don't watch too many chick-flicks, do I?!).
So THEN my surprise was complete.
Or so I thought. See, God had some surprises for me. First, this year the women didn't have a speaker – they had a video series, which I knew before I registered. I also knew that it was a Beth Moore study. (I'm currently finishing up my second Beth Moore study in the past year since moving to Arizona). What I didn't know was it wasn't really a Beth Moore study. It was a video series of sessions by Kay Arthur, Priscilla Shirer and Beth Moore.
SAY THAT AGAIN, GOD?
My three favorite Bible study teachers working together in one series?
SERIOUSLY?
Yes. Seriously.
And while we didn't have enough time in our 26-hour retreat to enjoy the lessons from Kay Arthur, we did hear two sessions from Priscilla Shirer and two sessions from Beth Moore. And ALL FOUR of those sessions tied together the Bible studies I've been doing this year.
God is good, isn't He?!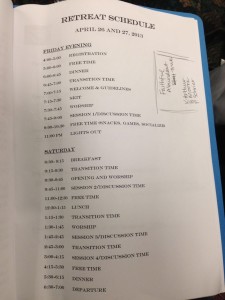 So along with hearing the Word of God and loving every minute of it, I sang with my friends. I talked with my friends. I ate WAY TOO MUCH FOOD with my friends. We laughed. We shared. We hiked. We crafted.
(Those little brownie bites were filled with heavenly evil. And i told Teresa that. SO. YUMMY!)
(a photo of a photo of Carrilee and I in ALMOST this same place YEARS ago):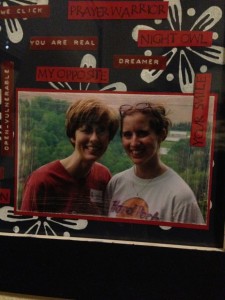 I loved every minute of the retreat. Every minute of my time with these ladies:
It was an amazing 26 hours away from distractions. I was filled. I was uplifted. I was encouraged. I was taught. I was admonished. It was exactly what I needed at exactly the right time.
And despite being away from distractions, I had my cell phone and I did have a good connection so I enjoyed fun text messages and photos from Dave letting me know he and the kids were doing just fine with out me!
eating pizza: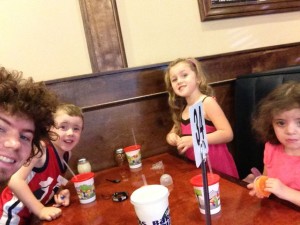 a trip to Target for pool side pillows and a life vest for Alex:
gelato as an after dinner treat: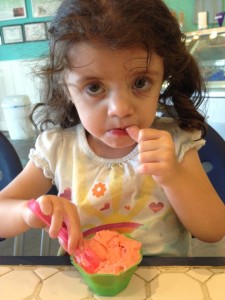 and more. Dave was FUN DAD while I was gone. He took the girls to Einstein Bagels and to the park on Friday while Davey was at school. He took ALL THREE CHILDREN to dinner at a pizza place and then to a fund raiser at Davey's school on Friday night. He took them to Starbucks on Saturday morning and then Target. He took them out for BBQ and gelato. They swam and played and laughed. it wasn't a perfect weekend (which he didn't tell me until I got home), but he did a FANTASTIC job. I am so blessed and I am so thankful for my husband.
After the retreat, I hitched a ride down the mountain with my MIL and we ATTEMPTED to surprise my FIL with my mere presence, but he'd already seen a Facebook post about my surprise, so he knew I was in town. I enjoyed an evening talking with my in-laws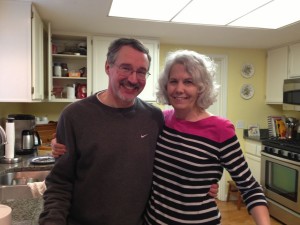 and before I realized it, it was another late night followed by another early morning for my trip home.
I am SO GLAD that God orchestrated all the details of the trip. But I am even more glad to be home with my family. I missed my husband and I missed my children and I loved every minute (even the annoying ones) of Sunday afternoon and evening. I think it helped that I left behind rainy and 50* weather and returned home to sunny and 90* weather!