Saturday morning dawned cold, rainy and icky. blech.
we're talking COLD.
in the 50s.
with a lot of wind.
STRONG wind.
ugh.
(when i left arizona two days earlier, it was 88*)!
So Julie, Casey and I set off for Starbucks right away. the ORIGINAL starbucks, that is. it was only a few blocks down and over from our hotel (east and north, perhaps?) and on the short but QUITE CHILLY walk there, we experienced a drug sale.
yes, you read that right.
in the middle of the sidewalk.
out in the open.
marijuana in a baggie.
thank you, seattle and all those in washington state who voted to make the sale and use of marijuana legal.
(in case you weren't aware, that sentence was OOZING and DRIPPING with sarcasm).
but back to the good stuff…
did you know that the original starbucks doesn't have any food?
just beverages.
and none of the pre-packaged beverages that you find at starbucks (like chocolate milk and orange juice).
and the line is usually out the door and down the block.
we were lucky – when we arrived the line wasn't out the door!
did you ALSO know that the store's back room must be too small to store all the boxes of "souvenirs" (mugs, tea, coffee, etc.) that they sell, so the front of the store is FILLED with boxes, boxes and MORE boxes?! well, it is.
(for those of you who don't know, this ORIGINAL starbucks still has the original sign with the original logo – the topless mermaid in black and white. apparently a mermaid head and the color green entered the picture somewhere before world-domination happened).
we snagged our drinks and then wandered a block over for some pastries from a local market.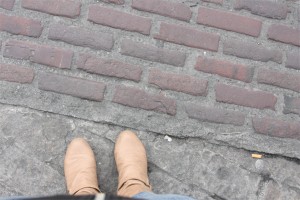 and THEN we entered the fun world of PIKE PLACE MARKET: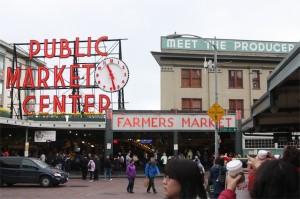 we made sure that Casey got to meet "Rachel the pig" (the market's mascot) and have a photo op….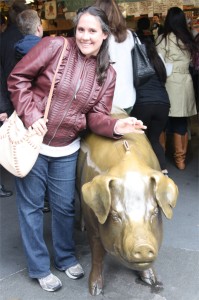 We enjoyed wandering the booths and stalls, scouring for fun treasures, enjoying the beautiful flowers (especially the daffodils and tulips), eye-balling the fresh fruits and veggies and exclaiming over the fun and/or functionality of some of the arts and crafts! we also enjoyed the brief reprieve from the wind and extreme cold (some of my fingertips actually went numb. MANY THANKS to casey for loaning me her gloves)!
before we were really ready, it was time for us to brave the BITING WINDS and head over toward the water.
We had a pit stop in an alley first.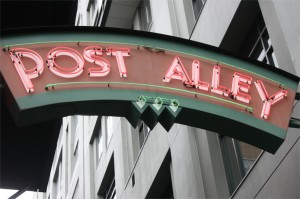 There was a tourist thing that I wanted to see. the mere thought of it made Casey and Julie feel creepy-crawlies up and down their arms. But they're great friends, so they endured it for me.
It was Seattle's GUM WALL.
yes, you read that correctly.
more accurately, we might call it seattle's CHEWED GUM wall.
it smells a bit minty.
and it's quite colorful.
and some people even spell WORDS or NAMES with their gum.
i had no gum, so julie kindly gave me a piece of hers (unchewed, of course) and i chomped and chewed and chomped some more until i felt it was "soft enough" to add to the wall.
i didn't get fancy with my gum.
i merely added my gum on top of another blob of gum.
and then i was grossed out because i accidentally touched the existing blob of gum.
that wasn't mine.
blech.
and after that quick detour, we were at the Seattle Antique Store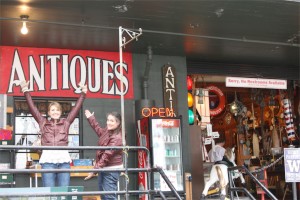 where none of us were even tempted to buy anything (go figure!)
though there were lots of cool things inside.
And then we crossed the street to the Waterfront and Mariners Landing.
we enjoyed looking at the Seattle Wheel: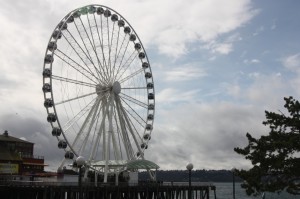 shopping in a few of the stores, pressing pennies: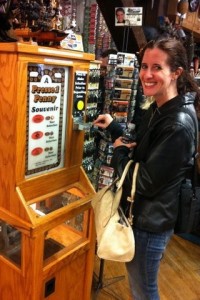 and chowing down on some lunch.
I'd been CRAVING clam chowder in a bread bowl for months.
it's just about all i'd talked about with casey.
for months.
literally.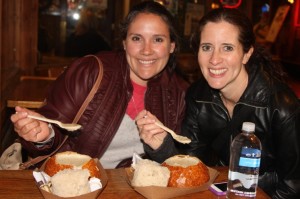 i was a bit let down, as there were some spices in the soup that i didn't really like.
but the sourdough bread was DELICIOUS!
what we were reminded of after leaving the Waterfront to head back to the hotel was the DAY…. Saturday, March 17th.
the day before ST. PATRICK'S DAY.
which meant a PARADE in downtown seattle.
we crossed the street in the middle of the parade: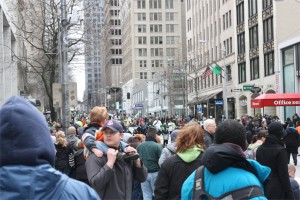 'cuz we're real cool city-folk like that.
And then we said "good bye" to Julie at the hotel.
And Casey and I off loaded some of our purchases.
And then the two of us set out on another adventure:
the Seattle Monorail!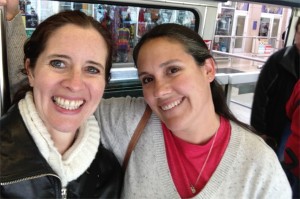 our first Monorail ride of the day was FREE thanks to all the St. Patricks Day Parade crowds!
did you know that the Monorail leads right to the Space Needle?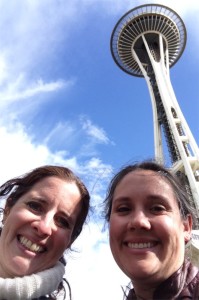 i love the space needle. i never tire of seeing it up close or from afar.
it was built for a world's fair. i'm not sure what year it was in seattle. in the 1940s, maybe?
it was a clear "enough" day so we decided to go up.
and BEFORE you even go UP the elevator, they take your photo with a green screen.
and AFTER you go up the elevator, you can check out some computer screens to choose your background: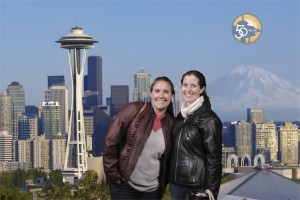 we were kinda partial to this one.
even though we could NOT see Mount Rainier.
and after staying inside in the warmth and walking around the circle, we decided to brave the wind.
but we had to find a door that was open to the outside.
one door was locked shut b/c the winds were so strong.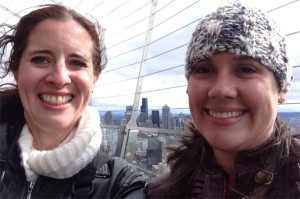 and then we returned to the warmth of the INSIDE of the upper portion of the space needle.
and then we rode the elevator down to the gift shop.
the large gift shop.
and then we returned to the hotel and met up with our husbands who were FINALLY finished with all their conference sessions.
so that meant it was time for another double date dinner night, yah?
we found a place called The Brooklyn.
they were pretty booked (it WAS a Saturday night, after all), but they had space for us at the kitchen counter.
with captain's chairs.
i think we had some of the best seats in the house!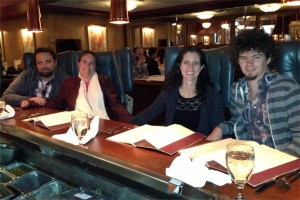 dinner was tasty but expensive.
and we were all too full for dessert.
but after dinner, casey and i FINALLY
(and i do mean FINALLY)
got our chance to visit CITY TARGET!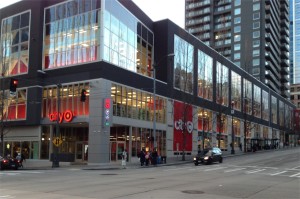 it's target.
but in the city.
and stacked. you know – floor levels like a mall.
three levels, for this store.
and there's even an escalator for shopping carts.
i kid you not.
it was cool.
i think we giggled.
a lot.
our husbands were very embarrassed.
and if all that excitement wasn't enough for one day, we still had our evening drink plans with these guys: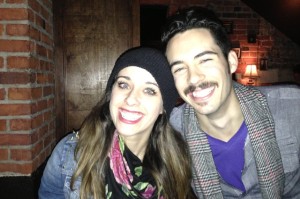 that's dave's brother, jeff, and jeff's wife, taryn.
we met up with them at a bar called BATHTUB GIN off an alley.
and we were in the basement.
where it was dark and loud.
so then we headed to their hotel (just a few blocks from ours)
to a quieter bar.
with better seating.
and better lighting.
and we stayed out way too late.
but it was fun.
very fun.
on sunday we enjoyed a leisurely morning in our room before venturing down to Pike Place Market for breakfast/brunch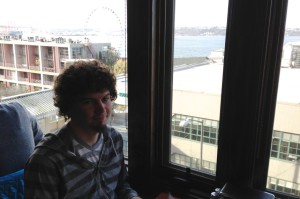 and then we had time to "kill" before driving a little ways north (or east?) to meet up with some MORE family for lunch.
so we enjoyed a little bit of time by the hotel's fireplace: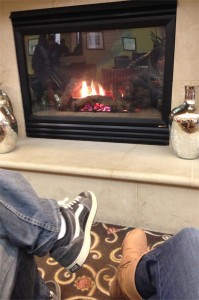 because it was still quite cold outside.
do you recognize these people?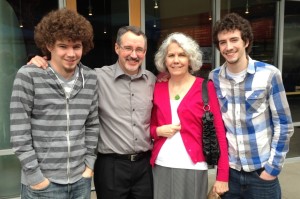 we KNEW we were going to see dave's parents for lunch.
seeing tom was a total surprise.
he was "home" for spring break and a wedding.
which means we were able to see ALL of dave's siblings AND his parents while we were in town!
and then we headed to the airport to return the rental car and fly home.
to warmth.
lots and lots of warmth.
even at 8 o'clock at night.