on monday, after a painful and expensive dental appointment, i stopped by to visit my dear friend, Kiki. i had a few meals to deliver to her. we didn't get to talk long, but we did get to talk. and i got to watch david be sweet. and crabby. and frustrated (the iPad he plays with was NOT in the iPad's case!). and sleepy (he almost fell asleep on the floor following a bit of a pout/crabby session).
and that night, i received an AMAZING text from her. a PREVIEW of what they posted on Facebook a day later. some amazing news about God's power and healing.
and what they posted on facebook is what i'm sharing with you here: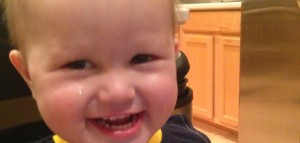 "Praising God! David is officially in remission! We got the results from the biopsies last week and David's cancer load has dropped to undetectable by most methods. This does not mean that he is cancer free, but that the induction of chemotherapy was effective in killing off the bulk of the leukemia. Now we graduate to the next step of chemotherapy. Unfortunately David's ANC level (indicating his immune function) was too low today to begin the next step so we will check again Thursday and maybe start Friday with his next intrathecal (spinal) dose of chemo. The next 6 months of chemo will have periods that are easier than what we have been through and some much harder. After that, assuming all goes well, we will have 3 years of maintenance. The good news from this biopsy statistically puts David in an 88-95% chance of an event-free survival to 5 years after the end of chemo.
Our oncologist likens the whole process to getting rid of a tree and making sure it doesn't come back. The first thing you have to do is cut the tree down to a stump, then dig up the stump, get all the roots, and then get rid of any and all remnants. We have now cut the tree down and dug up the stump. For the next 6 months we will be getting at the roots (killing off the cancer that remains). After that we will have 3 years of killing off the remnants to minimize risk of recurrence. The challenge during especially these next 6 months and the 3 years will be to keep David healthy as one of the primary side-effects of all of the chemo is a compromised immune system. An infection that might be a minor inconvenience for someone with a normal immune system could hospitalize or even kill David. Please help us by letting us know if you've been sick or around sick people and please make sure that your (and your children's) immunizations are up to date.
It's been a hard month of watching David regress so much in his development, losing his ability to walk then crawl; losing so much of his vocabulary; and being in such sleepless pain. It's been hard (especially for Elianna) having to stay away from so many people we love in order to stay away from germs. We are so grateful to God for answering our prayers of making the chemo effective thus far, minimizing David's side effects, and keeping him from illness in the midst of this. Best of all, He has continued to guard our hearts and minds in Christ Jesus (Phil 4:6-7), has provided peace and trust even on those hard days in the midst of tears. The love, prayers, words of encouragement, gifts, and other expressions of support have been priceless. Thank you all! Please continue. We know that we have just begun a long process, and we trust that God knows what is best for us and that He has us right there."
he's not cancer-free… not yet. but i know God can do that. i know he can fully heal david. will you please continue to pray with me – with US – for this miracle? we are so thankful for what God has already done in the life and body of this sweet little guy. when i see him, my arms ACHE to hold him. i want to snuggle him. i WANT to rub his fuzzy head. i want to tickle him to see his big smile and hear him giggle. instead, i say those words and i look longingly at him, knowing that to do any of those things could risk his health – his life.  so instead, i pray that this sweet little guy will let me do those things once God has healed him completely!