this past week was davey's turn to be STUDENT STAR in his class.
what's a Student Star?
it's basically a week to focus on ONE student per class.
over the weekend davey got to fill out a poster.
by himself.
with NO help from mommy or daddy
(well, until it came down to drawing the orca whale…).
on monday, davey was able to review the poster with his classmates.
so here he is with his finished product: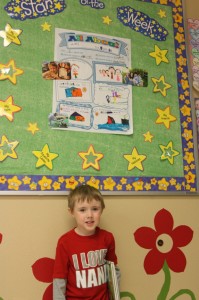 a closer-up of the poster: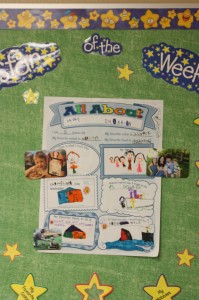 and the part of the poster that made grandpa's week (i sent him this photo on sunday):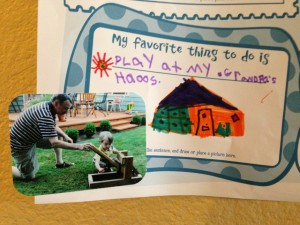 on tuesday, he took his favorite book to school and he/Miss Yates read it to the class.
(he chose a hand-made book by his nana – a cross stitch book of Davey the Bear).
Miss Singleton (his principal) had an afternoon snack with him one day
(she brought him an Otter Pop and a Star Student pencil)
and finally, all the students in the class wrote a note to Davey telling him what they like about him and then those notes will be turned into a book.
(i haven't seen evidence of this yet)