so from the title of my post did you gather that julie was here?
as in one of my dearest friends julie?
as in the julie of THIS blog?
as in my friend julie whom i feel like i've known forever but really it hasn't even been three years yet?
yes.
THAT julie.
THAT julie was here, in arizona, to visit me!
and while the weather did NOT cooperate while she was here: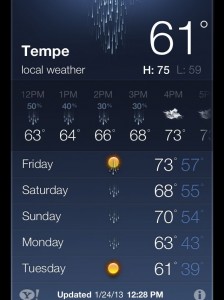 at least it was warmer than "back home" for her!
our adventures began on Thursday morning, January 24th. I ditched out of Bible study a few minutes early to pick her up at the small airport in Mesa: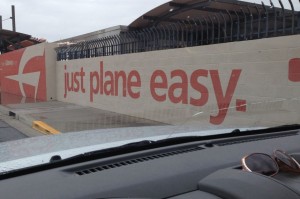 and then we stopped by the house for a potty break and a tour. and then we headed to Chipotle (YUM!) to grab lunch and we took it to the Logos Tempe office to eat it in the kitchen. The Tempe and Bellingham offices now have a web cam running live 24/7. Both are in the kitchen/break/lunch rooms, so Julie was able to say hi to her husband, Ed:
that was pretty cool even though there's some lag time with sound and sometimes the volume cuts in and out.
next up was a quick (and i do mean all-too-quick) run to Hobby Lobby for some crafting supplies and inspiration. the alarm on my phone sounded before we had even broken the surface of scouring the store for fun finds! so we checked out and made our way to pick up Davey at school.
with Davey in the car not feeling well, we stopped at Swirl It so Julie and I could enjoy an after-school treat: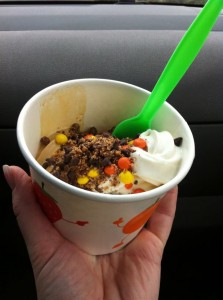 frozen yogurt is SO. YUM.
(note: we planned to get some for Davey, too, but he didn't want any.)
then the three of us ventured into Target for a few things.
(fortunately my mom instincts kicked in back in Swirl It and i grabbed a LARGE frozen yogurt (empty) bucket for Davey "just in case" he needed it. he sat in the cart at Target and as we were ALMOST finished with our adventure there, he needed the bucket. poor kid. but hooray for that bucket!)
from that not-so-fun adventure, we made our way to Jenni's house to pick up the girls. julie got a quick tour of Jenni's new home and she learned which walls i helped paint.
(after awhile, Davey perked up and moved from his car seat to Jenni's couch to watch tv and when we were ready to leave, he chose our next adventure over going home to rest on OUR couch and watch more tv)
instead of heading home, we made our way north to the Logos house. it is definitely impressive.
(by this time, Davey felt fine and he was running and jumping and playing and laughing as much as Samantha!)
and then we hit the drive thru at In-n-Out before heading home to eat our dinner.
before getting the kids into bed (but they were already READY for bed), Julie gave each of them their hugs from ALL of her girls (davey got an extra hug from Teacher Leslie – Julie's mom and Davey's preschool teacher!) AND a gift hand-picked by Sarah, Julie's oldest daughter who used to babysit for the kids.
(sam received a My Little Pony coloring book;
davey received an Avengers activity and sticker book;
alex received a darling stuffed kitty with eyes almost as big as hers)!
I'd say that was quite a whirlwind of a first day!
On Friday, Dave took the day off work to stay home with the girls and to get davey to and from school so Julie and I could shop and explore and do whatever else we deemed "necessary" without interruption. our morning began at joanns where we found some supplies for our necklace crafting project. and then we headed to one of my happy places: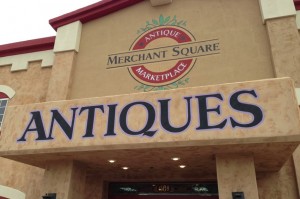 which includes a fun outdoor section titled: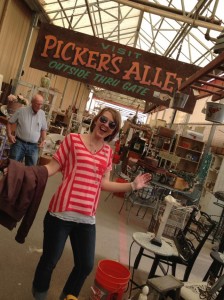 we enjoyed a few hours of child-free shopping in this antique mall. we were shocked (and appalled) at prices. we were confused by some object. we exclaimed with joy over certain FOUND items. and we marveled at the fun we were having. but in the end, we each spent ONLY $10 but we were VERY happy with our purchases.
i did spy this fun find: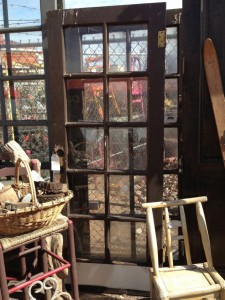 but i had NO IDEA where i could put it in my house, so i left it behind and began to dream….
the weather made a turn for the better so we grabbed a quick lunch of Jimmy Johns and ate it in the car on the way to a thrift store. in the parking lot, we snapped this photo of Julie, blue skies and palm trees: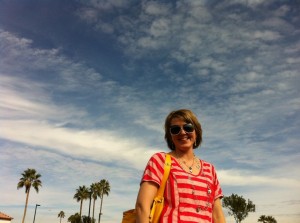 and then we needed an afternoon treat: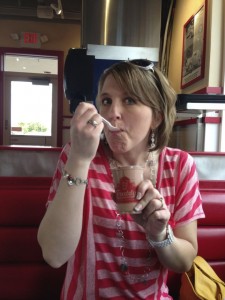 freddie's frozen custard is SO RICH. SO THICK. SO CREAMY.
and very, VERY filling.
which meant it was time to do some more walking/shopping to burn off some of those calories. i chose to introduce Julie to a marvelous store called Charming Charlie. it's like Claire's or Afterthoughts for adults!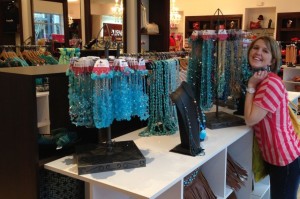 we spent a LONG time in there. in the end, Julie walked out with a watch for herself and gifts for her four girls. I left with a stack of bracelets and two rings. we stopped in a few other stores but nothing really screamed "take me home!"
and speaking of home, it was time to head home, change and head out for drinks & appetizers with some of my Arizona friends as a belated birthday celebration!
when we got home, we found some HAPPY children. two of them were busy coloring: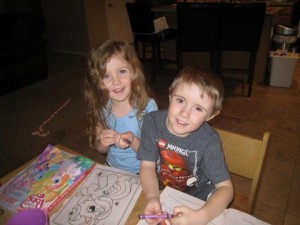 we headed back to downtown Chandler to a Mexican Restaurant known for it's tasty margaritas.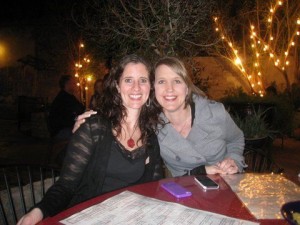 (Jenni, me, Casey; Sarah, me, Heidi)
the six of us enjoyed lots of stories, margaritas, chips with salsa and guacamole and several hours of un-interrupted (by children, at least) conversation.
and yes, Julie and I each ordered dinner, as well. as we were trying to pay our bill, the rain started falling and our evening was over.
as the night progressed, the rain didn't let up.
in fact, it got more intense.
and then it rained. and rained. and rained. and rained. and rained. and rained. and rained. and rained. and rained….
and rained and rained and rained and rained….
we had planned to go for an easy hike (with the whole family) after Dave's morning Bible study, but the rain was coming down so hard we knew that even us north westerners wouldn't enjoy a hike in THAT much rain!
what to do…. what to do….
we chatted on SKYPE with julie's family in washington: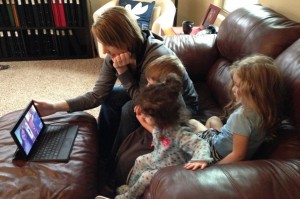 and we even gave them a quick tour of the house!
having SEARCHED high and low in my home for a place to put that special door, i finally figured out something that would work and would (hopefully) work well. so we borrowed a truck from a friend and headed BACK to the antique mall to buy the door. which was in an outside booth.when we got to the antique mall, we discovered that everything in the booth was 20% off! [i'm assuming it's because it was raining and it's an outdoor booth]. bonus for me! i brought home my sweet door for only $20.40!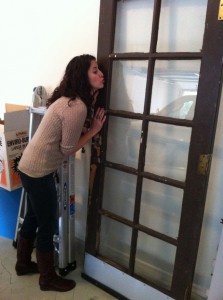 (many thanks to Dad & Mom for my birthday check – look at what you bought me! the door, some furniture straps, two bottles of glossy black paint)
on our way home, we stopped by michaels to pick up the final supplies needed for a necklace-crafting adventure and i discovered my american express card was missing. seriously? didn't this JUST happen a few months ago? (yes, yes it did).
so i called the restaurant from the night before and low and behold,
my card was found!
so we delivered the door to my garage (to allow it time to dry out). then we returned the borrowed truck and headed to Anthropologie (for some window shopping/inspiration) by way of Chick-Fil-A for lunch and the restaurant for my credit card.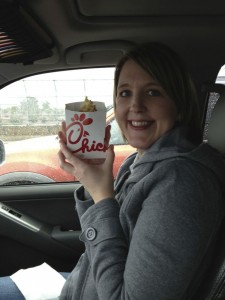 we did a little more shopping and we enjoyed some MORE frozen yogurt (from a different location) before returning home to hang out with the family. we enjoyed some pulled pork sandwiches for dinner and some time chatting with the munchkins and loving on them:
and then it was time for julie to snap a quick family photo: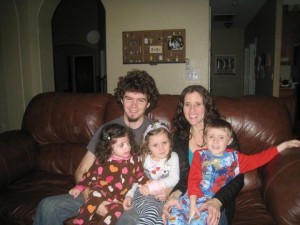 and then the kiddos went to bed.
julie and i then got started on our necklace creations. neither of us are bead jewelry makers but we're both pretty crafty and we wanted to tackle this project: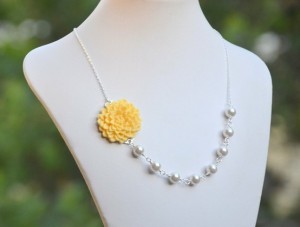 we opened packages and i found pliers and we got to work…. guessing and trying different things along the way to find out what worked best to form rings and attach things and get the right length….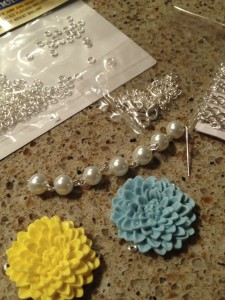 and in the end, we were TIRED, but quite pleased with our creations: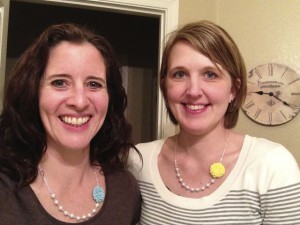 sunday morning brought more dreary weather (seriously?! what's the deal?) and an early morning trip to Starbucks before i had to drop off Julie at the airport for her flight home.
and though it was sad to say "good bye," we have more adventures to look forward to. we'll see each other in seattle in march and down here in june (she and her family will stay at the logos house for a day and a half). but this trip was fantastic… other than all the rain!