alex has the cutest pair of brown boots with butterflies on them.
she looks ADORABLE "stomping" and "clomping" around in them.
my all-time favorite is when she wears leggings (almost daily) and those boots.
SO.
CUTE.
(note: samantha has the SAME pair of boots and she got them FIRST but then nana bought a pair for alex and i'm so thankful she did!)
there were days when alex would TAKE OFF her shoes and bring me her boots.
and then she would fuss until i'd put them on for her.
i guess my 2-1/2 year old has an opinion on her wardrobe now.
but about a week or two ago, she discovered something she likes to wear even more than her own brown boots.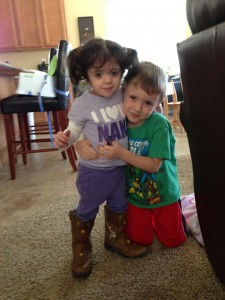 davey's brown boots.
to be more specific, davey's brown, light-up, toy story, cowboy boots. (again, we have nana to thank for those).
i know, it's a mouthful to try to describe them. but that's what they are.
brown, toy story, light up cowboy boots.
and alex is a little bit obsessed.
when she realizes davey is NOT at home (which means he's at school), she'll walk around the house and say his name over and over and over.
and then she'll wander to the shoe basket in the family room.
if the boots are there (he chose to wear his boots to school for the majority of the past few weeks),
she'll pull them out,
say davey's name repeatedly
and put his boots on her feet.
often times with the left boot on the right foot and the right boot on the left foot.
and then she stands up and tries to walk.
and she continues to say davey's name repeatedly.
and then she gets distracted or frustrated (or both) and off come the boots and she toddles her way to another toy in the house.
she really is a cutie pie.