last week wednesday (january 16) was alex's appointment with a developmental specialist up in north phoenix/scottsdale (aka: about an hour away). we've been waiting for this appointment for months. literally. i think i called and scheduled it back in august or september.
there were 34 PAGES of information i had to complete BEFORE we arrived at the appointment. then there were another FOUR pages of information to complete AT the appointment.
seriously.
dr. bilog (agnes might be her first name?) was nice. i appreciated that she wasn't overly sweet and that she did have some personality. alex was NOT interested in the physical portion of the exam (which consisted of being weighed, being measured for height and head circumference, looking into her ears and removing socks and shoes to watch her walk). we have a stubborn little girl. i DO know where it comes from (BOTH of us)!
after the "physical" exam we made our way to Dr. Bilog's office where alex played with some toys while the adults "talked" and then Dr. Bilog watched alex do the following activities:
- stack blocks
- take them out and put them back in to a container
- put wooden pegs into a holder (kind of like a puzzle)
- NOT draw a line (Dr. Bilog drew a line on a piece of paper and instructed Alex to "imitate" her. Alex chose to scribble. b/c that's what she does. and, quite honestly, she doesn't get a lot of opportunity to "color" at home so i wasn't surprised at her lack of "direction following" for this particular skill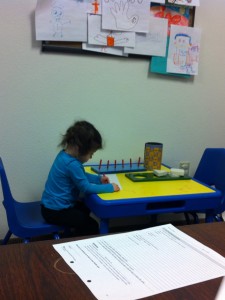 - put shape blocks into a wooden base (exactly like a puzzle)
- point to pictures on a laminated card (alex was significantly more interested in the "splitting" edge/corner of the card and trying to peel it apart)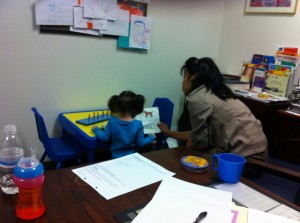 - alex had to point to some body parts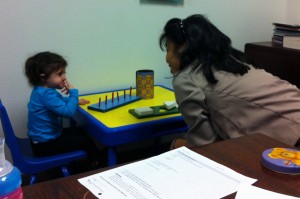 after filling out some forms, Dr. Bilog decided that alex was, most definitely, developmentally delayed. her motor skills (hands and arms) are at the level of a 21-month old. and her speech is at the level of a 16-month old. in hind sight, i think she underestimated certain things (like the NUMBER of words alex can "say") so while she IS delayed, i'm not certain she's as far behind as that of a 16-month old child.
so in short, the following recommendations were made:
- speech therapy
- occupational therapy (to deal with fingers and hands – like using a spoon)
- physical therapy (for motor coordination – like dressing herself)
- a hearing test (b/c a lot of times a hearing problem is related to a speech problem)
- and genetic testing.
we were advised that based on her delays and her age (under three), alex should qualify for an "early intervention" program here in the state of arizona. this means she should also qualify for a pre-school program which will include speech therapy and some PT and/or OT as needed. and with that, we were given some phone numbers and recommended providers, we made a follow-up appointment for the end of May and off we went. Overwhelmed. Unsure. Overwhelmed. Disappointed. Overwhelmed. Hungry. and Overwhelmed.
dave found an restaurant with an all gluten free and all soy free menu and we enjoyed a lunch date with our sweet little girl.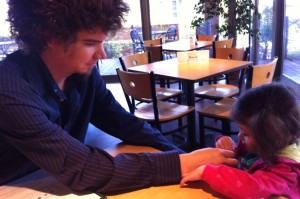 we didn't talk much about the appointment. just a few snippets here and there. and we enjoyed our time together in the middle of a work day/week. and we enjoyed our sweet girl. our blessing from God. our gift. our miracle. because if you know her story, you know alex really is a living, breathing, walking and minimally-talking miracle. and we love her dearly.
and now that this appointment was over a week ago and we've had some time to pray, think, process and discuss, we've come to some conclusions. i've called the state two or three times and i've left messages each time. i will continue to pursue that avenue to get her the speech, PT and OT that she definitely needs. we will hold off on the hearing test unless other providers also recommend that as a necessity. as for genetic testing, we will only pursue that if there is a specific genetic condition they think she has AND if KNOWING she has said condition can lead to us better helping her through life.
over the past week, we've (i've) allowed alex a little more freedom around the home. i've learned she can put on some pants and shorts by herself. she tries to put on her own shirt but doesn't quite have that figured out yet. she's saying some more words. she's doing more things. in just a week, i've noticed some differences. so we will continue to let alex be alex. and we will continue to encourage growth and development.
so for those of you who have been praying, THANK YOU. your prayers have most definitely calmed my heart over the past week. and if you would like to continue to pray for us, some specific requests are as follows:
- that i will be able to talk to a person and figure out HOW to get alex registered/connected to the state program for which she qualifies
- that a schedule for all of her needed therapies would not overwhelm me/our family
- that the therapies would be extremely beneficial for alex and that she would make great improvement
- that our meager medical insurance and the state funding would cover the majority (or all!) of the costs of these services