when you were a kid was story time your favorite part of the day?
i think it is for my kids.
it is such a joy and delight to watch davey read.
to watch his face LIGHT UP when he figures out a difficult word.
to listen to him say a word but not yet realize what he's saying.
to teach him some of the "mechanics" of reading.
i LOVE kindergarten.
i LOVE watching him learn.
today we (finally) read the book he brought home from the library last week.
kindergarteners are not allowed to check books out of the library at school.
for real.
but davey (and a few classmates) are the exceptions to the rule.
it's part of the reading program. and the kindergarten "readers" are too easy.
and the first grade "readers" are too easy. so now he gets to choose books from the library.
and we read them TOGETHER. they might be too hard for him to read alone. but the new goal is comprehension.
so he brings home a book (currently it has to have a YELLOW sticker on it).
we read it.
he takes it back to school and takes a little quiz on the computer.
and after ten books….
he moves up to the next color.
today we read this book: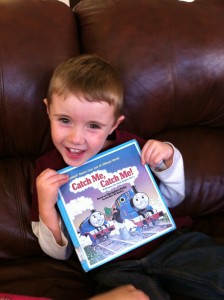 correction: DAVEY read this book.
he made it all the way through.
and then i read it (to help with comprehension).
and we talked about what happened.
and we'll read it again tomorrow and he'll take it back to school on Thursday (library day this week).
But along with the joys of reading,
he's THRIVING in his writing.
in fact, at the parent/teacher conference a few months ago,
davey's teacher told us he's the best writer in his class.
LOVE that news.
so it's not really a surprise that two weeks ago he sat down and wrote a story at home.
for fun.
on his own time.
what IS surprising is that it's a story about cats.
and that he wrote another story (also about cats) the next day.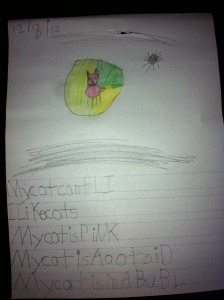 (translation: "My cat can fly. I like cats. My cat is pink. My cat is outside. My cat is in a bubble.")