This morning was davey's kindergarten program at school. Since it was for all FOUR classes of kindergarten students, we decided to walk to school to avoid the madness of trying to park. we also knew it would get a little crowded, so we set out for the school 30 minutes before the program started. we signed in at the front, made our way to the cafeteria (at the BACK of the school), found a seat and waited…..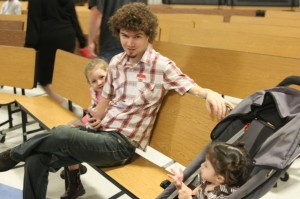 we didn't have to wait too long until we saw Miss Yates walking in with her class (Davey's class)
and she got them all lined up on the stage steps – right in the center! I love that Davey not only
found us in the audience, but also waved (quite happily) to see us! However, he obeyed the school rules
about no yelling and being quiet so he "waved" to us with just his pointer finger: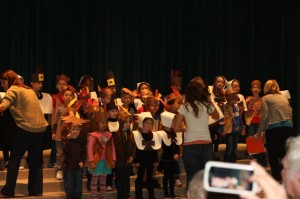 He is such a rule follower and I love him for that!
The children sang several songs and recited a few rhyming poems before the "program" was complete.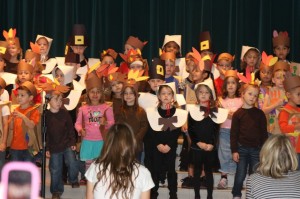 there were a LOT of cameras, camcorders and iPhones in the audience. a LOT.
following the performance, the children in three of the classes returned to their classrooms for a party.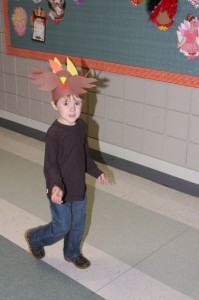 Davey's class had a FINGER FOOD FEAST: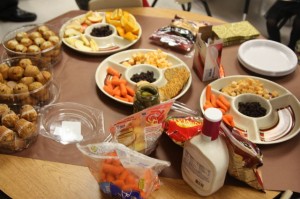 there were a LOT of parents and a few siblings in attendance: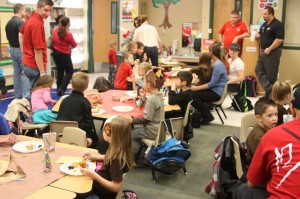 my favorite party go-ers are pictured here: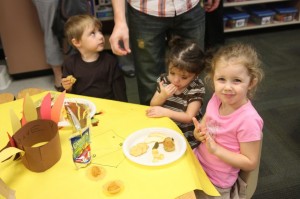 (well, only half of dave/daddy is pictured there, but he's also my favorite).
following food time, there was a little bit of time for the kids to color on their paper "tablecloths"
before the final "clean up."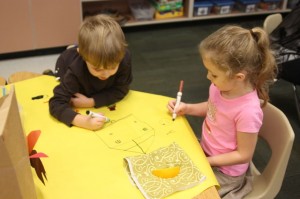 at this point, children were released to GO HOME for the day, IF they wanted to. seriously.
there's still a full day of school complete with recess, lunch, recess, an assembly and even an afternoon movie.
but if children wanted to go home and their parents were willing to take them, they could leave.
davey chose HOME.
so we loaded alex into the stroller and we walked home.
and tomorrow, i'll be making my FIRST. EVER. TURKEY DINNER.
yep.
not the first i've eaten, but the first i've cooked.
tomorrow might be a crazy and stressful day.
but just one peek at this little guy: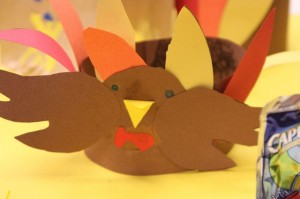 (davey's Turkey Costume) and i will remember the sweetness of today. and i will breathe.
and i will be thankful for many, MANY things.