it finally happened. davey brought home his first FAMILY PROJECT.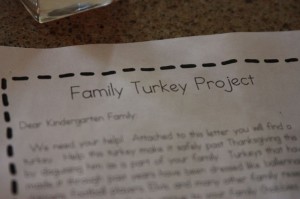 a family turkey project, to be exact.
i don't fully understand it yet. perhaps i'm not supposed to. (that is one of the hardest things for me as a mom – not knowing EVERYTHING about the HOW and WHY of projects, homework, centers, parties, programs, etc.  but as usual, i digress.)  all i know is we were supposed to "disguise" this turkey so he can make it through Thanksgiving.
previous families have used things like crayons, markers, pasta, feathers and who knows what else to decorate/disguise their turkeys. you can do anything you want – use any supplies – but it's a family project. and we can inject our personalities, our hobbies, our jobs, etc. into the finished product.  i wanted to use keyboard keys (since dave is a programmer) but we don't have an old keyboard lying around. so instead we decided to make the turkey look like he's hiding behind/in an iPad.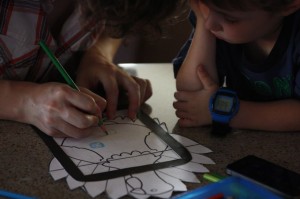 davey did a lot of cutting. dave drew the apps. davey colored them in. i colored the feathers and then decided to glue felt on top for something different. so here it is:
i'd like to think we survived this project easy (easily?) enough. granted, i did have to finish it after davey went to bed on sunday night (we started it sunday afternoon). perhaps that is the very first lesson we have learned:
START PROJECTS SOONER THAN SUNDAY AFTERNOON WHEN THEY ARE DUE ON A MONDAY!!!
what school project tips do you have to share with us?