over a month ago samantha and i bought some fabric that coordinates with her bedding. we bought one yard so we could recover this nappy, gross, old footstool i found at a garage sale shortly after we moved here. the foot stool was only $1.00 and it had wooden legs and i knew it would be an easy project to recover it. so after getting home with the fabric, i searched the house for TWO WEEKS and could not locate said foot stool.
i gave up and assumed i'd shipped the thing off to Goodwill.
but then, as i was preparing for our own garage sale, there it was – all by itself in a plastic tote on a shelf in the garage! i quickly pulled out the foot stool, staple gun, my hammer (b/c i'm a weakling at actually getting the staple gun to fully attach the staples to whatever base project i'm doing), scissors, felt, glue gun, spray paint and a box.
this is the beauty when i found it at the garage sale: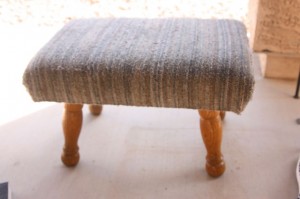 pretty nasty, huh? yeah. quite gross, in fact. but i'm still glad i bought it.
i unscrewed the legs and then i poked some holes in the box and stuck the screws (still in the legs) into the holes.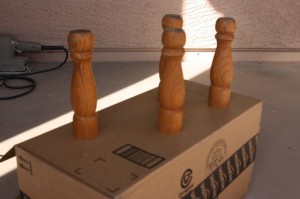 next, i gave them (the legs) a few coats of white paint. i forgot to do PRIMER first, which would've made them look BETTER but for this project it ultimately didn't matter.
while the legs were drying outside, i went back inside and pulled off the hardware for the legs (undid 8 screws – two per legs) and cut my fabric down to size. Then i stapled and hammered (the staples) and when i was content with the look of the fabric, i glued a piece of felt to cover the whole bottom so it would look nicer. after the glue dried, i used my fingers to feel for the original holes for the hardware and i reattached the hardware with the original screws. and this is what the top looked like: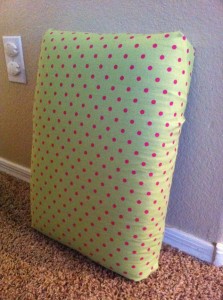 and then i went outside to check on the legs. they were still a little sticky so i had to abandon the project for a few hours. but once those legs were dry, i sanded them a bit to make the un-even (and non-primered) paint job look more like it was on purpose instead of it being an accident. then i wiped them down with a cloth (aka: a baby wipe – b/c those are handy for EVERYTHING). after i put the legs back on the foot stool, i carried it up to samantha's room.
she was elated: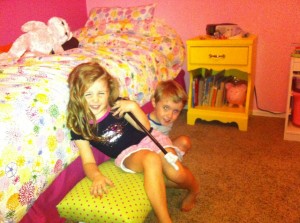 and i think davey was a little jealous. samantha acquired a yellow "side table drawer" and a footstool in the same week! (that reminds me, have i told you about the re-finishing process for that side table drawer? ugh. if not, you might not want to know!)