we had the immense pleasure to have dave's brother, jeff, be our FIRST overnight house guest last weekend! he arrived on friday night as we were finishing up dinner (don't worry, we saved some for him). and then we walked (yes, WALKED!) up the street to introduce him a favorite treat: fro yo (aka: self-serve frozen yogurt):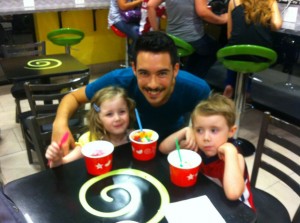 on Saturday morning, we enjoyed our newly finished pool (even though the pump was not yet running and there were no chemicals in that water to "clean" it):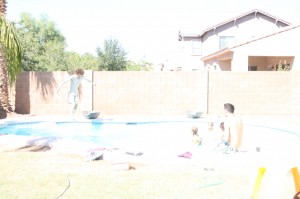 (my apologies for the highly OVEREXPOSED picture. my ISO speed was set too high. grrrr!)
then we enjoyed Chipotle for lunch, walked around San Tan Mall for a little while (I have the CUTEST photo of D&S holding Jeff's hands as they walked along, but it's BLURRY and the second photo i took happened to be video (oops!) so for now, i have nothing to share with you. but i LOVE the image of it. while the kids and i napped, the brothers hung out and talked. then it was dinner (steak on the grill!), play time (this involved a LOT of story-telling for Jeff & the kids), a quick trip to Freddy's to introduce Jeff to yet another favorite treat: frozen custard! and then when we got home, it was bedtime for all. jeff had no idea exactly HOW draining our sweet Munchkins are. they are EXHAUSTING. he gets it now. and that was after just 24 hours!
on Sunday, Jeff joined us for church (b/c we LOVE our church and want EVERYONE who visits us to be able to join us for a service!), followed by In-n-Out for lunch and then he was on his way to his hotel (he's was in town for business and came a few days early to hang out with us). i DID manage to convince the boys that they should let me take a photo of them before Jeff headed out: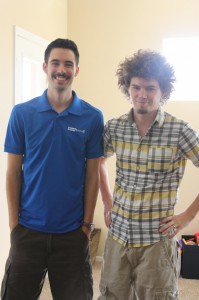 and i do regret that Jeff left while the kiddos were napping so I don't have a photo of Uncle Jeff with all three of the Munchkins (at the same time), but these few photos I do have are precious. so jeff, we miss you, we love you and we hope to see you again soon. you're always welcome… you just might want to remember to lock that bathroom door, especially if you plan to take a shower around the same time the Munchkins need to brush their teeth in the morning…….