tuesday was an extra special day after school. dave, samantha, alexandra and i all walked to davey's school. we were armed with some gloves and trowels and dirt scratchers. it was kindergarten family gardening day AT the kindergarten play ground.
it was crazy. we're talking KIDS EVERYWHERE chaos. EVERYWHERE. and parents, too.
but we got some seeds from davey's teacher (corn)
and
we eventually found a spot
(where tomatoes were supposed to be planted)
to dig a few holes
and
to
drop in some seeds.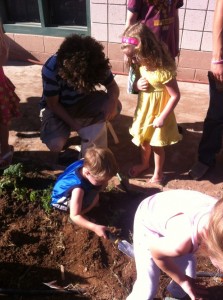 we let samantha enjoy some planting, too.
and we used tongue depressors
and
sharpies to "label" our plants.
and then we watered the plants.
we used a plastic "build-a-sand-castle" toy
and
filled it with water from the water fountains on the K play ground.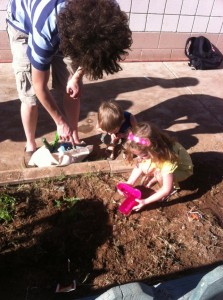 and then we were finished.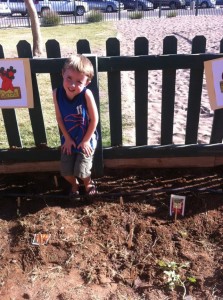 and then we walked home.
and we were so hot we went swimming in our COLD pool.
but our yard work continued through this week….
earlier today, our backyard became a CRAZY EMPTY SLATE! all existing grass has been removed. all gravel has been MOVED to areas where we WANT to have gravel. the existing irrigation system has been removed. there are orange lines spray painted on our dirt. we're adding a concrete border around the yard. and pavers. and all new sod. and an all new irrigation system. and a lemon tree and a lime tree. and our existing palm trees are getting trimmed. and our front yard will be tidied and trimmed and prettified. and we're adding a fence to separate the backyard from the pool area.
and by "we're adding" i mean "we're paying someone else to do the work for us."
and all this will all be finished by next week thursday.
seriously.
just in the nick-of-time, right?
right.
because samantha's party (princess and candy theme) will be two days later.
no one can tell me that God doesn't care about the small details of our lives. b/c orchestrating the yard and the fence to be started AND completed in time for samantha's party was no small feat.
because all the fence contractors were 2-3 weeks out for the install.
and i was calling them 13 days before the party.
THIRTEEN.
yep.
thirteen.
but then one guy called his boss. and explained the situation. (that we were having a birthday party with FOUR-YEAR OLDS and a new yard and a new POOL and no separation between the two…..).
and now i have a fence that will be installed two days before the party.
that means only 11 days from when i made the call.
GOD CARES.