dear regular grandpa & grandma,
great grandpa & grandma, and
auntie carrilee & family,
many, MANY thanks for the birthday presents sent in the mail! samantha was able to open them ON her birthday!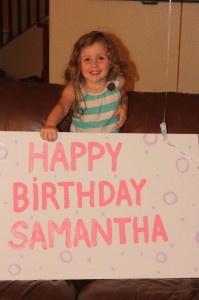 we thought you might want to see how she felt about the presents you chose for her and that you shipped a thousand miles away….
many thanks to you, "regular" grandpa & grandma, for these goodies:
as you can see, grandpa & grandma, she LOVED all her presents! the crayons and coloring tablet were opened immediately. and they were used today to help keep her "quiet" when she wanted to run around. the beads are something she is REALLY looking forward to but will have to wait for a day when she feels well enough to skip a nap so it can be a special mommy-samantha project without little alex-hands to get in the way!
dear great grandpa & great grandma,
i am overwhelmed that you never fail to remember a birthday for your children, their spouses, your grandchildren, THEIR spouses and your great-grandchildren! many, MANY thanks for remembering samantha's 4th birthday and for your gift (she was VERY excited!)!
and dear auntie carrilee,
i am, once again, overwhelmed at your ability to find just the PERFECT gift for one of my children. this book is PERFECT for samantha, who LOVES princesses and LOVES her Bible (story) book. how special that she now has a new one with Bible princess stories! and the watch? matching with Jorja? ADDED BONUS!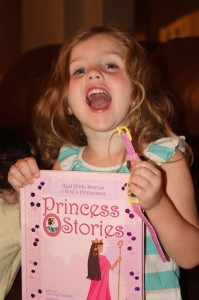 so please know, dearest family, you are greatly missed but we are so thankful you were still able to celebrate samantha's birthday with us ON her birthday! in addition to your gifts, she also was able to open a pink disney princess t-shirt from davey & alex and a pair of boots from daddy & mommy: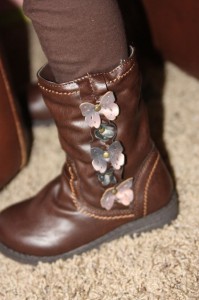 i am sad, however, to report that a few hours after going to bed on her birthday, the birthday princess woke up and threw up in her bed. NOT a fun way to celebrate turning four! and the worst part of it all? it was NOT from too much celebrating. she didn't even eat her requested birthday dinner (a PB&J sandwich) and we did not go out for celebrational fro yo (she asked if we could go another night).