i've been busy working. on projects. random projects around the house.
i worked a LOT on my project life album last week. i got it mostly "caught up." and now, a few days later, i'm already "behind" again. but i don't feel pressure. i just feel joy knowing that i've made it through 9 months of this project and i have no plans to quit/give up now. i went back last week and worked on the overwhelming load of photos i had from july – uncle john's visit here and our visit to washington. it feels SO GOOD to have that addressed. no photos tonight, but soon – i promise.
then i re-acquainted myself with Pinterest. and i have a list of projects that i want to do. not that i "want" to do but that i want to do/AM GOING TO DO THEM projects. those kinds of projects. but that means i have to finish up the projects that are unfinished right now. yep. so i've been busy wrapping chipboard letters in yarn.
and sanding, priming, stripping (b/c i used the WRONG primer), re-sanding, re-priming and painting a night stand (aka" side table drawer) for samantha's room.
recovering a gross, old foot stool i bought months ago at a garage sale and making it pretty for samantha's room:
and ordering some stuff on eBay and etsy for tam's treasure box (as if TTB doesn't have enough projects already)! we won't even discuss all the ideas percolating in my mind right now for samantha's birthday party (in just 17 days!)!
along with this, i've been trying to stay "caught up" on laundry (though i sometime fail miserably:)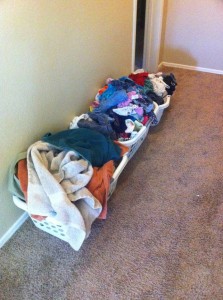 please note: this laundry is washed and dried…. just not yet folded.  :)
meal planning and prep, shopping, working out at the gym (3-4x weekly), Bible study (weekly) and small group study (1x every 3 weeks), planning dinners with friends at their houses and ours, hiring a landscaper and fence guy, finding a play structure on craigslist and PLANNING to get it sanded and stained so it can GO UP once the backyard renovation is complete, hosting guests (hooray for a visit from Uncle Jeff!), visiting an old friend in Phoenix while she and her family were in town (hi Suzie Ceci!)…..
so crazy. and busy. but mostly crazy, i guess.